Loss/Capture: Love Letters to Our Archives, Collections, and Culture
Through a series of writings, conversations, and archive digs, this project explores and uplifts archives and collections that speak to Sixty's communities, starting with a look into the state of Black cultural archives in and beyond Chicago.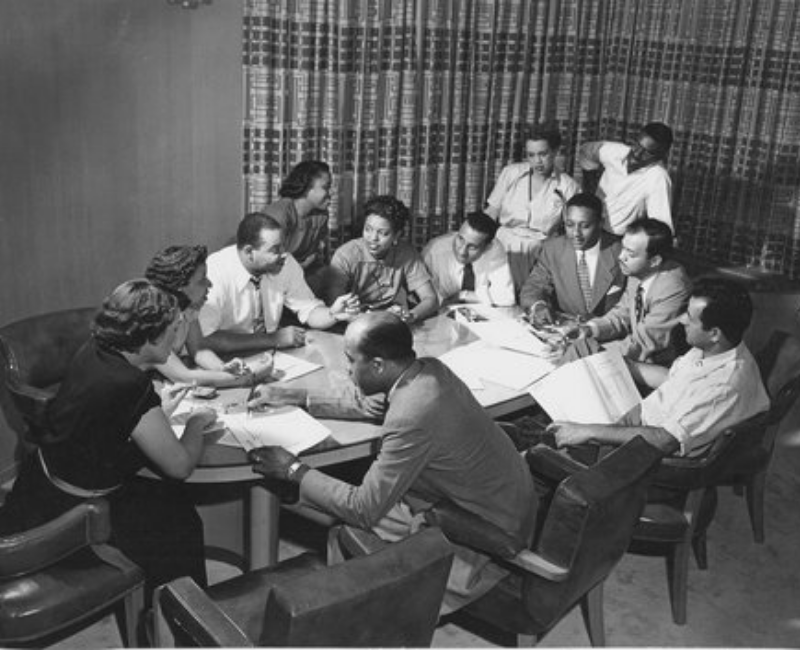 About the project.
Loss/Capture is an ongoing exploration into the archives and collections that preserve and speak to the histories, experiences, culture, and lives of Sixty's core communities. Volume one focuses on the state of Black cultural archives in and beyond Chicago.

Chicago is home to some of the longest-running Black publications, one of the first African American museums, and ceiling-shattering activists, artists, entrepreneurs, organizers, and scholars. Having such a rich history means Chicago is also home to incomparable archives that capture the quiet, monumental, and iconic people and movements that fuel this history.
While the value of these histories is undeniable, over the past decade many of Chicago's Black collections have become at risk of being lost. Whether it's collections being acquired and relocated to other cities, institutional collections lacking caretaking resources and remaining inaccessible, materials being at constant risk of deterioration, or communities lacking access to the kind of information that would help them organize their own collections, Chicago is experiencing an erasure of African American history. And what's happening in Chicago is being echoed in communities across the country.
It's hard to feel settled in the present, and we feel the need to look to – and preserve – our past to know where and what we are. This special editorial project aims to explore and celebrate Black cultural heritage and its prospects for liberation.
Guest Editors and Contributors.
Loss/Capture, Vol. 1 is helmed by guest editors and archivists Steven D. Booth from the National Archives and Records Administration and Stacie Williams from the University of Chicago Library––both co-founders of the Blackivists––whose visions and work brought this project to life.

Alongside their own ideas, archive discoveries, and inquiries, Booth and Williams are presenting interviews, essays, timelines, and stories from archivists, curators, artists, and activists, including:
Ireashia M. Bennett
Asha Edwards
Steven Fullwood
Erin Glasco
Tempestt Hazel
Christina Shutt
Nita Tennyson
Arlene Turner-Crawford
Then, to expand the ideas further, we will host a series of conversations with and hosted by the guest editors with some of the contributors to the project and others such as Dr. Melanie Chambliss and Tracy Drake whose work in archives, collections, and heritage speaks to the heart of the project.
Explore the project.
Loss/Capture will be released on October 19, 2020.

On Wednesday, October 21st at 6 pm, join guest editors Steven D. Booth and Stacie Williams for an IG Live conversation hosted on the Loss/Capture and Sixty Inches From Center Instagram. Steven and Stacie will introduce and discuss the inspiration, development, and behind-the-scenes elements of the project.
To celebrate the 75th anniversary of when Ebony Magazine hit the newsstands on November 1, 1945, Sixty is launching Ebony Memories to collect stories and memories of Johnson Publishing Company and its presence in people's lives. Submit your story by October 30th to potentially be included in the selection of stories we share on November 1st.

On November 1st Sixty will also release two video dialogues as part of the project as part of the Loss/Capture in Conversation Series: Chicago's Music Legacies with Ireashia M. Bennett and Arlene Turner-Crawford and Vivian G. Harsh's Life and Legacy with Dr. Melanie Chambliss and Tracy Drake. Sign up for our newsletter to get updates on the project and new content when it's released.
Thank yous.
Sixty has unending gratitude for the generosity of all Loss/Capture's collaborators, especially Steven Booth, Stacie Williams, Noor Shawaf, Kiki Lechuga-Dupont, and Ryan Edmund Thiel, without which none of this would be possible. This project was also made possible with generous support from the Society of American Archivists Foundation and a website donation from Cargo, a site building platform for artists and designers.
---
Featured Image: Ebony Magazine Editorial Meeting, Freda DeKnight, Publisher John Johnson, Editor Ben Burns, Leroy Wimbush, taken in their offices in a converted funeral parlor, Chicago, Illinois. Chicago History Museum, ICHi-040405; Stephen Deutch, photographer.