July Art Picks
If you've followed us for a while, you know that our Art Picks offer a wide scope of events that are relevant to our audiences because we and the artists,…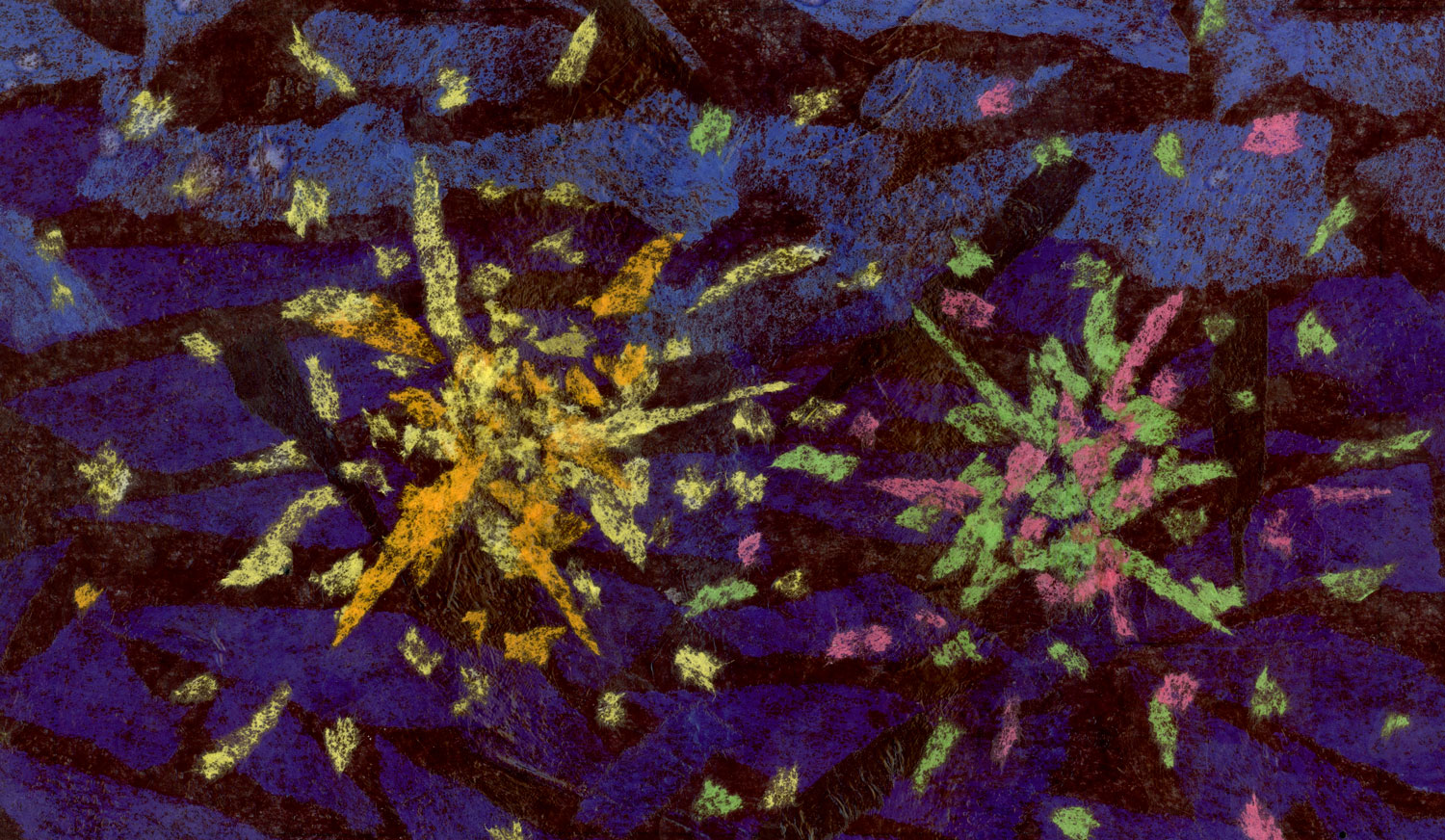 If you've followed us for a while, you know that our Art Picks offer a wide scope of events that are relevant to our audiences because we and the artists, cultural workers, curators, spaces, and projects we support live full lives that know no boundaries. We maintain expansive practices and work toward justice for BIPOC, LGBTQIA+, and disability communities in Chicago and the Midwest.
Created in collaboration with The Visualist and adapted for social-distancing due to COVID-19, this list offers online exhibitions, streaming events, a list of online collections from Black and LGBTQIA+ archives, and other ways to spend time in the virtual space.
Featured image: An abstract illustration of fireworks made from different colored pieces of tissue paper. Illustration by Ryan Edmund Thiel.
This is a growing list, so check back often with new additions.
Through July 2, 2021
Lorena Cruz Santiago: Entre el maiz, lose chiles, y las flores
ACRE Projects at Drama Club: 2439 S Oakley Ave, Chicago, IL
Free
Through July 3, 2021
Homemade, With Love: More Living Room
Krannert Art Museum: 500 East Peabody Dr., Champaign, IL
Free
Through July 10, 2021
Samuel Levi Jones: No color in the pages
PATRON Gallery: 1612 W Chicago Ave, Chicago, IL
Free
Through July 10, 2021
Marcus Brutus Vol. 1
Monaco: 2701 Cherokee St., St. Louis, MO
Free
Through July 11, 2021
Dorothy Graden: Liminal Spaces
Evanston Art Center: 1717 Central St., Evanston, IL
Free
Through July 17, 2021
I'm a Rubber Chicken, Watch Me Fly
Andrew Rafacz: 1749 W Chicago Ave, Chicago, IL
Free
Through July 17, 2021
Rachel Hayden: Mirror in the Sky
Andrew Rafacz: 1749 W Chicago Ave, Chicago, IL
Free
Through July 17, 2021
Plain Air
Carrie Secrist Gallery: 900 W. Washington BLVD, Chicago, IL
Free
Through July 17, 2021
10 Women Artists Explore What It Means to Flourish
Connect Gallery: 1520 E. Harper Ct., Chicago, IL
Free
Through July 17 2021
Hyung Jung Jun: by flame by fog
Goldfinch Gallery: 319 N Albany Ave, Chicago, IL
Free
Through July 17, 2021
Meghan Borah: Polite Company
Goldfinch Gallery: 319 N Albany Ave, Chicago, IL
Free
Through July 17, 2021
Tromarama: Tromarama
Document: 1709 W. Chicago Ave., Chicago, IL
Free
Through July 17, 2021
Before the After Party
Co-Prosperity Sphere: 3219 S Morgan St., Chicago, IL
Free
Through July 18, 2021
Old Rodriguez: Papi
Iceberg Projects: 7714 N Sheridan Rd, Chicago, IL
Free
Through July 24, 2021
Alejandro Figueredo Díaz-Perera: The Problem of Freedom
Aspect/Ratio: 864 N Ashland Ave, Chicago, IL
Free
Through July 24, 2021
Hereafter: A Tribute to Timothy S. Brower
Roots & Culture: 1034 N. Milwaukee Ave., Chicago, IL
Free
Through July 24, 2021
Edie Fake: The Pieces
Western Exhibition: 1709 W. Chicago Ave., Chicago, IL
Free
Through July 24, 2021
Paula Kamps: Rain or Shine
M. LeBlanc: 3514 W Fullerton Ave, Chicago, IL
Free
Through July 24, 2021
Long Live Freedom! Latin America and the Age of Revolutions
Newberry Library: 60 W Walton St, Chicago, IL
Free
Through July 31, 2021
A Permanent Home in the Mouth of the Sun
Filter Photo: 1821 W Hubbard St., Suite 207, Chicago, IL
Free
Through July 31, 2021
Shaping the Past
Goethe Institut: 150 N. Michigan Ave. Ste. 200, Chicago, IL
Free
July 1-August 7, 2021
Lauren Spencer King: She Will Be Unnatural
Regards: 2216 W Chicago Ave., Chicago, IL
Free
Thurs, July 1, 1-2:30pm
Sisi's Many Jails: From Gaza to Tora
Haymarket Books: Online
Free
Thurs, July 1, 4-5:30pm
Manifesting Independence
Hyde Park Art Center: Online
Free
Thurs, July 1, 6pm
Artecito Virtual: Polillas
OPEN Center for the Arts: Online
Free
Thurs, July 1, 6-7:30pm
Soul Storytelling: We'll Understand It Better By and By
Logan Center: Online
Free
Thurs, July 1, 7pm
Appalachian Spring: A Musical Romance with America
Richard H. Driehaus Museum: Online
$20-25
Thurs, July 1, 7-8pm
Deconstructed Anthems performed by pianist Dr. Kristín Taylor
Bemis Center for Contemporary Arts: 724 S 12th Street Omaha, NE
Free
Fri, July 2, 12-1pm
Photos at Zoom Discussion Session: Vera Klement
Museum of Contemporary Photography: Online
Free
Fri, July 2, 3-7pm
Phyllis Bramson | Robert Indiana | Mayumi Lake
Lubeznik Center for the Arts: 101 W 2nd, Michigan City, IN
Free
July 3-31,2021
Alex Kostiw: Pakiramdam
Co-Prosperity: 3219 S Morgan St., Chicago, IL
Free
Sat, July 3, 1-3pm
Homemade, with Love: More Living Room: Closing
Krannert Art Museum: 500 E Peabody Dr, Champaign, IL
Free
Fri, July 3, 2 and 3pm
PLASTER RELIEFS WITH LAKELA BROWN
MOCAD: 4454 Woodward Ave, Detroit, MI
Free
Fri, July 3, 6-10pm
Local Vibe: An art event
Pilsen Art House: 1756 W 19th St., Chicago, IL
Free
July 3 – July 24, 2021
The More You Listen, The Louder It Gets
Comfort Station: 2579 Milwaukee Ave., Chicago, IL
Free
Sun, July 4, 10am-2pm
Virtual Event | Activating Freedom: With Liberty and Justice for All
Chicago History Museum: Online
Free
July 5-9,2021
In My Room
Hot Wheelz Festival: Online
Free
July 5 – September 16, 2021
Footnotes, Wills Glasspiegel and Brandon K. Calhoun
Art on the Mart: 222 Merchandise Mart Plaza, Chicago, IL
Free
Tue, July 6, 10am-2pm
Printmaking Workshops with Instituto Gráfico de Chicago
Cleve Carney Museum of Art: 425 Fawell Blvd, Glen Ellyn, IL
Free
Tue, July 6, 7pm
Jessica Hopper: A Living Female Rock Critic
Chicago Humanities: Online
Free
July 6, 13, 20, 27, 2021
Boost the Block: Mutual Aid on Argyle Street
Axis Lab & Vietnamese Association of Illinois: 1101 W. Argyle St., Chicago, IL
Free
July 7 – August 13 (Mon + Wed + Fri), 2021
ARTSEED
Chicago Park District: (multiple locations)
Free
Wed, July 7, 6:30pm
Coffee, Hip-Hop & Mental Health
Thalia Hall: 1807 S Allport St., Chicago, IL
$35-45
Wed, July 7, 7pm
Virtual Paperback Release: THE TASTE OF SUGAR by Marisel Vera
Women & Children First Bookstore: Online
Free
Thurs, July 8, 12pm
Albrecht Dürer and How Art Imagines Our World
Newberry Library: Online
Free
Thurs, July 8, 6pm
A Roundtable Discussion: Architecture and Black Lives
Hyde Park Art Center: Online
Free
Thurs, July 8, 8:30pm
Improvised Music Series: Rempis/Abrams/Ra + Baker
Elastic Arts: 3429 W Diversey Ave., Chicago, IL
$15
July 9-10, 6pm
Makaya McCraven (Seated & Distanced)
Thalia Hall: 1807 S Allport St., Chicago, IL
$35-45
Fri, July 9, 12-1pm
Photos at Zoom Discussion Session: Terry Evans
Museum of Contemporary Photography: Online
Free
Fri, July 9, 5-8pm
Amy Donaldson: The Substance of Beauty
Gallery 1871: 1871 N Clybourn St
Free
Fri, July 9, 6-9pm
Some Fires Should Burn
Cleaner Gallery + Projects: 1856 N Richmond St., Chicago, IL
Free
Fri, July 9, 7pm
Gemini by Isaiah & Jeremiah Collier at Compound Yellow
Compound Yellow: 244 Lake St, Oak Park, IL
$15
Fri, July 9, 8-11pm
Currency @ Swiss National Bank, Zurich
Soccer Club Club: 2923 N Cicero Ave., Chicago, IL
Free
July 9 – August 8, 2021
In the Aftermath
Weinberg/Newton Gallery: 688 N Milwaukee Ave., Chicago, IL
Free
July 9 – August 31, 2021
Love in The Time Of…
Chicago Art Department: 1926 South Halsted St., Chicago, IL
Free
Sat, July 10, 9pm
Haus of Towers
My Buddys: 4416 N. Clark St., Chicago, IL
$10
Sat, July 10, 12-5pm
Healing in the Park
Washington Park: 53rd & King Dr., Chicago, IL
Free
July 10-September 5, 2021
Examining the State of Our Environment: 20/21 Curatorial Fellowship Exhibition
Evanston Art Center: 1717 Central St, Evanston, IL
Free
July 10-August 22, 2021
David Willburn: Stories About Monuments and Landscapes
FLXST Contemporary: 2251 S Michigan Ave., Chicago, IL
Free
July 10 – October 30, 2021
Realms of Refuge
Kavi Gupta Gallery: 835 W. Washington Blvd. Chicago, IL
Free
Sat, July 10, 11am-3pm
Radical Used Book Fair
Haymarket House: 800 W Buena Ave, Chicago, IL
Free
Sat, July 10, 12-4pm
Beth Herman Adler: Shape Shift: Closing Reception
Oliva Gallery: 3816 W Armitage Ave., Chicago, IL
Free
Sat, July 10, 12-4pm
Victoria Martinez: Next Chapter
Tiger Strikes Asteroid: 2233 S Throop St, Unit 419, Chicago, IL
Free
Sat, July 10, 1-4pm
Very Small Paintings: Under 14″ and Prints Published During the Pandemic
Bert Green Fine Art: 8 S Michigan Ave, Chicago, IL
Free
Sat, July 10, 7pm
David Boykin as Dr Belsidus
Compound Yellow: 244 Lake St, Oak Park, IL
$15
Sat, July 10, 10am-3pm
Artisan and Makers Market
Ainslie Arts Plaza: 4844 N. Lincoln Ave., Chicago, IL
Free
Sun, July 11, 3-9pm
Small World Collective: ENERGY
Little Wild at Ace Hotel: 113 N Morgan St., Chicago, IL
Free
Mon, July 12, 5:30pm
CAMP in Conversation: Chicago's Abundant Wisdom
Annas Projects: Online
Free
Wed, July 14, 7pm
Envisioning Justice Rapid Response: Re-Entry
Illinois Humanities: Online
Free
Wed, July 14, 6pm
Rachael & Vilray (Seated & Distanced)
Thalia Hall: 1807 S Allport St., Chicago, IL
$35-45
Thurs, July 15, 5-7pm
Whitney Bradshaw: OUTCRY
McCormick Gallery: 835 W Washington Blvd., Chicago, IL
Free
Thurs, July 15, 8-10pm
Like It Is – a montage film screening
Blanc Gallery: 4445 S King Dr., Chicago, IL
Free
Thurs, July 15, 7pm
Reclaiming our Future: The Kedzie Center's Annual Event, with Ruth Behar
Women & Children First Bookstore: Online
Free
Thurs, July 15, 2:30pm
"How do we visualize environmental issues?"
UIC Summer Institute of Sustainability & Energy: Online
Free
July 16- 18, 2021
2021 Millennium Art Festival
Amdur Productions: Michigan Avenue & East Lake Street
Free
July 16 – August 31, 2021
Waterbodies
Spudnik Press: 1821 W. Hubbard Suite 302, Chicago, IL
Free
July 16- September 3, 2021
ILIE VADUVA EXHIBITION
The Bridgeport Art Center: 1200 W 35th St, Chicago, IL
Free
July 16 – September 4, 2021
Charly Palmer: On the Shoulders of Many
Portrait Society of Contemporary Art: 207 E. Buffalo St., 526, Milwaukee, WI
Free
Fri, July 16, 6-9pm
Swell: A Group Exhibition On Scaffolding Opening Reception
South Shore Arts: 1040 Ridge Rd., Munster, IN
Free
Fri, July 16, 12-1pm
Photos at Zoom Discussion Session: Anastasia Samoylova
Museum of Contemporary Photography: Online
Free
Fri, July 16, 6-9pm
Abraham: Pushpins, Paintings & Drawings / Transitions & Transformations
Elephant Room Gallery (pop up exhibition): 3203 S Halsted St., Chicago, IL
Free
Fri, July 16, 6-10pm
Tiny Art Show
Pilsen Art House: 1756 W 19th St., Chicago, IL
Free
Fri, July 16, 7pm
BCMC Cooper Crain and Bill MacKay
Compound Yellow: 244 Lake St, Oak Park, IL
$15
Fri, July 16, 7:30pm
Tasha (Seated & Distanced)
Thalia Hall: 1807 S Allport St., Chicago, IL
$35-45
Fri, July 16, 9am-2pm
BLACK AF: An Afrofuturistic Pop-Up Experience
1039 East 43rd Street, Chicago, IL
$20-$27
July 16, 17, 18, 2021
Tacos y Tamales Festival
16th & Peoria, Pilsen, Chicago, IL
Free
July 17-December 12, 2021
Carrie Mae Weems: A Land of Broken Dreams
Logan Center Exhibitions: 915 E 60th St., Chicago, IL
Free
July 17 – September 4, 2021
Echoes: Sight, Sound, and Touch
boundary: 2334 W. 111th Place, Chicago, IL
Free
July 17 – August 22, 2021
Suspension of Belief
Prairie: 2055 W. Cermak Ave., Chicago, IL
Free
July 17 – September 25, 2021
Whitfield Lovell: The Spell Suite
South Side Community Art Center: 3831 S. Michigan Ave., Chicago, IL
Free
Sat, July 17, 2pm
Ear Taxi Festival Preview Concerts: Janice Misurell-Mitchell & Devin Clara Fanslow
DePaul Art Museum: Online
Free
Sat, July 17, 12-6pm
Record Store Day: Part Two – Miyagi Records
The Silver Room: 1506 E. 53rd St., Chicago, IL
Free
Sat, July 17, 7pm
Marquis Hill: Love Tape with special guest Sam Trump (Seated & Distanced)
Thalia Hall: 1807 S Allport St., Chicago, IL
$35-45
Sat, July 17, 4-6pm
Portraits in the Park with Daman Locks's Black Monument Ensemble
Washington DuSable Museum Flower Garden: 740 E. 65th Pl. Chicago, IL
Free
Sun, July 18, 1pm
Virtual Event: Judy Chicago in conversation with Kevin Kwan
Women & Children First Bookstore: Online
Free
Sun, July 18, 11am
The Rock & Roll Playhouse Presents: The Music of The Beatles for Kids
Thalia Hall: 1807 S Allport St., Chicago, IL
$15
Sun, July 18, 12-6pm
WE LOVE HOUSE MUSIC
The Silver Room: 1506 E. 53rd, Chicago, IL
Free
Sun, July 18, 4-6pm
Sound Walk
Norman W. Long: Marian R. Byrnes Park, 2200 E. 103rd St., Chicago, IL
Free
Sun, July 18, 3pm
Karris Adams Duo Rhythm Ninja Drums Les Intents Joseph Lepek of BGK Samuel Lewis
Comfort Station: 2579 N. Milwaukee Ave., Chicago, IL
Free
July 19-October 23, 2021
Toward Common Cause
Hyde Park Art Center: 5020 S Cornell Ave
Free
Tue, July 20, 5:45pm
Latino Writers Initiative Virtual Meet Up
National Museum of Mexican Art: Online
Free
Tue, July 20, 7pm
Virtual Reception & Artist Talk
Spudnik Press: Online
Free
Wed, July 21, 7pm
Virtual Author Reading: ROLLING WARRIOR by Judith Heumann with Kristen Joiner & Special Guests
Women & Children First Bookstore: Online
Free
Wed, July 21, 5:30-7:30pm
Defund CPD Workshop: Hyde Park
The Silver Room: 1506 E. 53rd St., Chicago, IL
Free
Thurs, July 22, 6pm
Conversation: An-My Lê and Shahzia Sikander
Museum of Contemporary Photography: Online
Free
Thurs, July 22, 7-8pm
Artists & Community Conversation Series- Cal Cullen, Allen Woods, Dr. Jarrod Dortch
Big Car: Online
Free
Thurs, July 22, 7:30pm
Manwolves (Seated & Distanced)
Thalia Hall: 1807 S Allport St., Chicago, IL
$20-40
Thurs, July 22, 6pm
Mural Waking Tour: Community Visions
Viaduct by the Hyde Park Art Center at 52nd & Cornell
Free
Thurs, July 22, 6pm
Virtual Artist Talk: Joseph Lefthand
Weinberg/Newton Gallery: Online
Free
Fri, July 23, 12-1pm
Photos at Zoom Discussion Session: Fern Shaffer
Museum of Contemporary Photography: Online
Free
Fri, July 23, 7pm
Tarriona 'Tank' Ball Vulnerable AF Book Tour (Seated & Distanced)
Thalia Hall: 1807 S Allport St., Chicago, IL
$25-35
Fri, July 23, 7-9pm
Free Fall 49
Bemis Center for Contemporary Arts: Online
Free
Fri, July 23, 7-10pm
PHOTO DOCK: FILTER PHOTO'S COMMUNITY CELEBRATION
Filter Photo:1821 W Hubbard St., Chicago, IL
Free
Fri, July 23, 7pm – moonrise
Bikes y Botanic: a community bike ride
The Honeycomb Network: 2659 W. Division St., Chicago, IL
Free
July 24-August 29, 2021
A Composition of Memory
FLXST Contemporary: 2251 S Michigan Ave., Chicago, IL
Free
Sat, July 24, 1pm
In Conversation: Mary Ribande & Lanisa Kitchiner
Kavi Gupta: Online
Free
Sat, July 24, 2-4pm
Tales of Da Woods: Open Mic
Circles and Ciphers: 1545 W. Morse, Chicago, IL
Free
Sat, July 24, 6:30-9pm
Ameerah Tatum & Colby Beserra
Blanc Gallery: 4445 S. Martin Luther King Dr., Chicago, IL
Free
Sat, July 24, 10am-3pm
Artisan and Makers Market
Ainslie Arts Plaza: 4844 N. Lincoln Ave., Chicago, IL
Free
Sat, July 24, 2pm
Ear Taxi Festival Preview Concerts: KAIA String Quartet
DePaul Art Museum: Online
Free
Sat, July 24, 10am-4pm
Palmer Square Art Fair
Palmer Square, Chicago, IL
Free
Sat, July 24, 7:30pm
Brokeback (Seated & Distanced)
Thalia Hall: 1807 S Allport St., Chicago, IL
$20-40
Sat, July 25, 2pm
July Intro to Piezography Workshop
LATITUDE: 1821 W Hubbard St., Chicago, IL
Free
Wed, July 28, 12pm
Virtual Launch: GAME NIGHT with Josue Pellot
DePaul Art Museum: Online
Free
Wed, July 28, 8pm
Orville Peck – Lollapalooza Aftershow
Thalia Hall: 1807 S Allport St., Chicago, IL
$20-40
Thurs, July 29, 10pm
Boy Pablo with JAWNY – Lollapalooza Aftershow
Thalia Hall: 1807 S Allport St., Chicago, IL
$25-45
July 29 – September 4, 2021
Eulogy
Aspect/Ratio Projects: 864 N. Ashland Ave., Chicago, IL
Free
Fri, July 30, 12-1pm
Photos at Zoom Discussion Session: Robyn Beeche
Museum of Contemporary Photography: Online
Free
Fri, July 30, 4-9pm
Dreamscapes: Imaginings of a Black Pastoral
Roots & Culture: 1034 N Milwaukee Ave., Chicago, IL
Free
Fri, July 30, 7pm
Dowd & Drew
Compound Yellow: 244 Lake St, Oak Park, IL
$15
Fri, July 30, 10pm
Mt. Joy with Rookie – Lollapalooza Aftershow
Thalia Hall: 1807 S Allport St., Chicago, IL
$25-45
July 31-August 28, 2021
Paul Nudd's Purple Mayonnaisery + The Uncollected Pictures of Paul Nudd
Western Exhibitions: 1709 W Chicago Ave., Chicago, IL
Free
July 31-September 19, 2021
Heather Brammeier: Maybe Never
Hyde Park Art Center: 5020 S Cornell Ave., Chicago, IL
Free
July 31-September 4, 2021
Jovan C. Speller
Aspect/Ratio Projects: 864 N Ashland Ave., Chicago, IL
Free
Sat, July 31, 12pm
PRINTMAKING WITH AMNA ASGHAR
MOCAD: 4454 Woodward Ave, Detroit
Free
Sat, July 31, 12-3pm
Ricardo Mondragon: Negative Space?: Gallery Visit
Elastic Arts: 3429 W Diversey
Free
Sat, July 31, 7pm
Harry Tonchev Trio
Compound Yellow: 244 Lake St, Oak Park
$15
Sat, July 31, 10pm
Brittany Howard with Noga Erez – Lollapalooza Aftershow
Thalia Hall: 1807 S Allport St
$25-45