January Art Picks
Our top six picks of art, film, and performance to see this month in Chicago.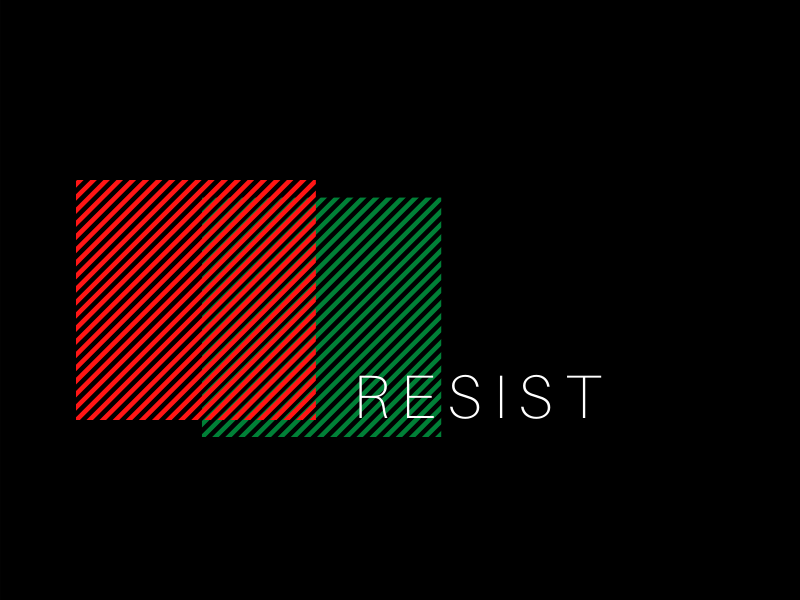 Click here to get our Art Picks and latest articles delivered to your inbox monthly.
Salonathon: RESIST!
Monday, January 2, 8pm,
Beauty Bar (1444 W Chicago Av)
Free
The year opens with Salonathon, one of the most dependable showcases of fantastic underground artists in Chicago. The theme is Resist!, inspired by the collective desire felt by many to prepare for the work ahead given the soon-to-be leadership of the country. McKinzie Chinn and Jane Beachy, the curators of the event, make clear the underlying energy that will charge the night with the declaration, "We resolve to keep moving forward in spite of all that threatens to impede us, and to stand for ourselves and one another — 'cause we're all we got." Come for the chance to witness work by some of our city's top performers, but stay to work it out on the dance floor among a group of fellow resisters.
"Being, enough" and Cloud of the Ideal
Opening Reception: Friday, January 6, 6-9pm
Chicago Artists Colaition (217 N Carpenter St)
Free
Cloud of the Ideal is a solo exhibition of new paintings by Amanda Joy Calobrisi. The exhibition statement describes the work perfectly, stating that "the figures that occupy Calobrisi's canvases inhabit worlds that she believes are less dangerous and more revealing than ours. They fold, bend, lean and stretch in pursuit of new perspectives and to see themselves more clearly. In a realm where individualism and agency become the norm, self-love and self-admiration are no longer a private revolution." Alongside Calobrisi's paintings is the work of Austen Brown, Alex Calhoun, Jon Chambers, Jeremiah Jones, Bobbi Meier, and Marina Miliou-Theocharaki in "Being, enough," an exhibition that serves as the kind of respite that will stir you and provoke reflection through a series of works that make room for you to dream, play, and heal. Through the individual investigations of these artists, this exhibition attempts to raise more questions than conclusions and provide space to think in the company of art. "Being, enough" is curated by Kate Pollasch and runs through January 26th.
ReRaceDis: a movement installation
Saturday, January 7, 4:30 – 6pm
Stony Island Arts Bank (6760 South Stony Island Av)
Free
As part of a one-year residency with the Rebuild Foundation, choreographer and movement artist Barak adé Soleil presents a temporal dance duet performed in the glow of artist Glenn Ligon's A Small Band, a large-scale installation of the words "blues," "bruise," and "blood" at the Stony Island Arts Bank. Both adé Soleil's reRaceDis and Ligon's A Small Band draw directly from the historic case of Daniel Hamm who was part of the "Harlem Six," a group of young black men wrongly accused and convicted of murder in the 1960s. While Ligon pulls words directly from Hamm's testimony, adé Soleil references "Come Out," a work by Belgian choreographer Anne Teresa de Keersmaeker and minimalist composer Steve Reich, also inspired by Hamm, which aesthetically detached itself from most physical markers of Hamm's being and experience. With the help of Brooklyn-based dancer Ricarrdo Valentine of Brother(hood) Dance, adé Soleil attempts to re-centralize Hamm within the narrative by re-inserting the black male body and symbolic movements into the composition.
Transition to Power: An Inauguration Day Film Screening
Friday, January 20, 7-9pm
Mana Contemporary, 5th Floor (2233 S Throop St)
Free
Since November 9th, On The Real Film, a Chicago-based film company, has been sitting down with Chicago artists and cultural producers to capture their response to the recent presidential election. The result is a series of shorts featuring poets, artists, architects, designers, printmakers, photographers, and other artists who speak openly about their confidences, hopes, fears, frustrations, and questions moving forward. On inauguration day, On The Real Film in collaboration with us at Sixty Inches From Center will present a series of unreleased interviews and host a discussion around what happens next over drinks and food by one-of-a-kind food and art collaborators Guerilla Smiles.
One day this kid will get larger
Opening Reception: Thursday, January 26, 6-8pm (Runs through April 2)
DePaul Art Museum (935 W. Fullerton Av)
Free
Curated by Danny Orendorff and presented by the DePaul Art Museum, this show is the perfect companion to Art AIDS America, the monumental traveling exhibition addressing HIV/AIDS at the Alphawood Foundation. One day this kid will get larger leaves the history to Art AIDS America, and instead features a strong list of emerging artists who address the ongoing HIV/AIDS pandemic in North America through a contemporary lens and at the intersections of childhood, education, popular culture, and race. If seeing Art AIDS America is on your list of things to do, be sure to work in some time to catch this show, too. They're housed just blocks away from one another. The exhibition runs through April 2, 2017, with the opening reception on January 26th from 6-8pm.
MCA Stage: Open TV Tonight
Saturday, January 31, 5:30-7:30pm
Edlis Neeson Theater, Museum of Contemporary Art Chicago (220 E Chicago Av)
Free
If you needed something else to to add to your binge queue during winter hibernation, we recommend Open TV, a Chicago-based platform and producer of web series by, for, and about queer, trans, cis-women, and people of color. With hours of refreshing and binge-able shows under their belt (including personal favorites You're So Talented and Two Queens in a Kitchen), they're opening the year by premiering the pilots of new Open TV Originals at the Museum of Contemporary Art in the style of The Late Show. You'll sit in as the studio audience while series creators Fatimah Asghar & Sam Bailey (Brown Girls), Kayla Ginbsurg & Ruby Western (Afternoon Snatch) and Ricardo Gamboa (Brujos) offer commentary with the sounds of DJ Hijo Pródijo soundtracking the night.