Elbow Grease: Clocking In For Unpaid Labor
A photo essay narrating an artist's work about domestic labor through her series Our Lady of Perpetual Housework.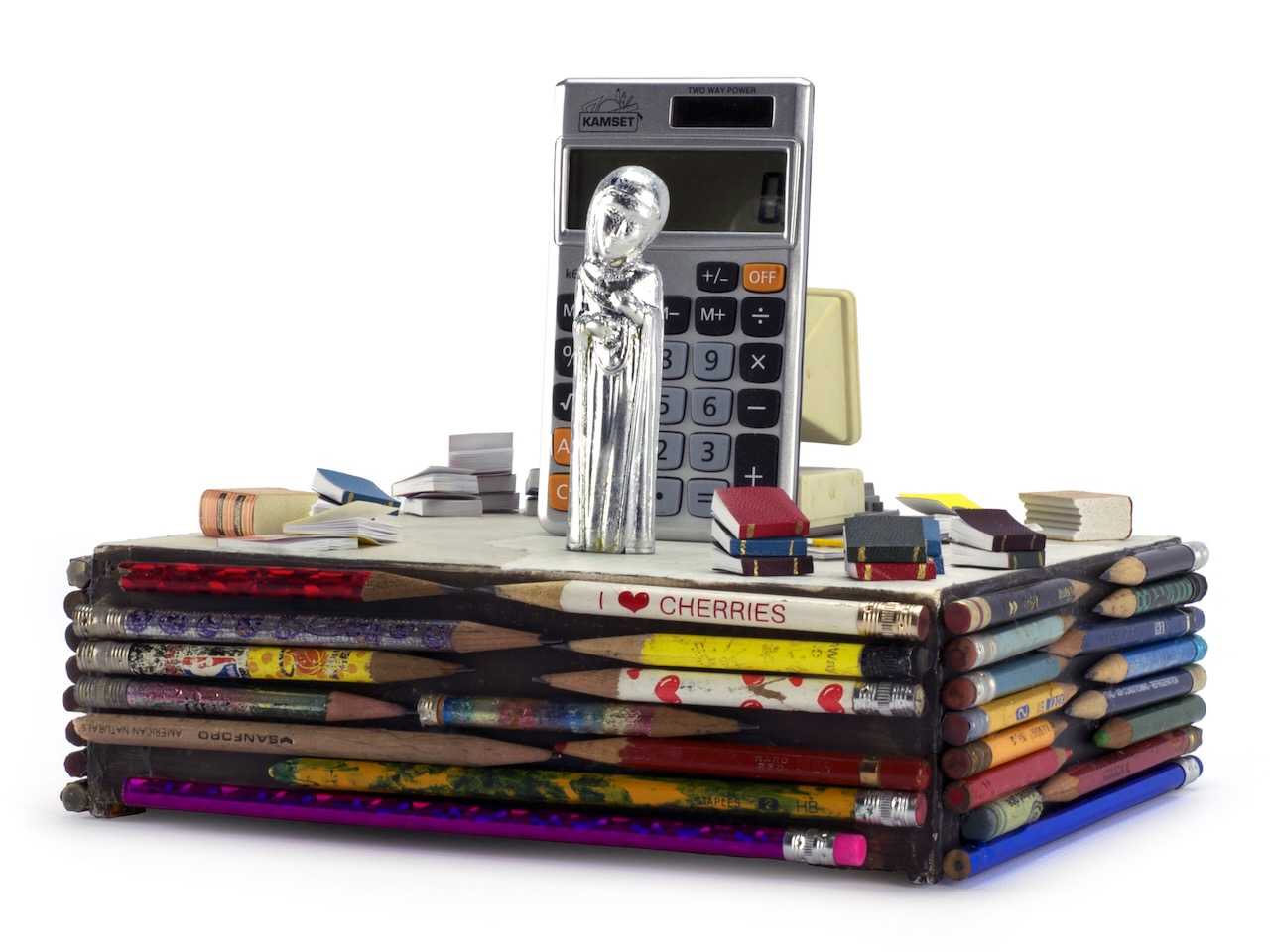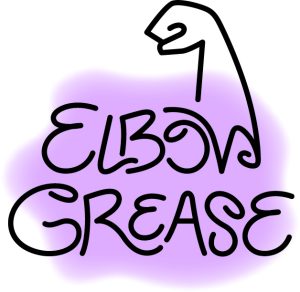 Elbow Grease is a social media intervention that Chenoa Baker created in 2021 as a response to the unseen female labor in an MFA/Boston Union protest. The name comes from a part of the plot of Funny in Farsi by Firoozeh Dumas where an Iranian woman who moved to the US in the 70s was told that she needed elbow grease to remove a stain but because of linguistic differences, she did not understand the idiom and asked a cashier what aisle elbow grease is in. The cashier then explained that it requires scrubbing and pressure which is a cross-cultural concept that places the woman, in this case, as the agent of change. 
In partnership with Sixty Inches From Center, Elbow Grease has asked writers to respond to the Elbow Grease mission:
Elbow Grease combines media, art, and vernacular images to recognize women and nonbinary folks' labor. While this idiom is not linguistically universal, its concept is palpable and underrecognized in all capitalist systems across differences. There are multiple factors influencing labor — race, color, gender, education, sex, immigration status, and class, to name just a few. There are also multiple linguistic terms to describe this labor. Overall, this project seeks to recognize and interrogate labor's visual grammar while highlighting its representations' multiplicity.
Logo by Tianna Garland.
---
Complaining About Housework: Our Ladies of Perpetual Housework
Our Ladies of Perpetual Housework sculptures, I used to tell people, were a cry for help. That seemed more socially acceptable than the truth: the laundry pile in front of the machine was up to my knees and it would almost make me cry. That was when my kids were little — I had three kids and back then, two of them were under three. When people asked me how many kids I have, I'd say, "Three, but they run really fast, so it seems like more."
For many years, my partner had a commute that was three hours each way: two trains, two walks, and a shuttle bus. He was away from home for 15 hours a day and couldn't do as much housework as before. That's when I made this series of sculptures, first Our Lady of Perpetual Dishes and then Our Lady of Perpetual Laundry — made with an overturned bucket of laundry soap from Costco.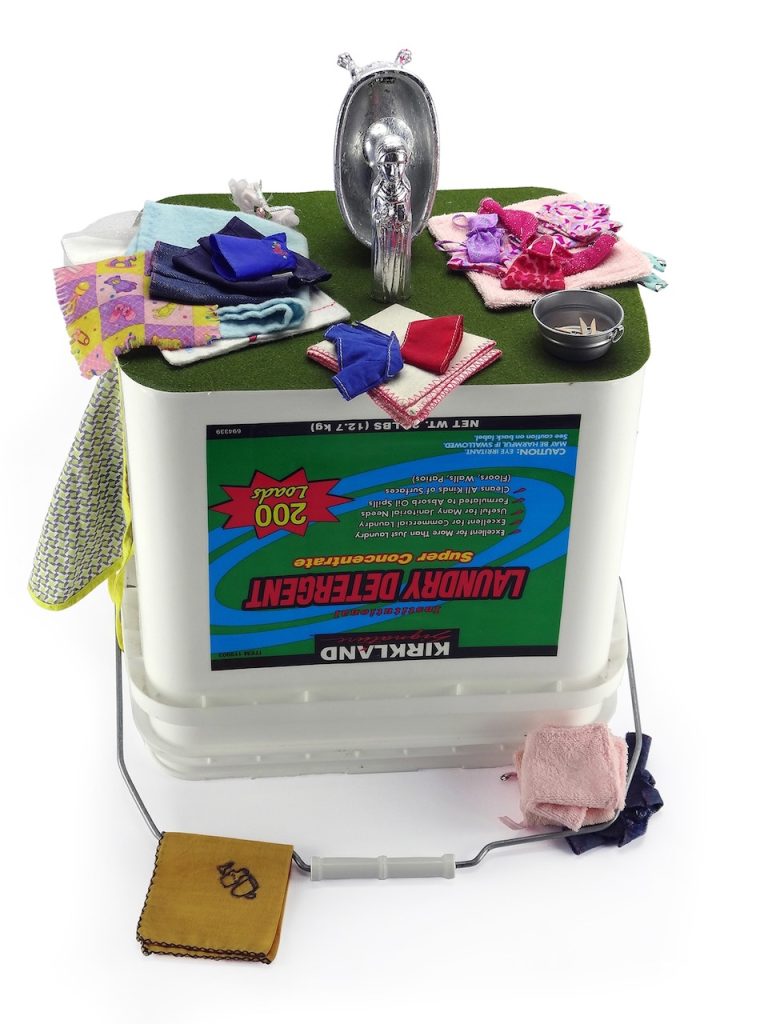 Each assemblage includes a small plastic saint that I've silver-leafed and most of the saints have a little niche of a silver-leafed doll bathtub or lid from a sardine tin. These are inspired by little grottos I saw as a child; especially an image of a grotto in a book on folk art that I can no longer find. It had a front yard grotto with an actual bathtub as the niche for a statue of the Virgin Mary.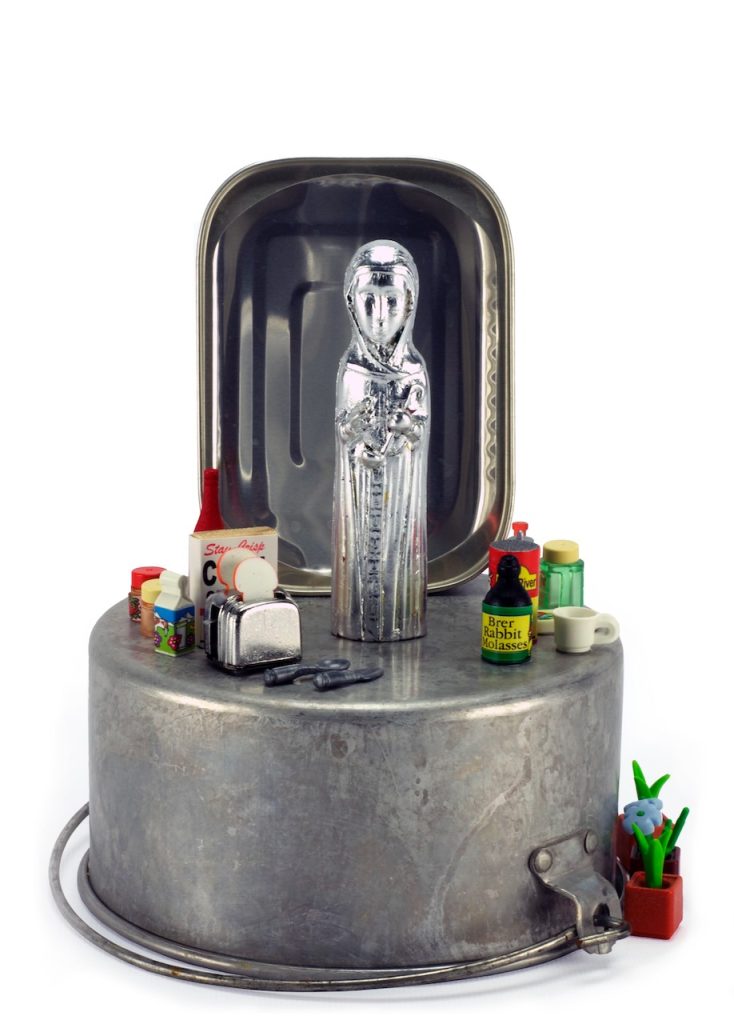 My friends suggested making one about dinner and driving. I resisted at first, but eventually gave in and made Dinner, Cooking, Beauty, Frugality, Driving, and Housework. Our Lady of Perpetual Housework is the darkest. It's made on a base of a mini ironing board for sleeves and has a PlayMobil skeleton with little mice on it, because "housework is not over until you're dead."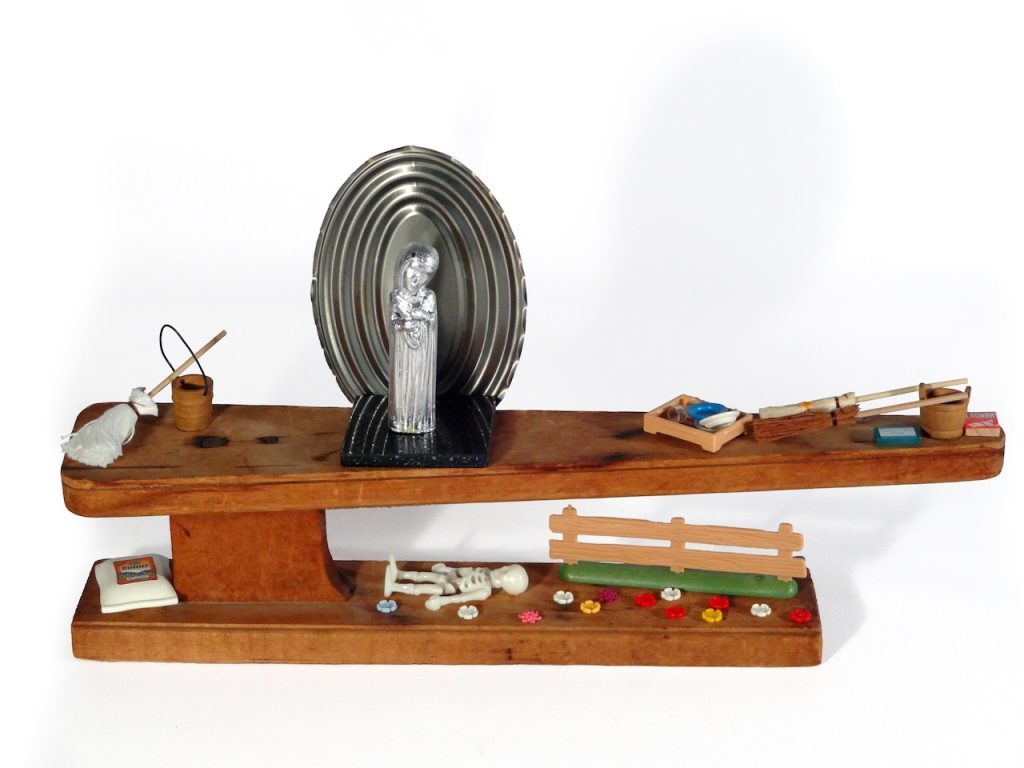 While they are well received at library exhibits and on stickers and greeting cards, galleries did not take them seriously. Eventually, I decided to stop working with toys and miniatures. I continue to be a material-based artist whereby collecting is an important starting point. I love thrifting, creative reuse stores, and fabric stores. I have collected unfinished craft projects for years; especially, quilt blocks. I've long imagined that when I'm working with these quilt blocks, it's a collaboration with an unknown quilter, who was most likely a woman.
---
The Role of the Creative Reuse Stores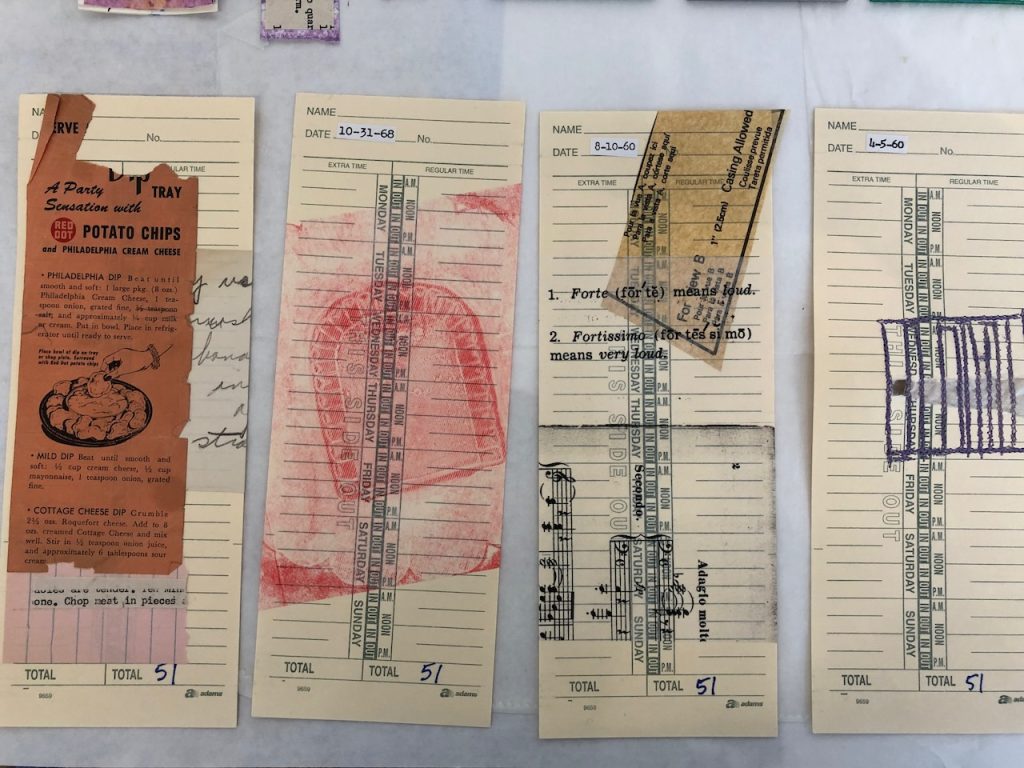 In October 2021, I participated in a residency at the Grand Marais Art Colony in Grand Marais, Minnesota. I had a glorious, 2,000-square-foot studio to myself for nine days. I had to bring whatever tools and materials I wanted to work with which meant taking a variety of tools and materials because my studio practice is broad. I work in collage (both paper and textile-based), quilting, printmaking, and sculpture. I went to the residency with a rough plan, an open mind, and a carload of materials. One of the collage materials I had in my bins was a bundle of time cards that I'd gotten at a creative reuse store before the pandemic.
While at the residency, I experimented, I worked larger than usual, and I made a series of seven-time cards, one for each day of the week, that I called Time Cards for Mothers. Each day of the week featured a different kind of work: cooking, caring, sewing, mending/emotional labor…One simply has a red door and is called Escape.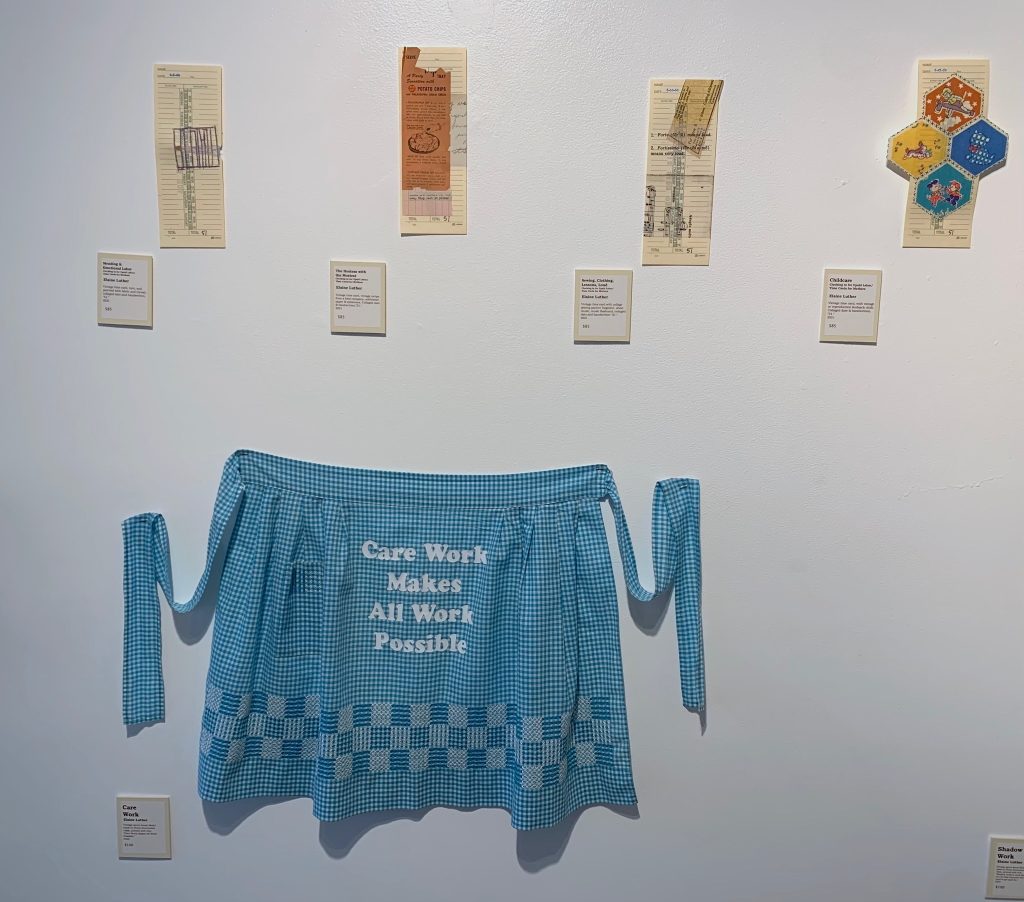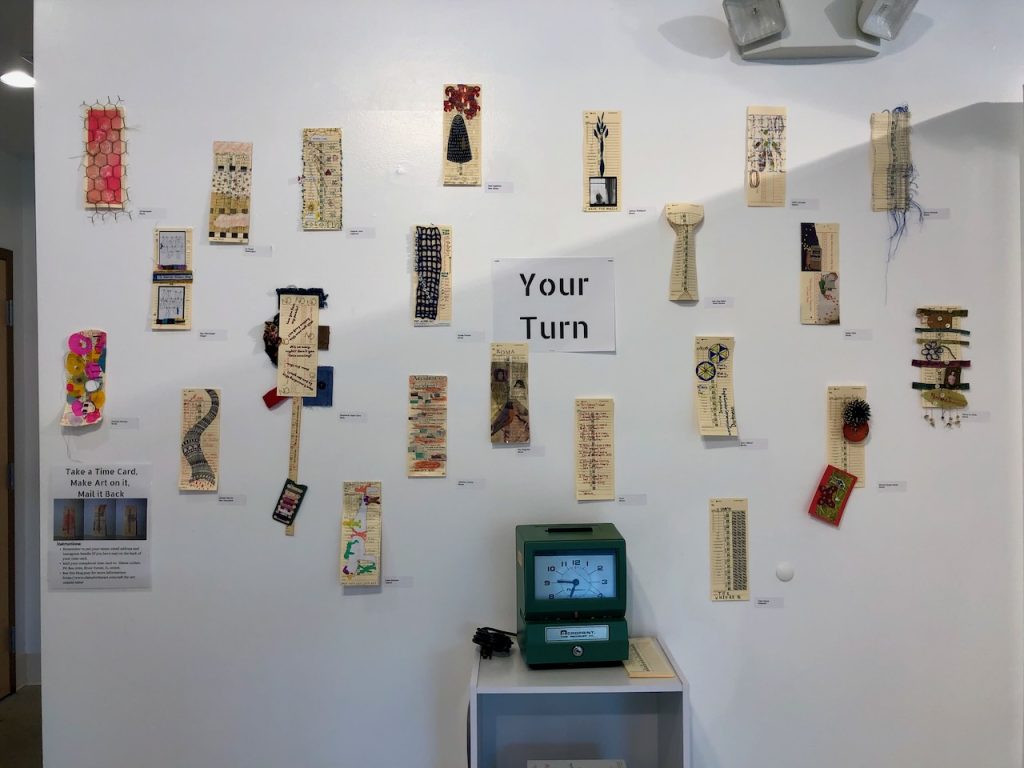 ---
Moving from Toys To Cyanotype-Like Prints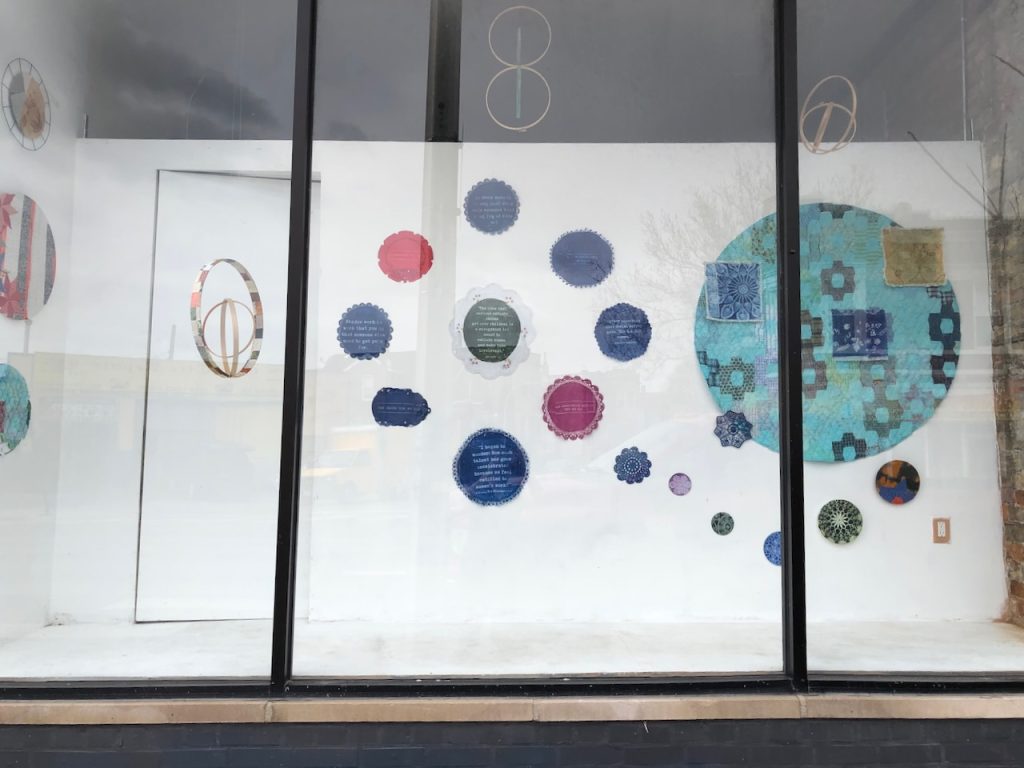 In February 2022, I participated in a virtual residency with online community support. For most of that time, I used light-reactive dye, making prints of vintage doilies onto vintage hankies; I happened to have bags of each. When I ran out, I headed to eBay, because the pandemic made it difficult to go shopping.
These hankies symbolized women's labor. They sometimes had delicate crocheted edges, simple edges, or elaborate ones. Even some of the hankies displayed embroidered initials or flowers. My printed hankies contained ghostly images of the doilies, dried plants, or other hankies.
By changing the context and color, people took a closer look. In May 2022, I had a solo show, Ghost Prints and Shadow Work, at the Compassion Factory in Brookfield, Illinois. It comprised of those original seven-time cards, plus vintage aprons with text, and many handkerchiefs, napkins, placemats, table runners, and one quilt fragment, all printed with light-reactive dye. One friend came to the opening and a week later, posted that she was still thinking about the art and labor.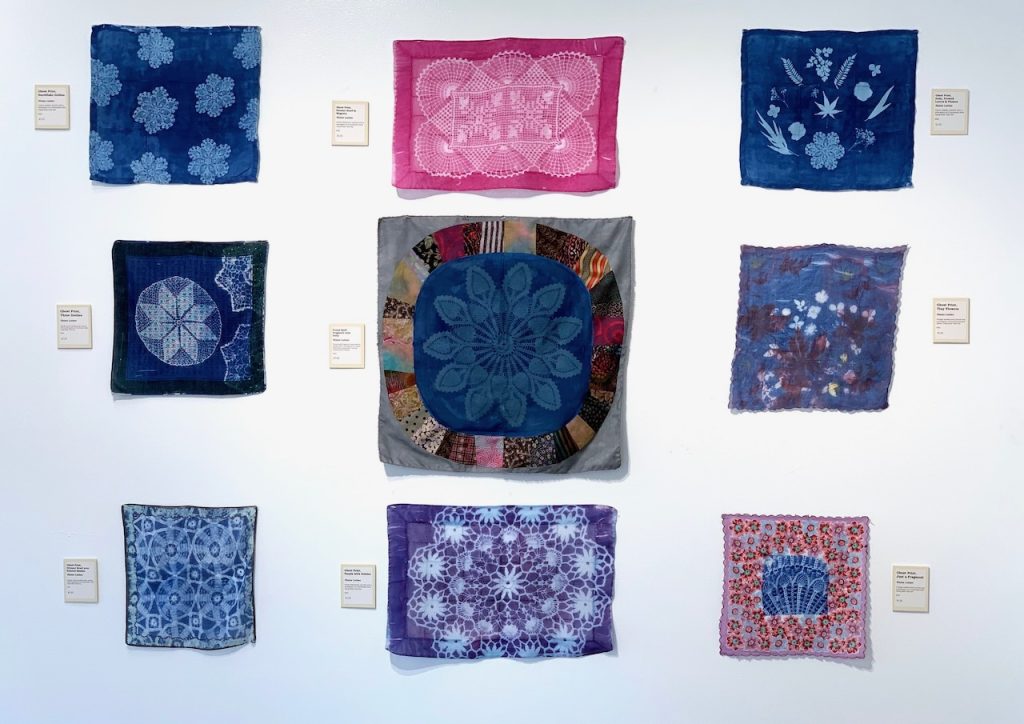 One napkin in the show was printed to say, "Shadow Work is Work that You Do that Someone Else Used to Get Paid for." This is an idea from the book Shadow Work by Craig Lambert. Shadow work is like clocking in — those time-based machines that take so much longer than popping a quarter in the parking meter. For clocking in, there is a machine that quantifies your labor, but with housework, you're your own data entry clerk, on your own time, logging in such things as going to the doctor.
After that show, I expanded on the idea of shadow work on doilies, printing some that say, "Your Cashier Today was Self," a thing that it actually says at the bottom of your grocery store receipt. I never noticed that before, but once I saw it, I printed it on a doily. I kept going with more jobs: gas station attendant, administrative assistant, furniture assembler, stock trader, housekeeper, airline check-in agent, bagger… On Christmas Day, 2022, I posted a Christmas handkerchief printed with "Your Creator of Christmas Magic Today was Mom," which many tired moms resonated with and commented on Instagram.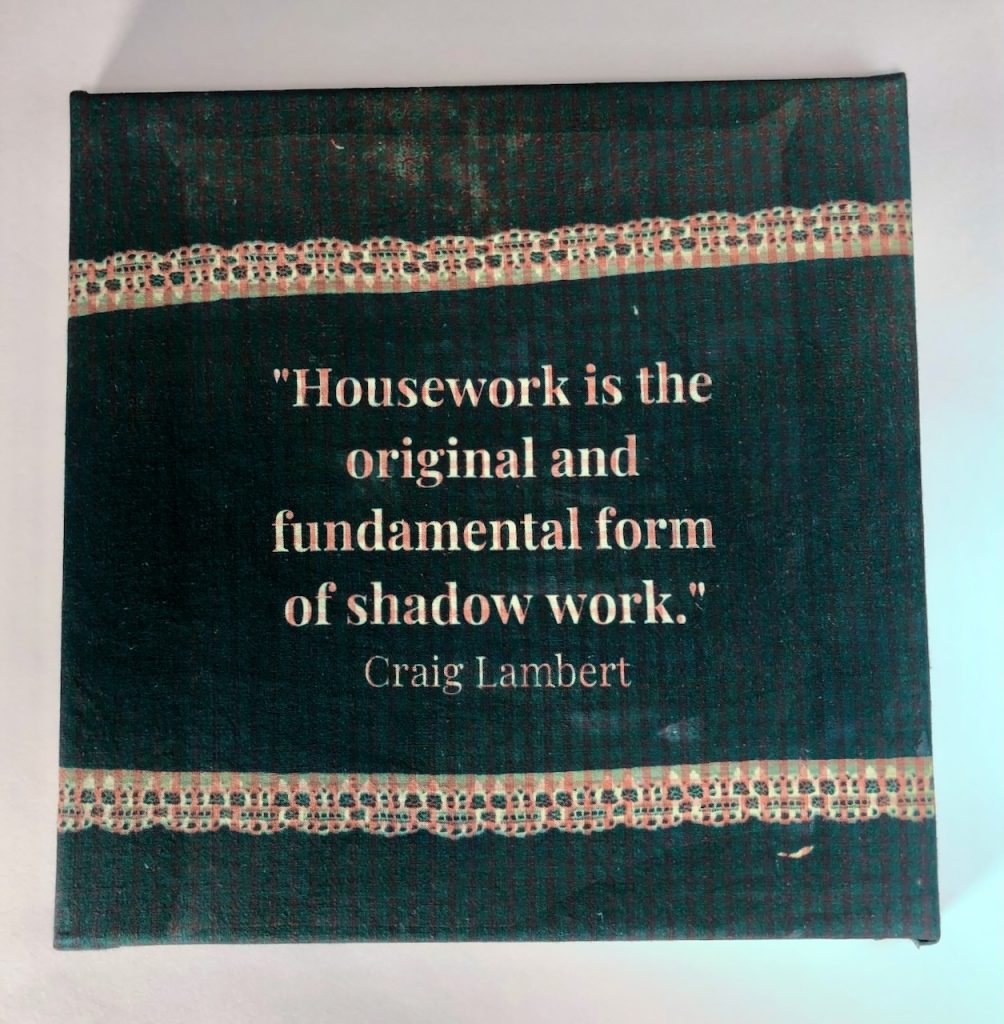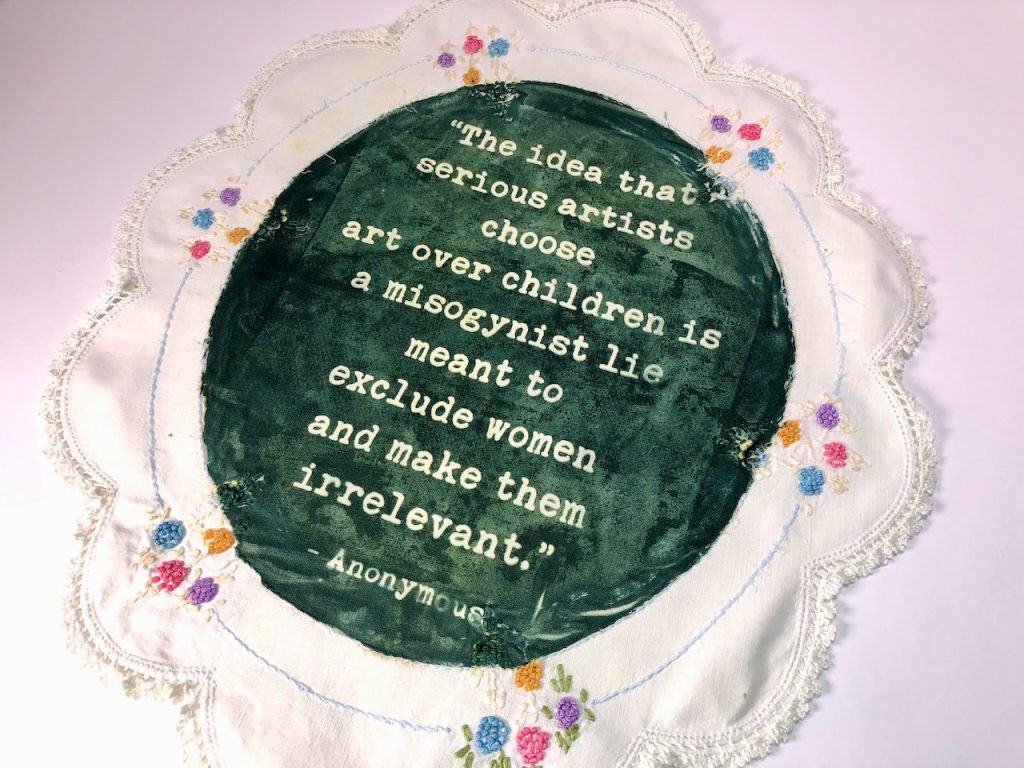 ---
How the Time Card Project Works
The Clocking in for Unpaid Labor Project is a public participation art project where people are invited to collage, sew, quilt, paint, whatever, a time card in order to express something about the unpaid labor that they do. Each card loaned to the project is photographed and shared on my website and Instagram. I post public calls and pitch exhibitions of the cards. With some cards, the meaning is clear, but with others, I wasn't sure what the cards meant. I began to wish that I had statements from the artists, so I created a Google Form and tried to get the word out that they could add an optional short statement. But I'd kept the project primarily analog by deciding to mail letters to give everyone an update.
As I was preparing for that solo show, Ghost Prints and Shadow Work, I posted in some of the professional art groups that I'm a member of that I had extra time cards for folks to use to make new works and that I'd put it up in my show. I was thinking that after the show, I'd put out a public call and see what happened. But the enthusiasm for the idea was really strong in all of my groups. I asked people to send me self-addressed stamped envelopes and sent them a free timecard. Even visitors at the gallery were able to take part in creating their own time cards on-site. I've mailed out or given out something over 200-time cards and there are over 60 cards in the collection! In front of the wall of timecards, I placed a vintage punch clock that I'd found on eBay and put it on a small bookshelf, with books on the shelf, such as The Price of Motherhood, Nickel and Dimed, and Shadow Work.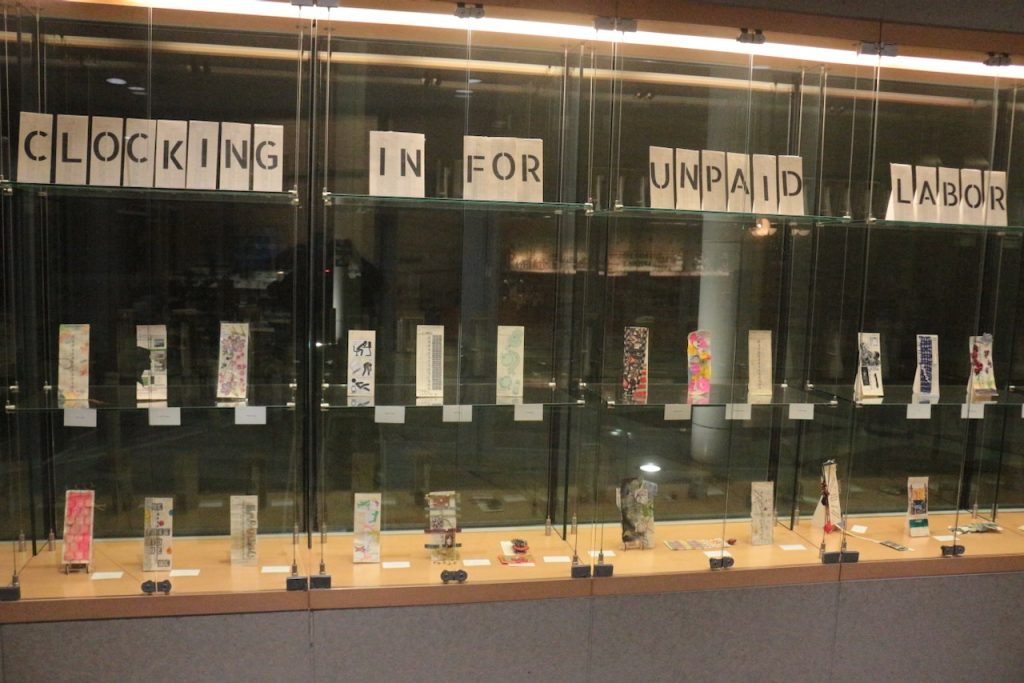 The largest show of the time cards to date was held at the Orland Park Public Library, in Orland Park, Illinois in January and February of 2023. We also held a workshop and participants' time cards were added to the display case. At this year's One State Conference, co-hosted by the Arts Alliance Illinois and the Illinois Arts Council, I facilitated a time card workshop and also installed a pop-up show of just some of the time cards.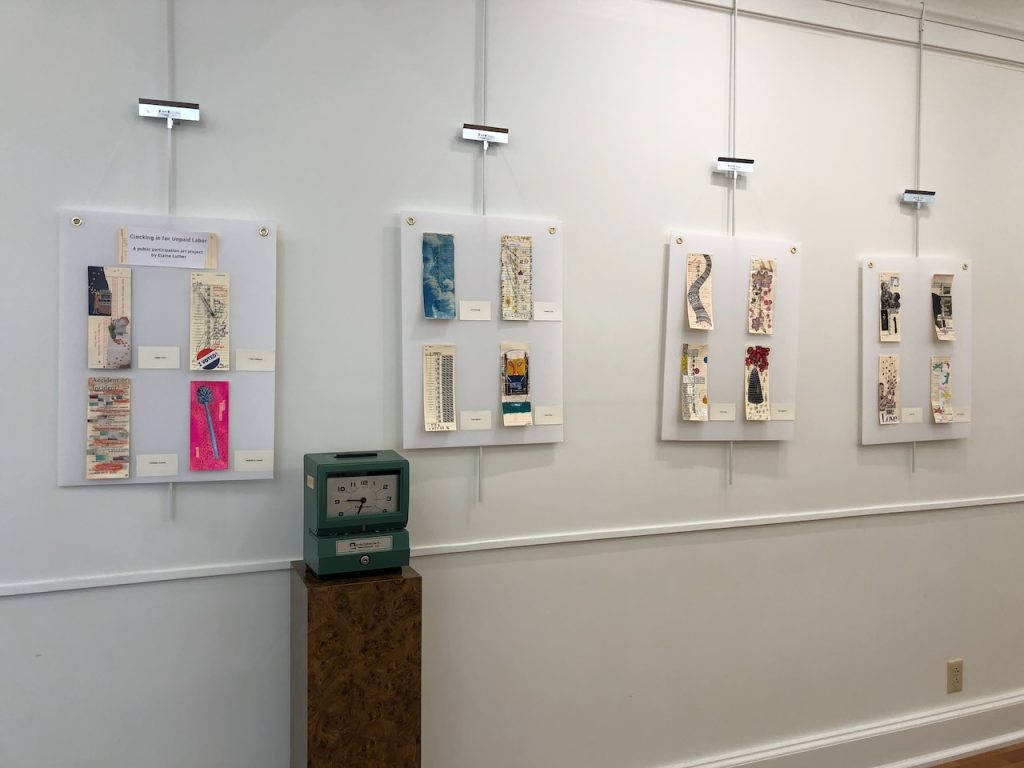 In contrast to previous projects, this one uses a symbol with easy recognition — everyone gets it. My art for years has used this idea of a form as a symbolic base, such as the Our Ladies of Perpetual Housework. My Medals that You Wouldn't Want to Earn take the form of a medal, but for things that you wish you didn't achieve, like being in a car accident and never recovering physically, or being an exhausted empath. The timecard project has appealed to people not only because of the subject matter, but because it's flexible, low-cost, and participatory. A time card even fits in a standard business-sized envelope, so it's essentially a mail art project. And the creative bounds are wide open in terms of what you can create on a card. The only guidelines are to not extend too far off the edges and to leave at least part of the time card exposed. Beyond that, people can draw, paint, collage, or just write words.
One of the original ideas of the project has been to encourage others to host their own time card projects. This has at last happened — I was in Knoxville, Tennessee attending a residency on folklore and collage with the Kolaj Institute at the Knoxville Museum of Art, and two fellow residents are taking the concept back to their communities. One person took a stack of time cards to their local college group. Another person planned to host a workshop and then a show. I shared my lesson plan for a workshop with this person (soon to be available on my website). By open-sourcing, the project can have a larger impact, and the topic of unpaid labor gets more attention if more of us all across the country and the world are making art, holding workshops, and putting on shows.
What surprised me is the depth of emotion of my prompt. I've also been surprised at the range of unpaid labor people do — one artist goes on a daily walk and picks up trash along the way. She documented her time doing this on the back of the card and attached some of the items she picked up during one walk. Likely because I'm a mother, some of the time cards from other mothers really struck me — one is of a female figure lying on the ground covered by children, all over. It's more children than she actually has. On the back is an image of a screaming face and the card has written on it, "She carries all the weight, 24/7, 24/7, 24/7," and, "no breaks, no breaks, no breaks, no breaks." Mothers and stepmothers who are the caregivers of young people with precarious mental health situations saw these cards as a way to express their fears and vent about how hard this work is. One wrote, "I hope that I am enough."
---
* Complete List of Artists:
Therese Angarone @territherese72, xtine burough @xtineburrough, Alex Velazquez Brightbill @avelazqu80, Terry Clarbour @mcruby1920, Kelley Clink @Kelleyclink, Kathy Cornwall, Cathleen Cramer @cmcramer.art, Tess Dillenberger @tessdillenberger, Stephanie Capps Dyke @creativeandmindful, Charity Capili Ellis @ccapelliscreate, Kate Eggleston @kate.eggleston, Rachel Finkelstein @rachelfinkelstein1206, Kat Futado @katfurtadoart, Lara Emmerling Grace @laragracestudio, Angela Green, Katie Gresham @katie.gresham, Lisa S. Gibson, Nancy Hines, Sarah Berger, Norma Goose Kantor, Carissa Ann @allkindsof_books, Heather Lowe @hl5hl5, Elaine Luther, Carol Maurer @carol.maurer, Ally Messer @babyavacado, Carolyn Morriss, Jean Gray Mohs @jg.fourdots, Amanda Mulchay @play.colorful, Jill Nahrstedt @jillnahrstedtart, Cynthia O'Neill @awalkoflifearts, Priscilla Perkins @thimble_rigger, Andre Pace, "P.D.", Jan Reagan @janreaganart, Kathryn Rodrigues @kathryn.rodrigues, Donna Rowsell @donna.rowsell, Liz Ruest @lizruest, Leah Sandler, Robin Taft, Liz Trosper @_not_jack_white, Alex Velazquez Brightbill @avelazqu80, Kashoan Ward @kraftykash, Kiley Ward @kiley_ward, and Daniela Wenzel @danielawenzelart
** Complete List of Artists:
Therese Angarone @territherese72, Daniela Wenzel @danielawenzelart, Nancy Hines, Norma Goose Kanter, Terry Clabour. @mcruby1920, Heather Lowe @hl5hl5, Donna Roswell, Carol Mauer @carol.maurer, Kate Eggleston @kate.eggleston, Kelley Clink. @Kelleyclink, Amanda Mulcahy @play.colorful, Kathryn Rodriguez @kathryn.rodrigues, Jean Gray Mohns @jg.fourdots, Stephanie Capps Dyke @creativeandmindful, Cathleen Cramer @cmcramer.art, Tess Dilenberger @tessdillenberger, and Pricilla Perkins @thimble_rigger
---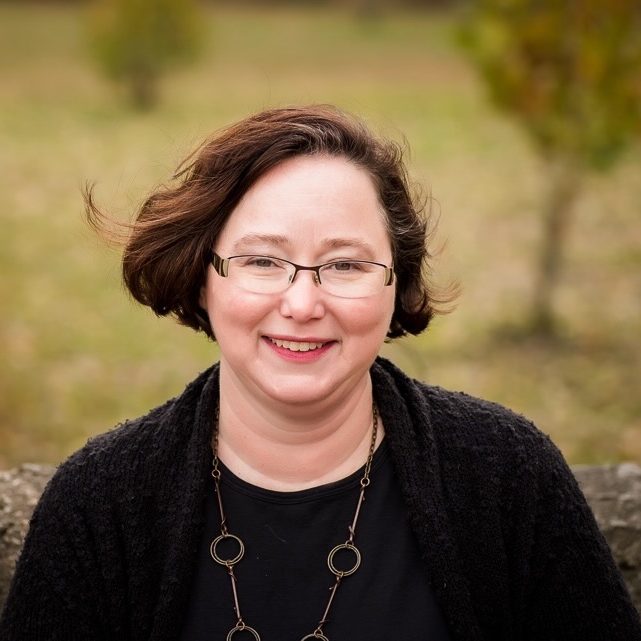 About the Author: Elaine Luther is an artist whose work explores death, motherhood, and doing the dishes. She finds that the more honest she is in her art, the more others can connect with it. Her art has been exhibited nationally and internationally, notably in Chicago at Woman Made Gallery and in London. Solo shows include Harold Washington Library, West Englewood Public Library, Ignition Project Studios Window Gallery, and multiple micro-galleries, including two in the U.K. She lives in Chicagoland with her family, where she's also the gallerist for a series of 12" x 12" box galleries where she puts on shows of miniature art.