Celeste Malvar-Stewart: Zero-Waste Haute Couture in Columbus, Ohio
Celeste Malvar-Stewart has been a pioneer of sustainable and ethical fashion for 25 years, creating zero-waste bespoke felted dresses made with alpaca and sheep fibers from her appointment-only Columbus studio.…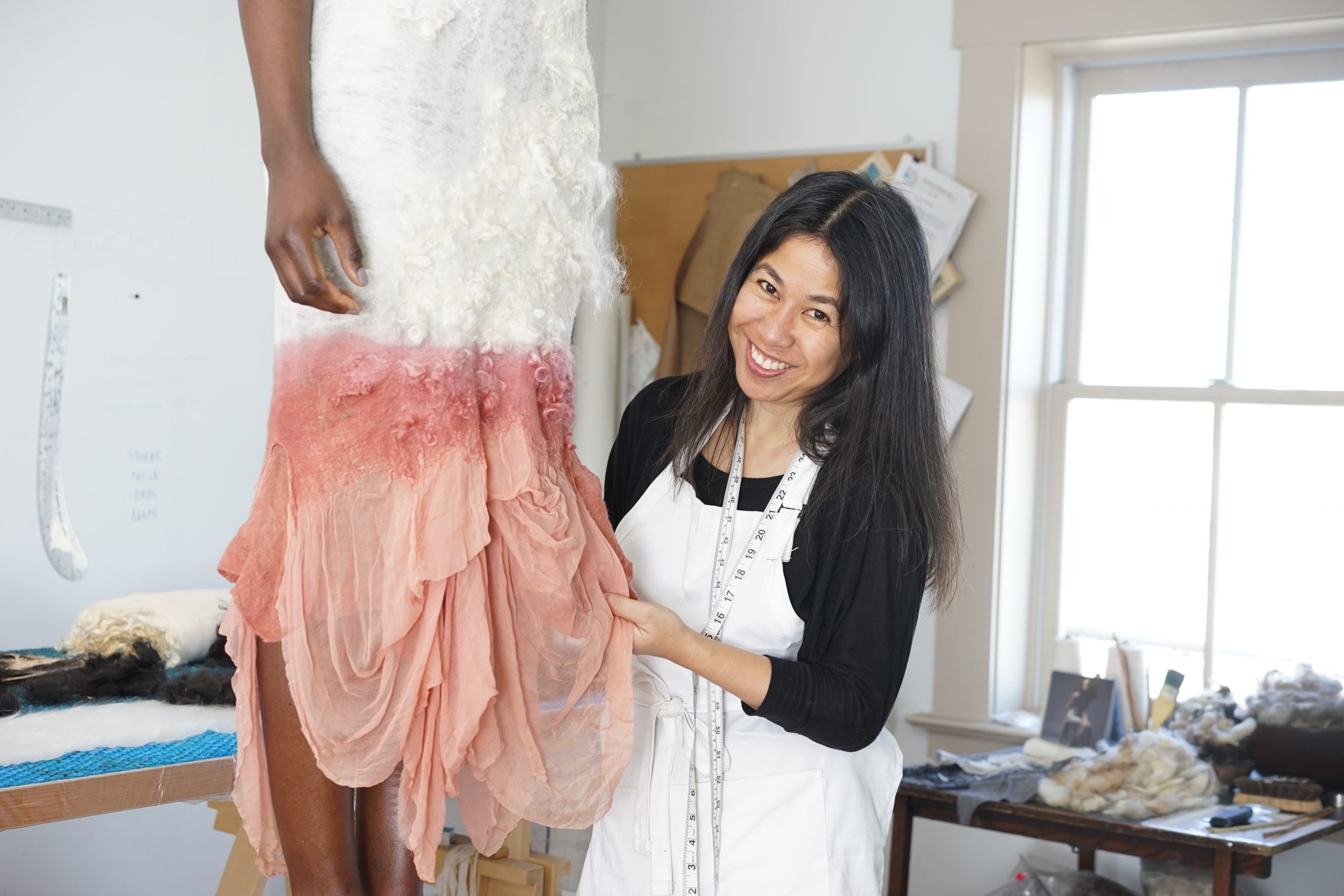 Celeste Malvar-Stewart has been a pioneer of sustainable and ethical fashion for 25 years, creating zero-waste bespoke felted dresses made with alpaca and sheep fibers from her appointment-only Columbus studio. She knows the names and can recognize the fleece from each individual alpaca and sheep. When I made a felted scarf with her last year, she showed me how Sugar has tighter corkscrew curls, while Gandalf is looser and fluffier. Celeste works directly with local Ohio farmers to source her fibers and is proud to be part of a fashion revolution where it's becoming a statement to re-wear pieces. Prices range from $800-$1,500 for one-of-a-kind cocktail dresses and up to a few thousand for wedding dresses.
"When there's that value and connection with the animals and your dress, you're so not going to throw it away," she says. With a minimal carbon footprint and without relying on imported fabrics, she's creating farm-to-dress fashion. With her atelier, Celeste is more of an artist than a designer in the traditional sense. Her dresses are seamless because she's creating the textile as she's creating the garment, so there's no waste at all. She even makes her own natural dyes. Her dresses do not wrinkle–a big asset for somebody who travels as much as I do, with my clothes constantly stuffed into a suitcase. And alpaca wool repels scent, so they don't need to be washed often.
Here, I chat with Celeste about her career, her work this past year, and her plans for the future.
This interview has been edited for clarity.
Amber Gibson: When did you first begin working with sheep's wool and alpaca fibers to design clothing, and why have these become your favorite materials to create sustainable textiles?
Celeste Malvar-Stewart: I first started working with wool during graduate school in 2009, when I began exploring different ways of felting the fiber. At that time I didn't mind very much where I obtained the fibers nor pay too much attention to their quality. It wasn't until we moved to Columbus in 2012 that I began working directly with Ohio family farms to obtain fiber from their happy animals, [and] that allowed me to really appreciate the fine quality of fiber that the breeders worked hard to produce. This is also the time when I added alpaca to my repertoire of raw materials and fell in love with the fiber's luxurious and sustainable qualities. By working closely with local farmers, breeders, and their animals, I inevitably fell in love with them, too! I began to notice the different personalities of each animal, and using their fibers became essential to my design approach.
So, it's no surprise that wool and alpaca have quickly become my favorite materials to create textiles. First off, just touching the fibers is practically therapeutic! Feeling the various textures, crimp, and curls allows me to find their place in my designs. The fibers are a renewable resource, and because I use them right off the animal, no processing is needed before I hand-felt them, making them naturally sustainable. Secondly, wool has an elasticity that allows me to create lightweight form-fitting pieces that also naturally dye beautifully. Lastly, the fibers are antibacterial, naturally fire retardant, and insulating, so my pieces can be worn comfortably throughout the year, keeping us warm during cold weather and cool during warm weather.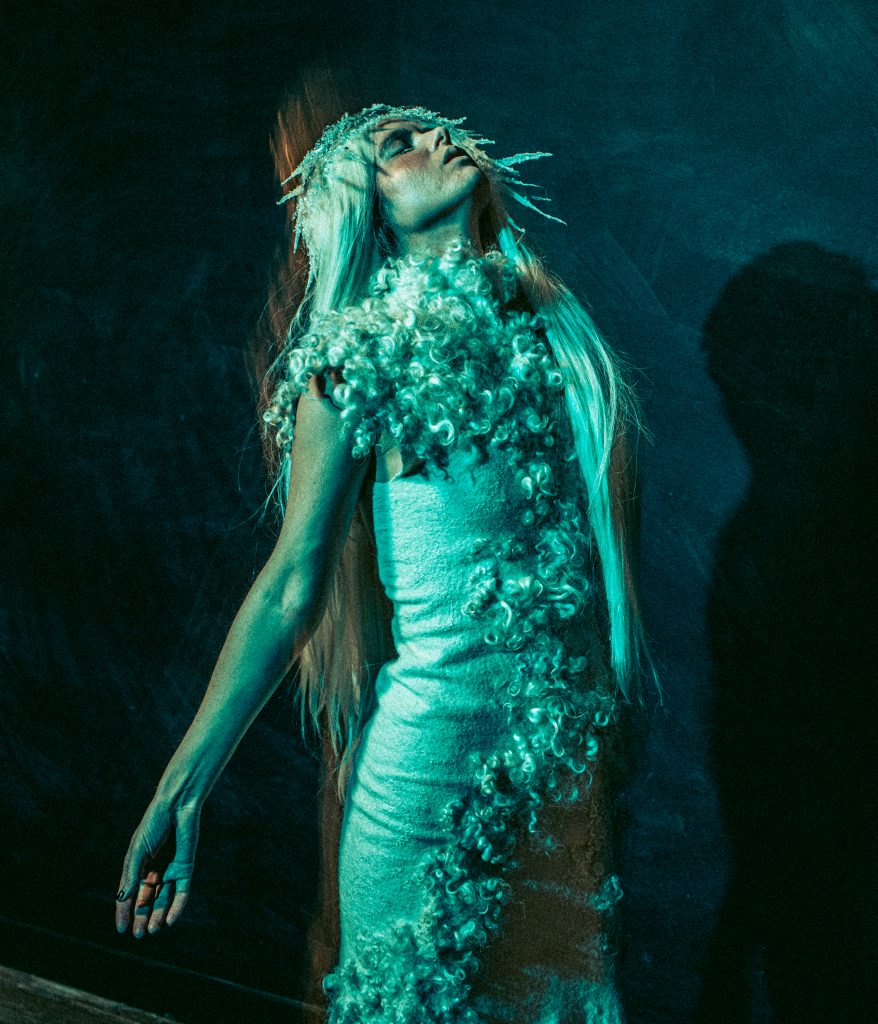 AG: How has the pandemic affected your business?
CMS: One of the biggest drawbacks the pandemic has had on my business is the limitations it has placed on travel. Meeting with my customers is a very important part of my business because it's the time when we can connect and discuss design ideas, choose materials, and take measurements. As a result of limited travel on top of social distancing, a significant number of customers postponed their events and cancelled their orders, especially customers seeking couture wedding gowns.
However, in spite of these setbacks, the pandemic has also allowed me to spend more time in exploring and developing new techniques and materials that I believe will greatly improve my work, and add a newness that I enjoy. But among all the effects, the greatest has been my increasing gratitude for the support of customers who intentionally seek out independent artists, small, women-owned, and BIPOC-owned businesses during one of the most challenging times of my career.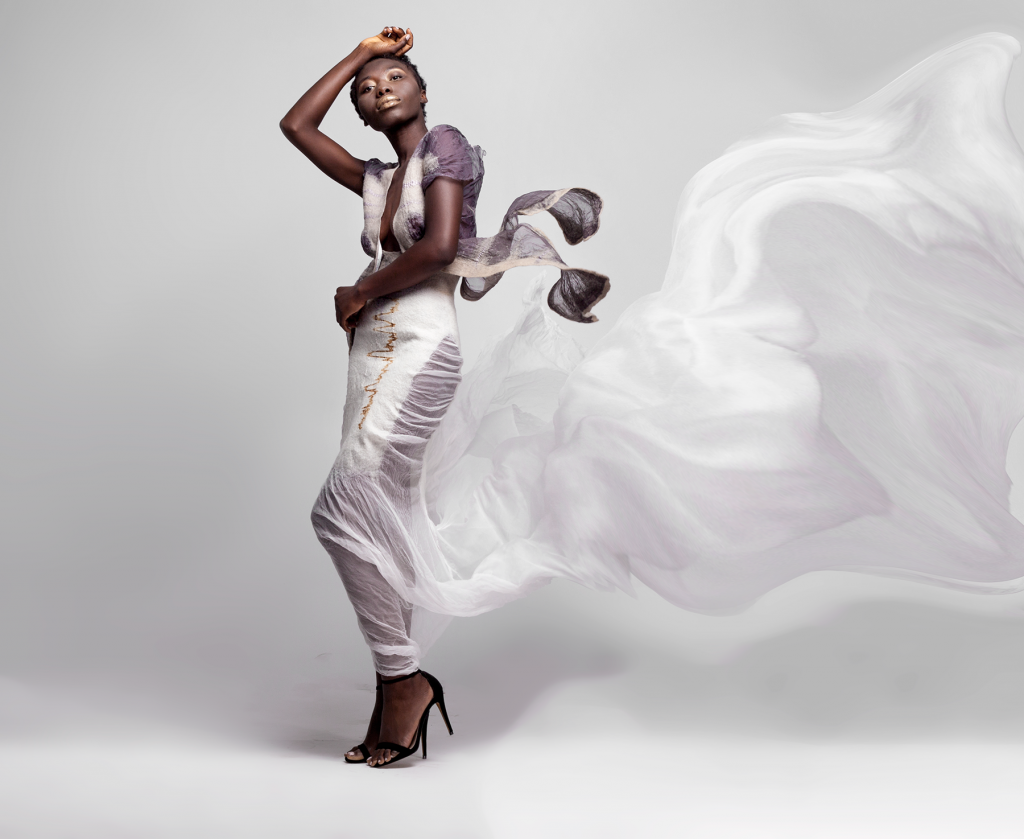 AG: What do you think are the biggest challenges facing the fashion industry today to move towards a more sustainable future?
CMS: Sadly, the fashion industry is still primarily profit-driven. This is one of the biggest challenges because most corporations and leaders in the industry, with few yet admirable exceptions, are still working off of the old linear model of producing garments and accessories at the lowest costs possible–including labor, in the fastest way possible, with no concern for their production processes or what happens to these products during or after their use; we know this is a big problem. Another challenge is helping consumers to be more informed about the true value of products made sustainably. We've become so accustomed to buying cheap and disposable products, which is not our fault but is now one of our biggest problems. We're making great strides but we still have a lot of work to do!
AG: You teach fashion design classes at Columbus College of Art & Design. What are the most important lessons that you hope your students take away from your class? And what has it been like teaching during the pandemic?
CMS: The most important lessons that I hope to instill in my students are to trust their imagination and creativity, to be responsible designers and leaders (meaning that they be mindful and value-centred in an industry that continues to be one of the most environmentally and socially harmful), to continue developing their "voice," and to appreciate their mistakes because it's how we learn and grow!
During the pandemic, I've been teaching virtually, which for studio-based classes has been extremely challenging and, therefore, unusually rewarding! I'm inspired by the fortitude and resilience that my students show and I think that having to work through the disadvantages of not teaching in-person has made me a stronger educator.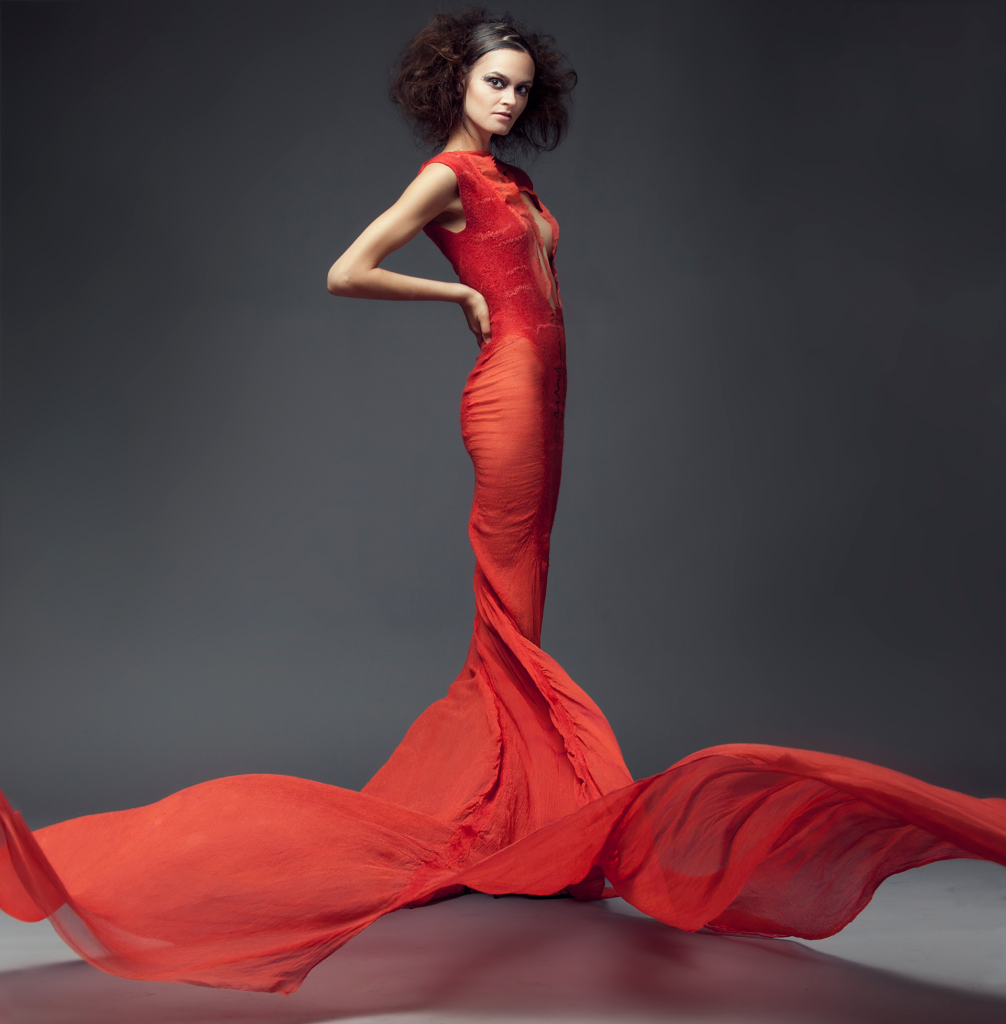 AG: What are your goals for 2021? How do you hope to continue growing your business and making an impact?
CMS: I have modest goals for 2021 because I believe that this is a year for me to begin slowing down. With that said, one of my biggest goals this year is to provide more fashion education to local communities by working with our youth and introducing them to the idea of sustainable design.
I also hope to continue expanding my business by working with social spaces, such as hotels and restaurants, to include my interior-wear pieces (pillows, throws, decorative art, etc.) where their guests would be able to experience and benefit from the beauty of products that are sustainably made with locally sourced fibers and good energy.
Featured Image: Celeste Malvar Stewart fitting a model in her Columbus, Ohio atelier. Photo by Jake Holler.
---

---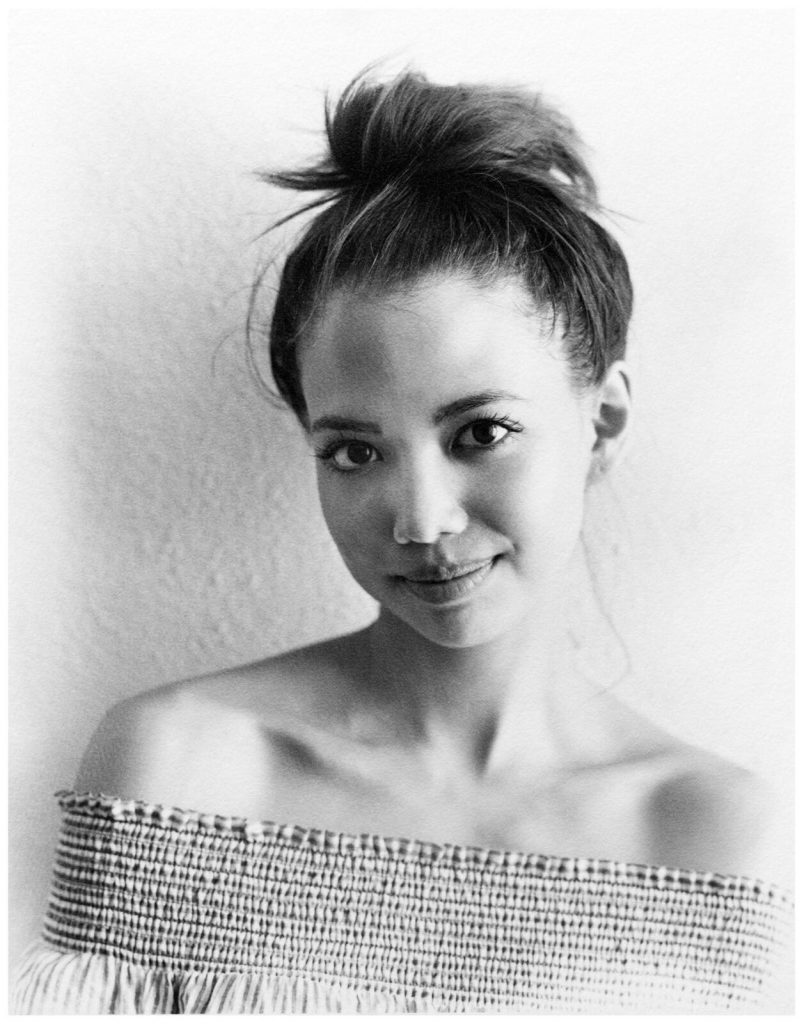 Amber Gibson is a nomadic freelance journalist, spending 350 nights a year in hotels, with bylines in Conde Nast Traveler, Travel + Leisure, Robb Report, Departures, Fodor's, NPR, NBC and Architectural Digest. Follow her adventures on Instagram @amberyv.