Building a Home for Muses: An Interview with Art Preserve Curator Laura Bickford on Ray Yoshida's Collections
Jen Torwudzo-Stroh talks to Art Preserve curator Laura Bickford about the late Ray Yoshida's object-collecting as an expressive art in its own right and the connections of everyday objects.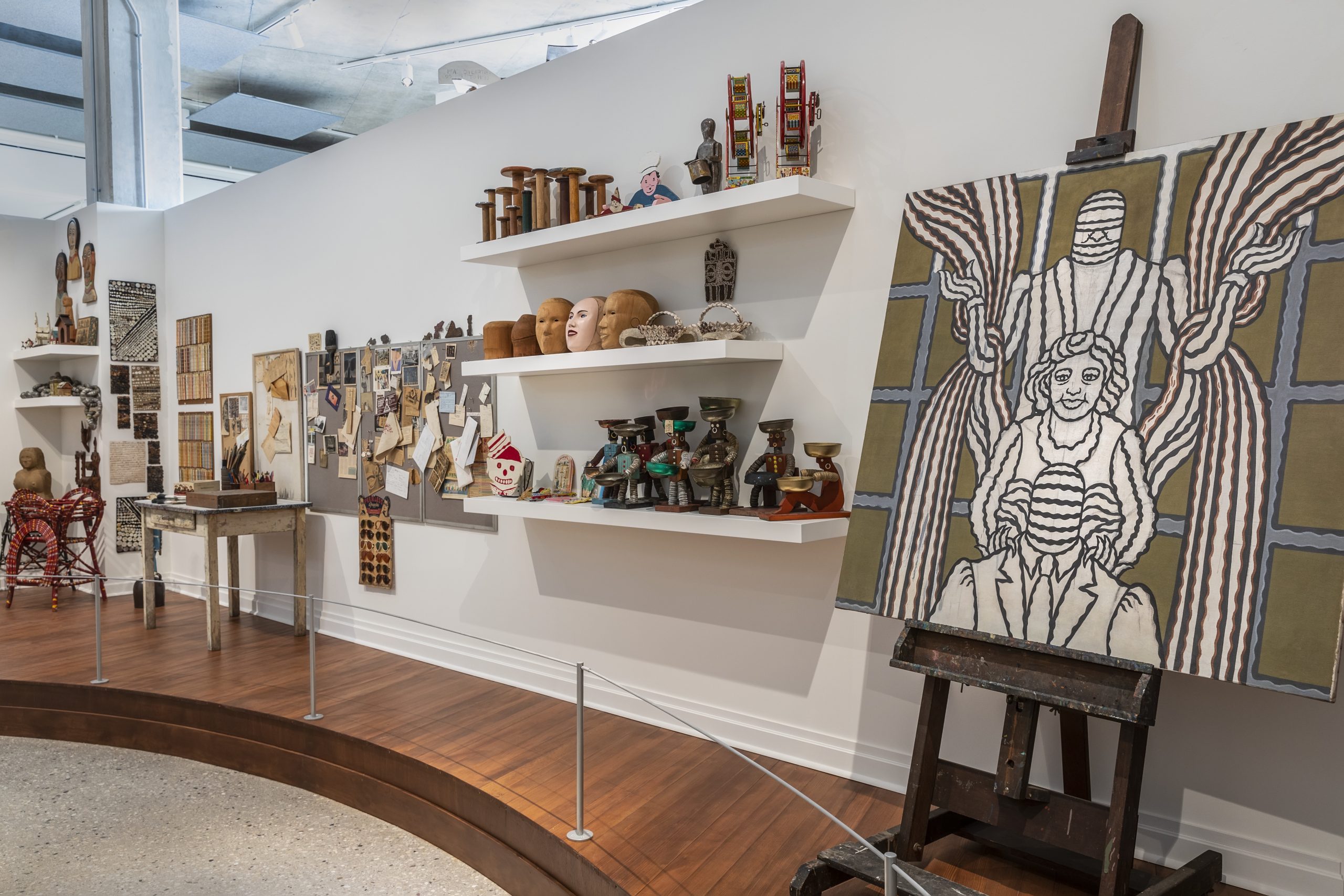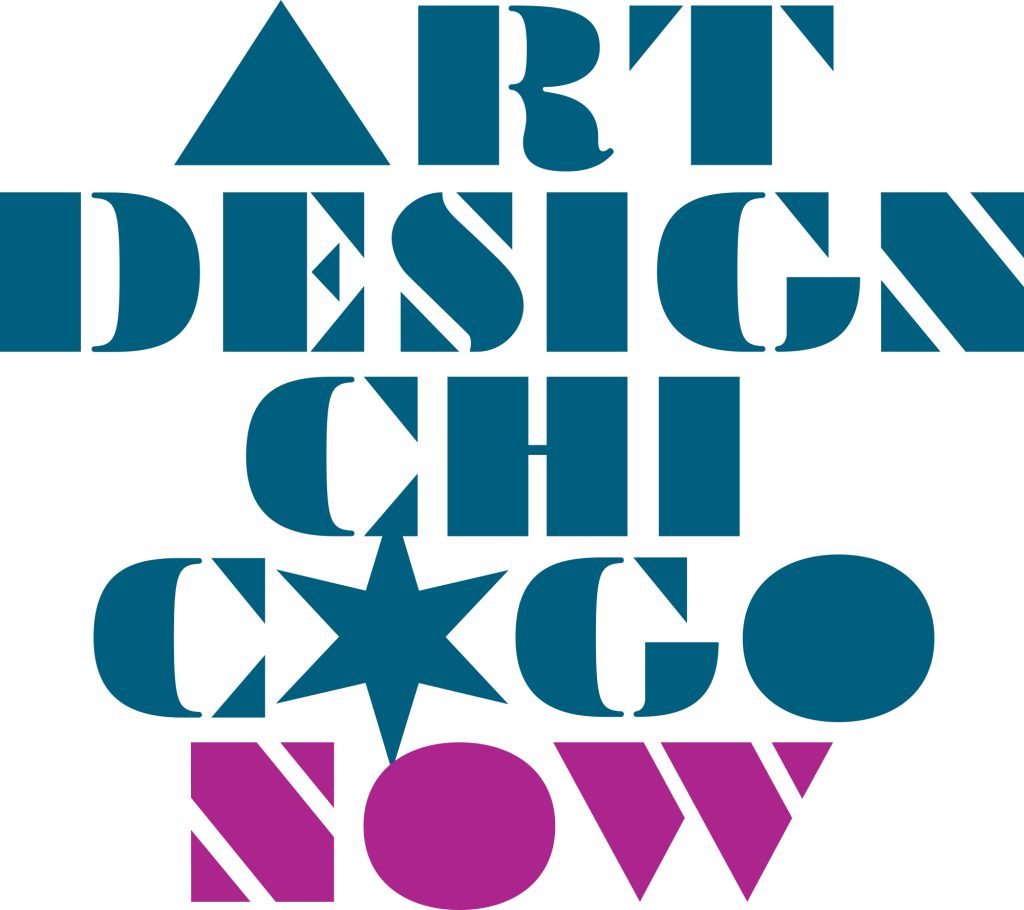 This article is presented in conjunction with Art Design Chicago Now, an initiative funded by the Terra Foundation for American Art that amplifies the voices of Chicago's diverse creatives, past and present, and explores the essential role they play in shaping the now.
---
How we adorn our homes, our private interiors, reveals a great deal about us. Subconsciously and consciously, collectors pour their identities into their collections speaking to who they are and what they value. The beloved artist, Ray Yoshida, was many things to many people. He was an artist, an icon of the Chicago art scene, an educator, a mentor, a collector, and a curator. During his lifetime, Yoshida acquired a range of objects for his home collection, coming to him in many ways: found, bartered, rescued from friends or former students. This collection, which filled almost every inch of his home, was his muse. Inspiration can be found anywhere and in anything.
To some, Ray Yoshida's muses look like a hoard, the result of someone's ceaseless need to accumulate things. But upon careful consideration, the collection, in its vastness, is a complete story, an intimate biography of a person, an artist, a teacher, a friend. His collection has the type of legacy many of us wish to have: a representation of who we were and who we aspired to be.
Ray Yoshida's Home for His Muses, a virtual talk presented by Pentimenti Productions in collaboration with the John Michael Kohler Center as part of Art Design Chicago, isn't a conversation about his art but an exploration of what inspired his art. It would be impossible to say what specific thing inspired Ray's collection. It's so vast, so detailed, spanning many years of the artist's life. The collection itself is a work of art, maximalist curation artfully arranged objects, and is a part of the permanent exhibition at the Art Preserve at the John Michael Kohler Center.
We interviewed Art Preserve curator, Laura Bickford, about the approach to curating such a broad-ranging and intimate show while staying true to the soul of the collector.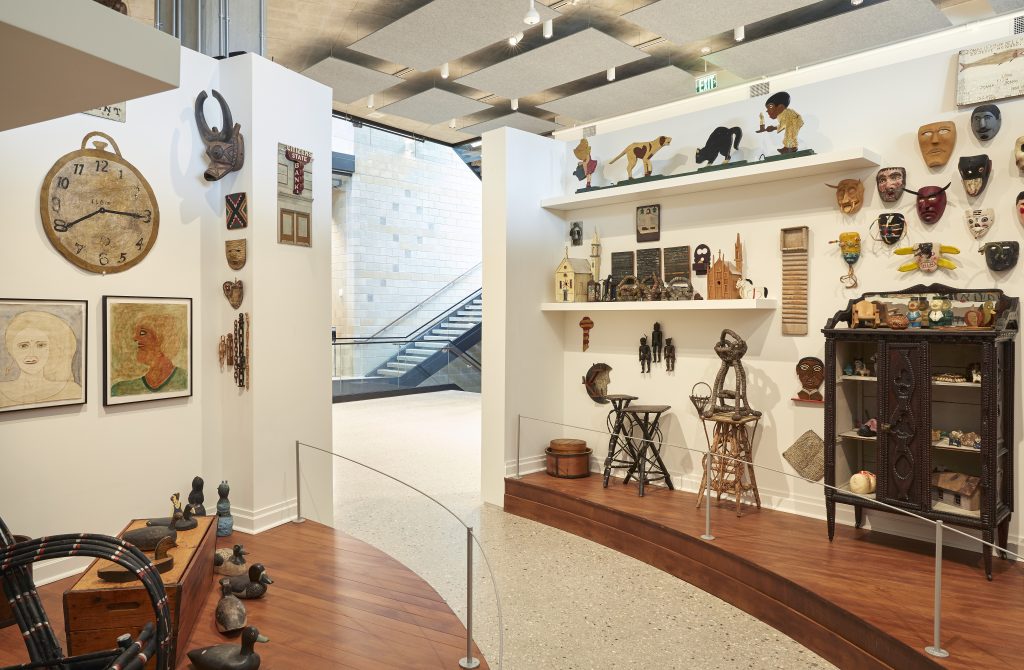 Jenn Torwudzo-Stroh: For someone who is unfamiliar with Ray Yoshida, can you tell us a little bit about who he was and his collection at the Art Preserve?
Laura Bickford: Ray Yoshida was a painter and professor who taught at the School of the Art Institute of Chicago for nearly five decades. He filled his apartment with an enormous collection of objects from across the artistic spectrum: self-taught art, the work of his students, flea market and thrift store finds, ethnographic objects, manufactured commodities, and anonymous folk art. The Art Preserve houses an evocation of his apartment — a re-installation of his home collection, as well as several examples of his paintings.
JTS: What made Ray's collection such a good fit for the Art Preserve?
LB: The Art Preserve was designed and built for the John Michael Kohler's Arts Center's collection of artist-built environments. We use the term "artist-built environment" to describe a unique form of art making that encompasses spaces that have been significantly transformed by an artist to embody and express aspects of their history, place, or culture. They are site-specific, and often immobile constructions, which feature elements of sculpture, architecture, bas-relief assemblage, and/or landscape architecture and are characterized by the artists' access to materials, their particular surroundings, and modes of creativity sparked by regional traditions and customs. Ray Yoshida's home collection fits this criteria and expanded the Arts Center's collection scope to include artists' homes and studios.
JTS: What was the approach to curating this collection?
LB: Our team looked at photos of Yoshida's apartment over the years and looked for patterns or repeating object tableaux and then mirrored his choices in the space at the Art Preserve.
JTS: How did you maintain Ray's narrative in the replication of his collection at the Art Preserve?
LB: The photos of his apartment, and various interviews with Ray, provided insight into how he thought about his collection, his apartment, and the objects within it. We tried to follow the philosophy he preached, using arrangements we knew he had made in the past. Of course, we were also limited by the architecture and the space of the collection area at the Art Preserve, so in some instances, we truncated tableaux, or compressed them to fit smaller walls. Yoshida was all about exploration and curiosity — finding unexpected connections between objects and evaluating them for the power they contained, letting them affect you. We kept the didactics to a minimum and tried to bring out the best in every object, so that his collection could continue to inspire visitors.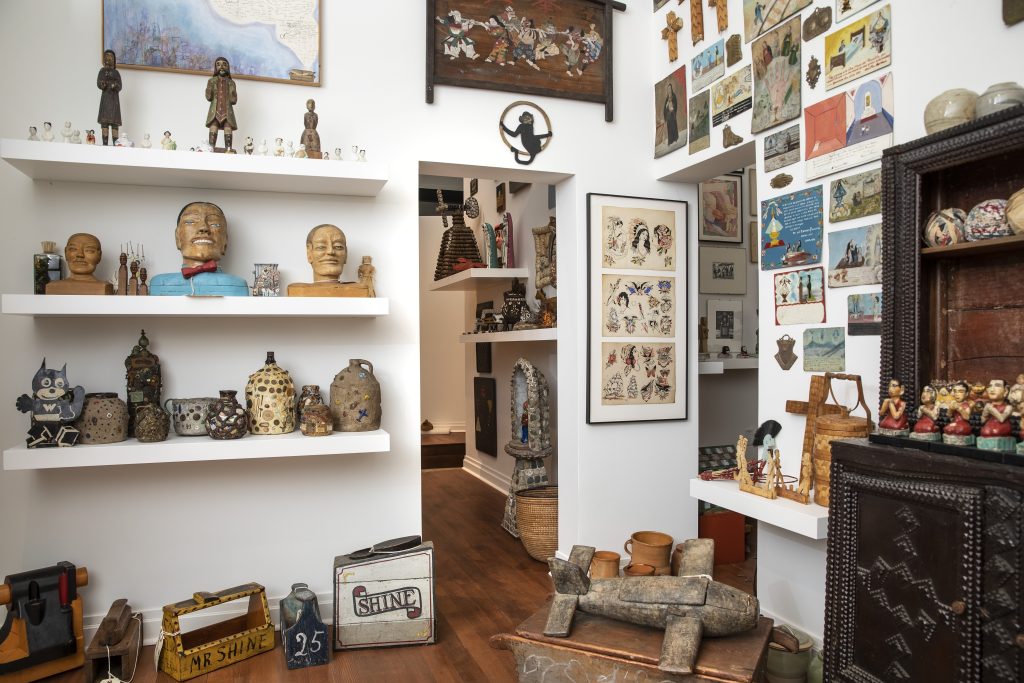 JTS: Why was it so important to recreate certain aspects of Ray's personal and intimate life, like his bulletin board?
LB: Yoshida affected so many people, not just his students, and he had this almost legendary quality. We wanted to emphasize his own process, and show details that reinforced that he lived in this environment. He paid bills and went to the doctor — took notes on the phone. The cutouts and sketches on the bulletin board provide more insight into how he moved in the world, and what he took from it to put in his work.
JTS: Were there any challenges you had in creating this exhibition?
LB: Since I never met Yoshida, I — of course — have 1000 questions I would ask him. And, like dealing with any collection of site photos, there was always one corner of a room we couldn't see, or one shelf we wish we had a close-up of.
JTS: Who is this show for and who needs to see it? What mark would you like to leave on your audience?
LB: I hope this installation is for everyone. Yoshida found so much inspiration and connection in everyday objects. He believed in an ecosystem of aesthetics, where the presence of an object can enhance the presence of another, regardless of where they come from. He practiced close looking, and let his thoughts wander and influence the work he did and the life he lived. I think that beauty (or a diverse understanding and appreciation of beauty) is so trivialized and undervalued in our current culture. I think forming relationships with the objects you live with and use is important, and Yoshida's collection reminds us of that power. That we can shape our surroundings and, through the objects we live with, be changed. I think his collection, and visitors' response to it, can make the world softer, and kinder. More open-minded and open-hearted.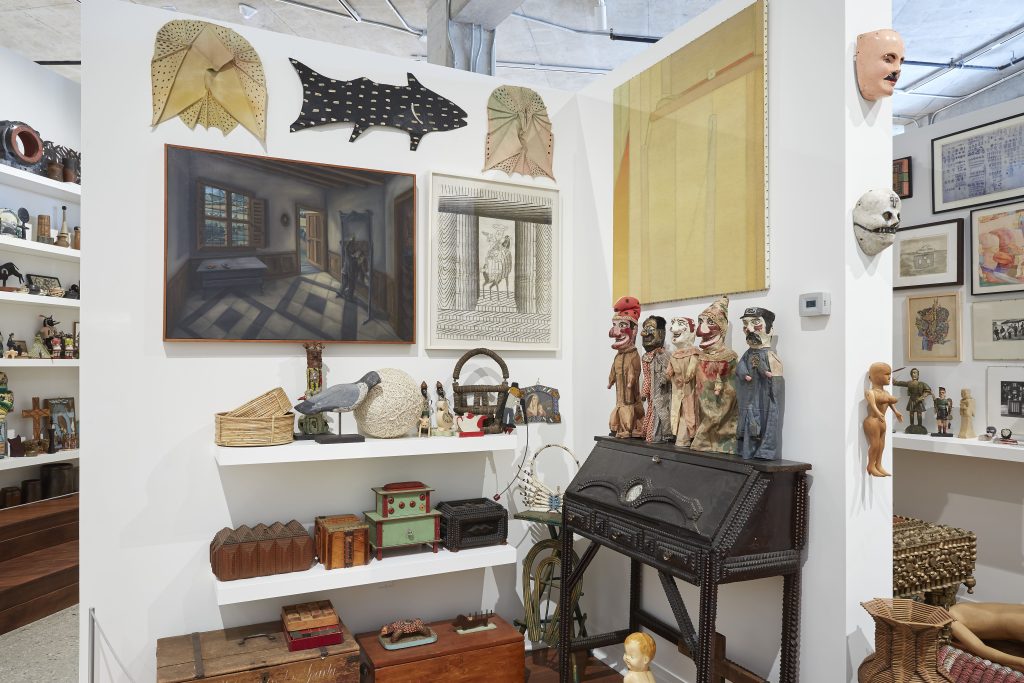 JTS: What is your favorite piece in the collection?
LB: So tricky! It changes everytime I look at it, honestly. But today, I will say it is this Tin Man sculpture that is displayed next to a large Roger Brown painting. It was made by an anonymous metalworker and has such a personality. It was included in Archie Green's book Tin Men.
JTS: What advice do you think Ray would give to an aspiring art collector?

LB: I think he would say trust your gut. If an object moves you, move closer to it. There is no right or wrong, only a swell of reaction that should be respected.
---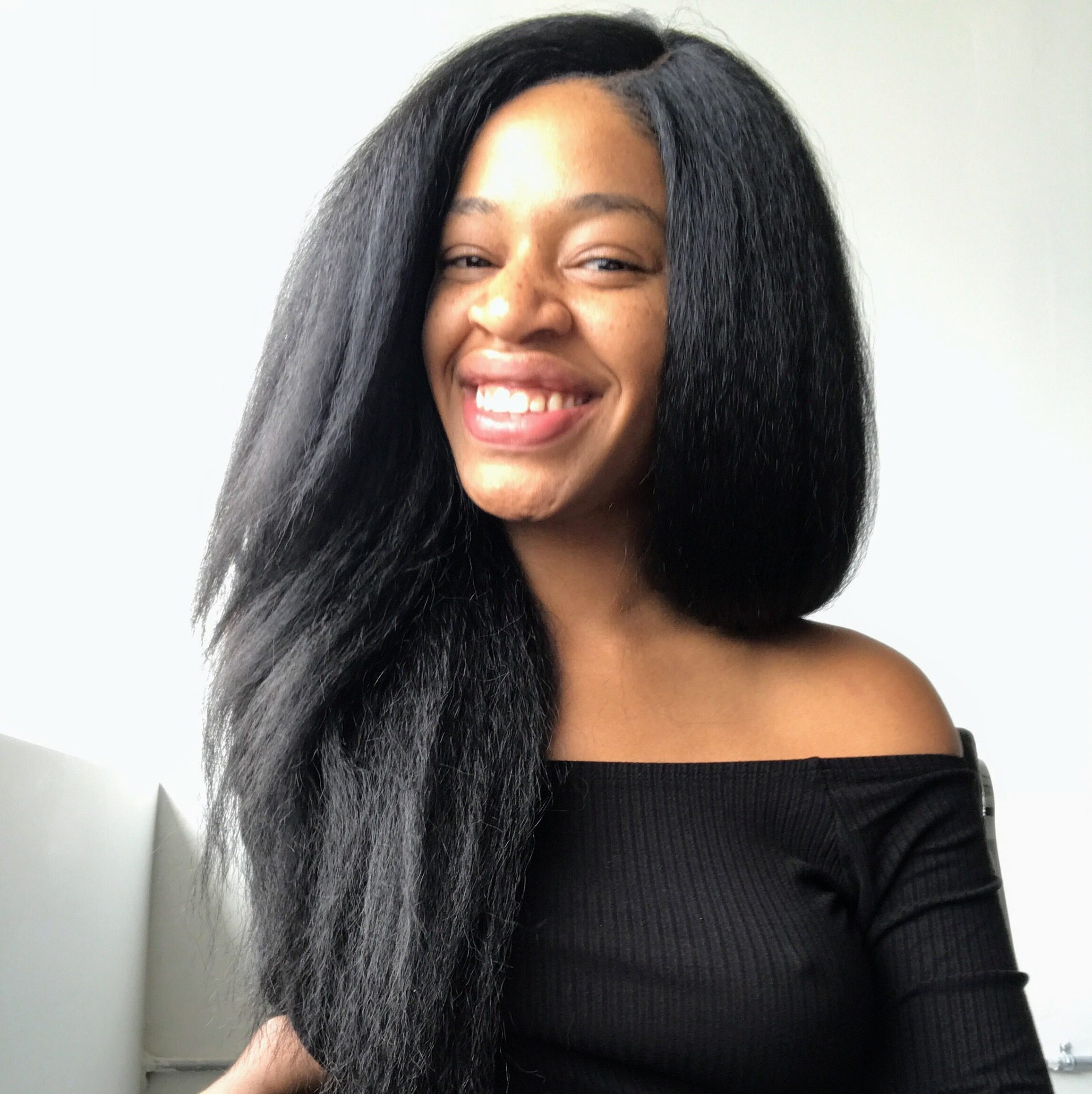 About the Author: Jen Torwudzo-Stroh is an arts and culture professional and freelance writer based in Chicago, IL.