Between the Absurd and the Profound: An Interview with Benjamin Larose
A deep dive into "NOT AMERICAN," artist and performer Benjamin Larose's defining performance at Steppenwolf Theater.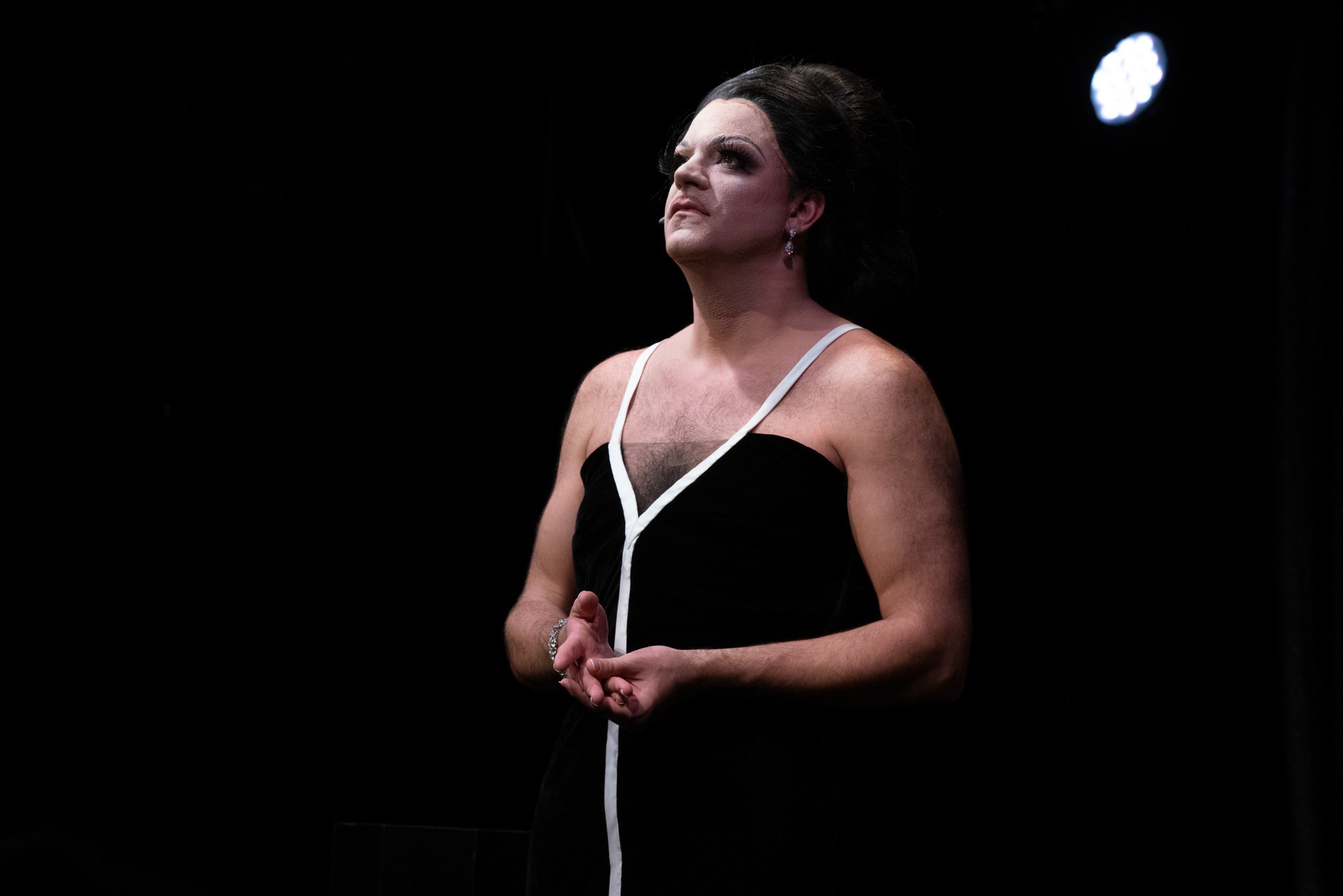 Benjamin Larose loves attention. From his childhood stunts to his transformative journey as an artist, he has continuously pushed boundaries, bringing vibrant dynamism and unapologetic authenticity to his practice. "I'm not interested in things being static—I hate being bored," he says.
Originally from Quebec, Canada, Larose, explores themes of identity, normality, and material culture through diverse mediums—think: works crafted from 1990s memorabilia (household items, books, and toys), nostalgic immersive installations, and more recently a part-art, part-fashion, part-design object series titled My Fabulous Blankets, a project born out of recontextualizing and transforming public images of celebrities to blankets.
From fashion and installation to sculpture, video, and most notably, performance, Larose underscores the deep connection between art and the human experience. "NOT AMERICAN" at Steppenwolf Theatre was a three-day performance written, directed, and performed by Larose "in true one-man band fashion," as he calls it. Featuring drag, musical numbers, fashion fittings (all costumes created by him), and more, the show was about cultural exploration and the finding of the self.
In a conversation with Vasia Rigou, Larose walks us through his creative processes and inspirations, he provides a behind-the-scenes look at a performance that changed his life, and allows a glimpse into the mind of an artist who thrives in the space between the absurd and the profound.
---
Vasia Rigou: You first got interested in performance as a child. What excites you about turning the spotlight to yourself—then and now?
Benjamin Larose: I think I just LOVED attention. [laughs] I'm not sure where that comes from. But I loved getting reactions from people, making them laugh, shocking them, annoying them, causing confusion, or causing a scene of some kind. I was always looking to make a scene.
I would come home from school, walk through the front door, say hello to my parents, then I'd go to my room and climb out the window, only to go through the front door again, and say hello to my parents, again. I would do that, in a loop, until someone noticed that something was wrong…
At some point, I figured out that…if you annoy someone long enough, they'll get angry. But, if you push through their anger, and you keep annoying them…eventually, they'll break down and laugh. They'll be in a state of extreme annoyance, and they'll be hit with ridiculous disbelief. They'll say: "OMG you're SO annoying!" And then they'll laugh, because they can't believe how ridiculous you are being. That's the kind of absurd scene I always liked to create. I like to erode people's patience and reach a point of absurdity where they have no choice but to laugh.
And now…well, I still crave attention, I guess. [laughs] No but, seriously, getting on stage now feels incredibly intense. There's nothing like it. A couple of years back, I started to feel a calling to get on stage and perform. So, I decided to do a stint at Second City, and I tried my hand at stand-up comedy. I did a couple of events, sort of flying under the radar just to see how I felt doing it. And I felt so at risk when I was on stage! It was both terrifying and fabulous at the same time—I loved it.
Shortly after that, in December 2019, I saw Céline Dion live at the United Center. I had bought front-row tickets because I didn't want anyone to stand between me and her. I needed a direct channel of communication with Céline—to feel her energy directly. I teared up at the very first note she sang, and I cried the entire show. So much so that by the end, my beard was soaked with tears. The emotional charge I felt was so intense.
I was at a point in my practice where I felt a visceral if not aggressive need to take risks, to figuratively "feel the edge of the cliff with my foot." To reconnect with that impulse to test the limits. I wrote this down for myself to remember, it's on my binder of research for "NOT AMERICAN": perform so that when you walk off stage, you'll wonder if you went too far, you'll wonder whether you might have blown it or whether you did something you might not be able to recover from. That's the feeling!
VR: Fast forward to today, your journey from Canada to Chicago and your dream of becoming an actor coming true at Steppenwolf must have been a remarkable and transformative experience. How has this transition between countries and career paths influenced your artistic perspective and the subjects you explore in your practice?
BL: Obsession drives a lot of what I do, so I think the subjects I explore are relatively the same whether I am making sculpture, wearables, or performance: mass culture, identity, knowledge formation, etc. I stack video edits and digital photographs, just as much as I stack found objects in my studio. Visual references, pop culture moments, and imaginary characters all live alongside the stuff I pick up in thrift stores. I find a lot of freedom in cultivating spontaneity, free association, and a little nonsense. That's what enables me to simultaneously collect wood carvings of raccoons but also put on a wig and film myself pretending to be Leonardo DiCaprio. The space in between is where I thrive.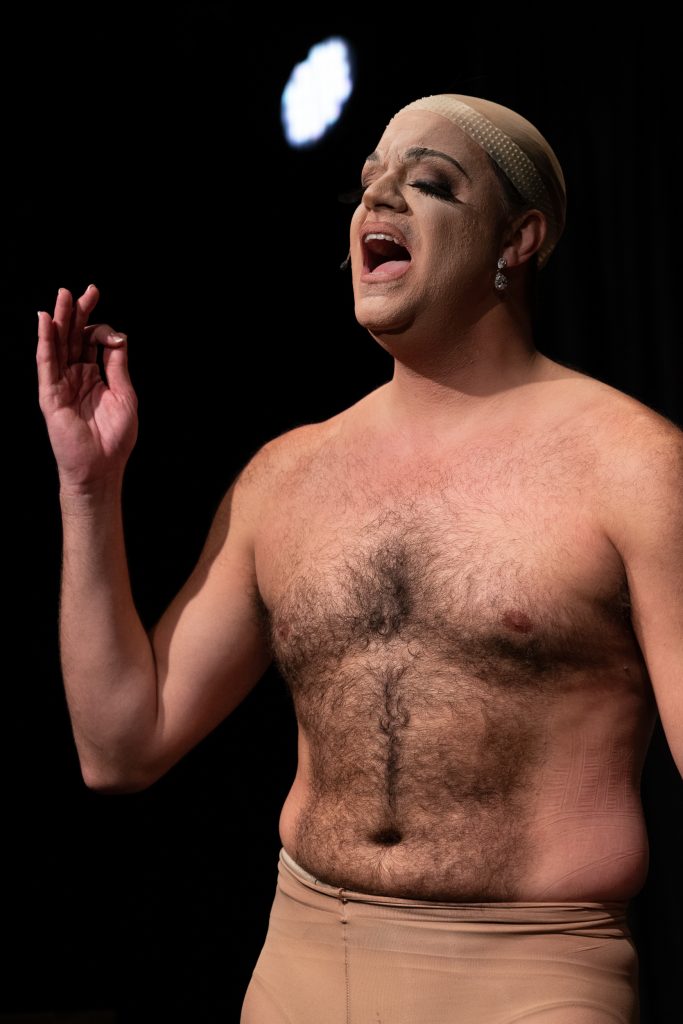 I do think that performance enables me to reach deeper into my vulnerability, though. Using my body, my voice, my gestures. I often talk about the drift that artists experience. We drift through various disciplines and spaces…and I drifted a lot since I started film school in 2001. And for me to find my way back to a stage—at Steppenwolf—twenty years later? It's incredibly joyful! "NOT AMERICAN" is a project that integrates more holistically the different aspects of my personality and my expertise. In true one-man band fashion: the piece is written, directed, and performed by me. I have also been designing and fabricating all of the costumes and objects used in its production. And it's ultimately a reflection that followed my move to the USA. It's my answer to "What am I doing here?"
VR: Your work is ever-dynamic spanning fashion, installation, sculpture, video, performance, and more. Where do you see the synergy between disciplines when it comes to challenging the notion of normality and exploring identity?
BL: Dynamic is a good word for it. That's really important for me. I'm not interested in things being static—I hate being bored. I often say that my pleasure meter is my most accurate tool in the studio. If I am bored, something is up. So, that pursuit led me to work "in-between" and to keep things moving.
I think that synergy is also a result of my personality. A very good friend of mine once told me: "Ben, your work doesn't resemble you. You're crazy and funny and unpredictable and somehow your work isn't. What's up with that?" At the time, there seemed to be a big disconnect between me and my work, and I've been working to close that gap ever since. "NOT AMERICAN" is the closest I've ever gotten.
I think things like "challenging the notion of normality" and "exploring identity" are just consequences of my constant work to become my full unapologetic self.
VR: Where do you look for inspiration?
BL: I look at all sorts of stuff. It's not necessarily all related. It's very eclectic. Ask anyone who has ever looked through my music library! [laughs] Overall, I tend to consume more performance art, film, TV, music, literature—more time-based material in general.
One thing I find myself doing a lot is watching media that will keep me in a certain headspace, a certain emotional state. I might watch a movie or listen to a song on repeat for months because I'm trying to stay in a very specific emotional space. There are also long periods of time when I don't look at anything. When I don't want to see art, or I don't want to see what anyone is working on. Quiet time is absolutely necessary for me and my practice.
I am obviously visually very hungry. My eyes are constantly absorbing visuals. I collect a ton of imagery. Anything remotely interesting to me visually goes into a folder, gets printed, gets sketched, gets collaged, etc. I am constantly juxtaposing and stacking visual information. I'm very analog and hands-on with inspiration and research: binders, sketchbooks, folders, keyword mapping etc.
VR: Featuring drag, musical numbers, fashion fittings, and more, "NOT AMERICAN" was equal parts about cultural exploration and the finding of the self. Looking back, in what ways did this experience change you as an artist and as a person?
BL: I often talk to my students about the importance of "not knowing". For example, if I know how a given project is going to end, I won't even start it. Process is steeped in discovery and learning. There's no point for me in embarking on a project if I already know what the outcome will be. I had no idea really where "NOT AMERICAN" would take me, but I had an unshakable belief that performance was the way forward for me. That conviction is all I needed to start. Three and a half years later, I can see that I've successfully crossed the threshold and that my practice is now solidly anchored in performance and time-based work.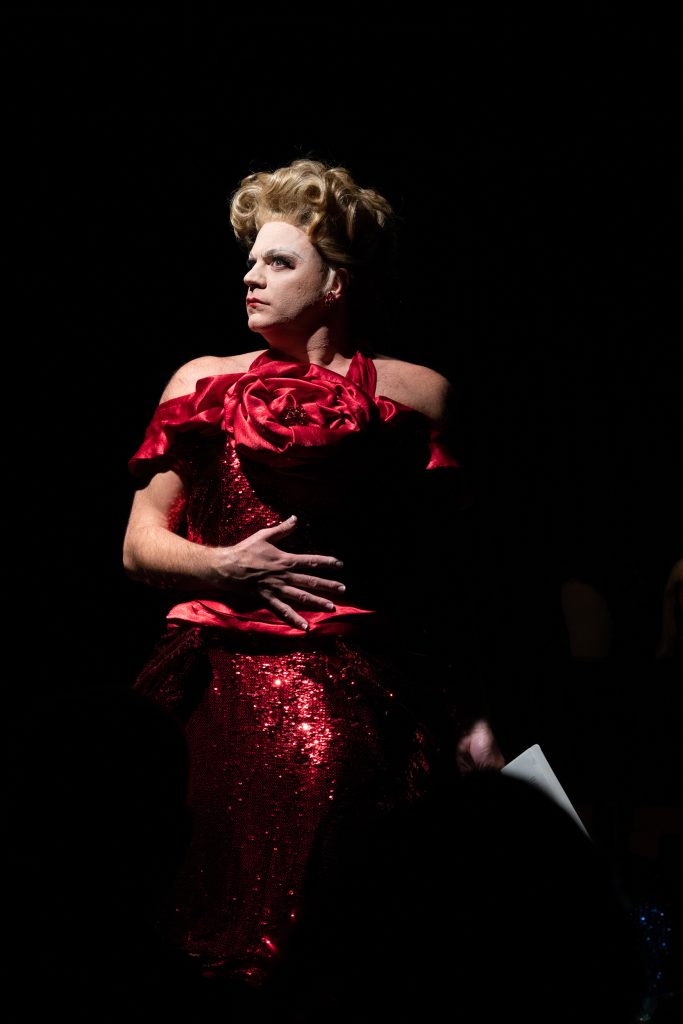 One of the conceptual underpinnings of "NOT AMERICAN" is the expectation around what an artist might have accomplished or how much attention or success one might have garnered by a certain age. I am thirty-nine years old. I'm gonna turn forty in December. Starting this new decade with a one-person show at Chicago's Steppenwolf Theater is beyond exciting!
VR: Can you share some insights into the process of writing, directing, and performing in this show that featured various performative elements like drag, musical numbers, fashion fittings, and even endurance workouts?
BL: I developed the show one character at a time, always starting with costumes. I would build the material world of the characters—their costumes, wigs, props—and then I would put them on. I did that to get to know them. To discover what their scene might involve, what they might want to talk about, and what each of them was about. For some characters, that development spanned a couple of months. For others, it spanned two to three years. That improv and discovery process yielded information and ideas that were then workshopped through rehearsals and a lot of writing, cyclically. Then, because it's a one-person show and I embody seven characters over a ninety-minute show, some material had to shift to video format and others had to be sequenced in the live performance. Then, other technical considerations for mise-en-scène, makeup, and costume changes had to be layered into the show structure. So, it was quite complex to orchestrate. And since I am the writer, director, actor, costume, and prop maker, literally about a million decisions went into the process over the three and a half years it took to give birth to the piece.
VR: What was the most rewarding moment and what was the greatest challenge you had to face bringing it to life?
BL: One of the most rewarding moments was also one of the most challenging. One of the characters in the show is called Annabel Andrews. She's a spoiled and bratty teen living in New York City. I was 100% determined to have Annabel in the show. I knew she was critical to the propelling of the narrative. But, I just couldn't figure out what the action in her scene needed to be. Right from the start, I wasn't sure what she was going to wear. I had a lot of ideas and I ended up making her a dozen garments. But I couldn't choose. Then it hit me: she doesn't know what she wants to wear! She's "THAT" girl! So, I established that she would be shopping and trying on clothes…I thought I had the scene figured out. But, when it came time to write and work with her text, the delivery was never right—it was cringy in all the wrong ways. It stayed murky until about two months from the premiere when I was workshopping the piece in Las Vegas. I realized that Annabel's scene had to be a full-blown Broadway musical number. The problem with the text wasn't content; it was purely the format of the delivery: the text had to be formatted into lyrics and sung. Not spoken! That was so incredibly satisfying to discover. And it's one of my favorites in the show.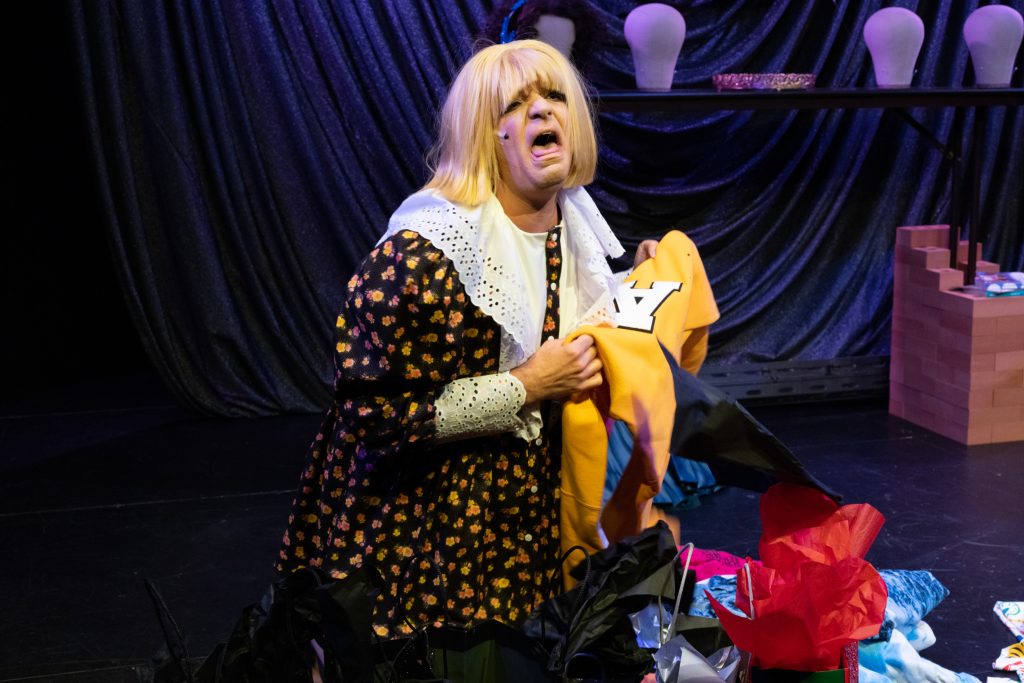 VR: Could you share some insights into your future plans and any upcoming projects you are excited about?
BL: This premiere run of "NOT AMERICAN" at Steppenwolf was amazing and I am really excited to travel the show. So, that's on the horizon. Of course, I am also cooking a number of other projects, but you know how I love to keep secrets! [laughs] More very soon!
VR: What kind of impact do you hope to make in the world?
BL: My hope with "NOT AMERICAN" was that the audience would feel all the feels. That they would laugh, and cry, and look at each other in disbelief, and then laugh some more. And from what I heard and saw, I think the show achieved that. I want people to see the show and walk out thinking "Woah, that was wild! When are we seeing it again?!"
---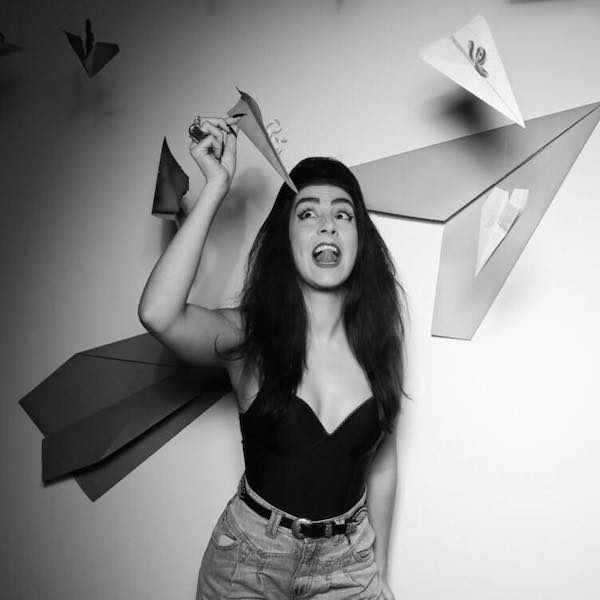 About the author: Greek-born Vasia Rigou is a writer, editor, and curator. She grew up to appreciate art after years of carefully planned, culture-filled travel itineraries and museum-hopping around Europe with her family. Much of her work writing about visual art, culture, architecture and design, can be found at Newcity, Chicago's leading culture publication, where she serves as editor. She also regularly contributes to the Chicago Reader, Artnet and to international magazines OnOffice and ICON. Her curatorial practice focuses on ideas of identity, intimacy and belonging, which she currently explores through the Chicago Artists Coalition's HATCH residency program. Her work can be found at rigouvasia.com.