August Art Picks
If you've followed us for a while, you know that our Art Picks offer a wide scope of events that are relevant to our audiences because we and the artists,…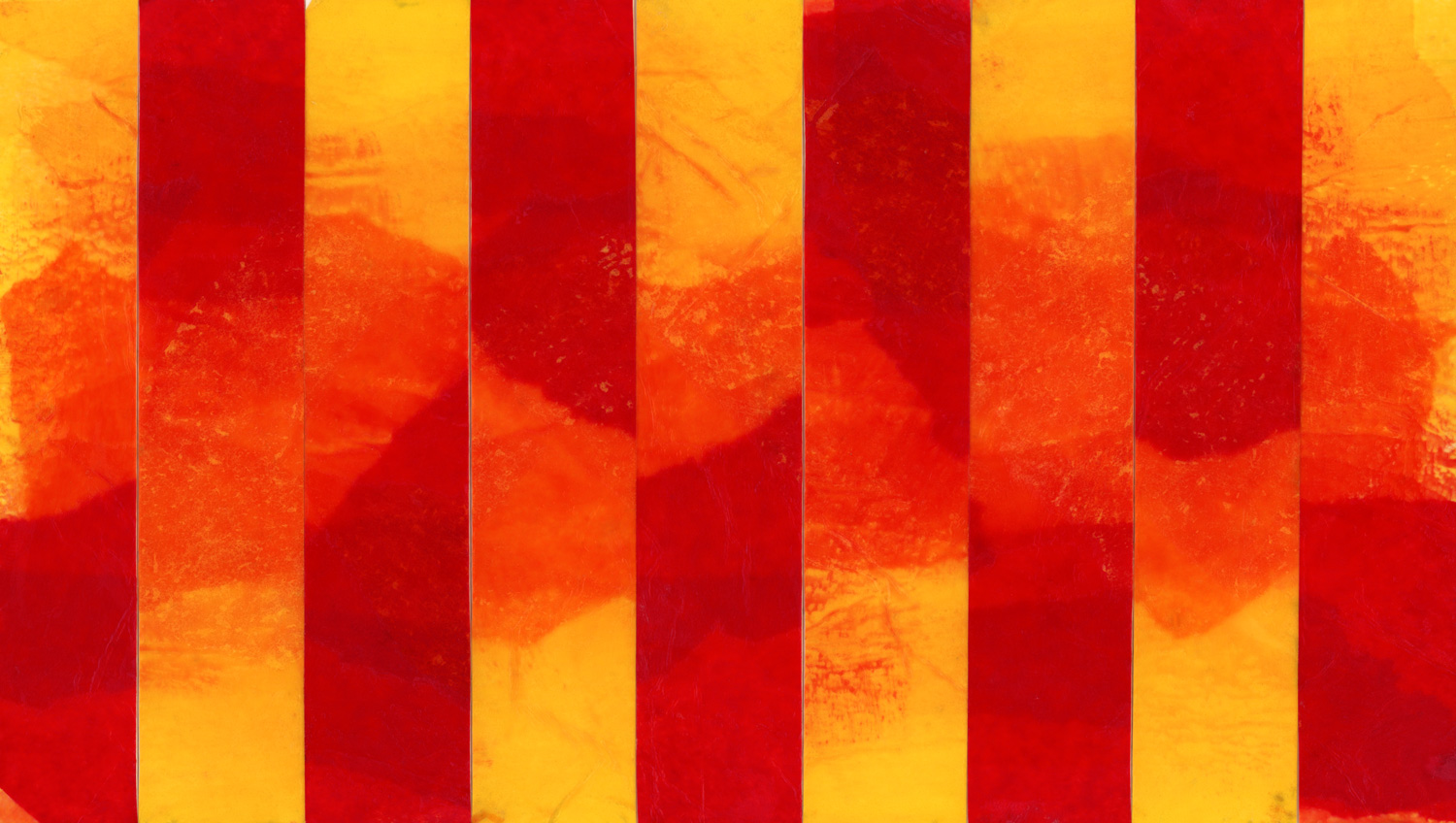 If you've followed us for a while, you know that our Art Picks offer a wide scope of events that are relevant to our audiences because we and the artists, cultural workers, curators, spaces, and projects we support live full lives that know no boundaries. We maintain expansive practices and work toward justice for BIPOC, LGBTQIA+, and disability communities in Chicago and the Midwest.
Created in collaboration with The Visualist, Chicago's leading visual arts calendar. Click here to get our Art Picks and latest articles delivered to your inbox monthly.
Featured image: An abstract image made from red, orange, and yellow tissue papers fading into each other in a vertical striped pattern. Illustration by Ryan Edmund Thiel.
This is a growing list, so check back often with new additions.
Through August 1, 2021
Ambientes: Places After Time
Heaven Gallery: 1550 N Milwaukee Ave, Floor 2, Chicago, IL
Free
Through August 1, 2021
Cabin Fever: Wild Ideas from a Regrettable Year
Real Tinsel: 1013 West Historic Mitchell Street, Milwaukee, WI
Free
Through August 1, 2021
Making Our Space: Members of the Peoria Guild of Black Artists
University Galleries of Illinois State University: 11 Uptown Circle, Suite 103, Normal, IL
Free
Through August 4, 2021
Karen Dana Cohen: Longing Compass
Chicago Artists Coalition: 2130 West Fulton St, Chicago, IL
Free
Through August 4, 2021
Residual Marks
Chicago Artists Coalition: 2130 West Fulton St, Chicago, IL
Free
Through August 6, 2021
Not My Type, Typefaces on Display
Glass Curtain Gallery: 1104 S Wabash Ave, 1st Floor, Chicago, IL
Free
Through August 7, 2021
Lauren Spencer King: She Will Be Unnatural
Regards: 2216 W Chicago Ave, Chicago, IL
Free
Through August 7, 2021
Exploring the Core: Crossing Boundaries: The Movement of People, Goods and Ideas
Haggerty Museum of Art: 1234 W. Tory Hill St., Milwaukee, WI
Free
Through August 8, 2021
Glimpses
LVL3 Gallery: 1542 N Milwaukee Ave, #3, Chicago, IL
Free
Through August 14, 2021
Antonius Bui: The Detour Is To Be Where We Are
Monique Meloche: 451 N Paulina St, Chicago, IL
Free
Through August 15, 2021
Collective Impact: A Sense of Home
Contemporary Art Museum, St. Louis: 3750 Washington Boulevard, St. Louis, MO
Free
Through August 15, 2021
Aawful Aaron by Aaron D. Williams
MOCA Cleveland: 11400 Euclid Avenue, Cleveland, OH
Free
Through August 21, 2021
CLAIRE SHERMAN: Proximity
PATRON: 1612 W Chicago Ave Chicago, IL
Free
Through August 21, 2021
ANNA PLESSET: Value Studies
PATRON: 1612 W Chicago Ave Chicago, IL
Free
Through August 21, 2021
Victoria Martinez: Next Chapter
Tiger Strikes Asteroid: 2233 S Throop St, Unit 419, Chicago, IL
Free
Through August 21, 2021
Max Guy: The Chicago Years
Produce Model: 1918 S Canalport Ave, Chicago, IL
Free
Through August 22, 2021
Behold, Be Held
Block Museum: 40 Arts Circle Dr, Evanston, IL
Free
Through August 28, 2021
Implied Scale: Confronting the Enormity of Climate Change
Mana Contemporary: 2233 S. Throop St., Chicago, IL
Free
Through August 29, 2021
Jeremiah Hulsebos-Spofford: League of Nations
Chicago Cultural Center: 78 E Washington St, Chicago, IL
Free
Through August 29, 2021
This is America 2021
5 Points Art Gallery + Studios: 3514 N. Port Washington Ave., Milwaukee, WI
Free
Through August 29, 2021
Artists and Models: A Tribute to the South Side Community Art Center
South Side Community Art Center: 3831 S. Michigan Ave., Chicago, IL
Free
Through August 29, 2021
An-My Lê and Shahzia Sikander: Much Unseen is Also Here
Museum of Contemporary Photography: 600 S Michigan Ave, Chicago, IL
Free
Through August 30, 2021
Arthur Jafa: Big Wheel IV
Blanc Gallery: 4445 S King Dr, Chicago, IL
Free
Through August 31, 2021
Sarita Garcia: Five Works
Mana Contemporary: 2233 S Throop St, Chicago, IL
Free
August 1-29, 2021
Places Without Landscapes
Latitude: online
$120
Sun, August 1, 1-4pm
Center Sundays August
Hyde Park Art Center: 5020 S Cornell Ave
Free
Sun, August 1, 5:30-9:30pm
From Chicago to Line 3
El Paseo Community Garden: 944 W 21st St
Free
Sun, August 1, 6-9pm
Kathleen Gallo: Brushes With Death: Examining the Human Condition
International Museum of Surgical Science: 1524 N Lake Shore Drive
Free
August 2-6, 2021
beyONd GREEN/$
Hot Wheelz Festival: Online
Free
Mon, August 2, 12pm
Lunch + Learn: Great Plains Black History Museum
Bemis Center for Contemporary Arts: 724 S. 12th St, Omaha, NE
Free
Mon, August 2, 12pm
Exhibition Closing Tour for Hurvin Anderson: Anywhere but Nowhere
The Arts Club of Chicago: 201 E Ontario St., Chicago, IL
Free
August 2, 8pm
Anagram Series – Chris Madsen Quartet
Elastic Arts: Online
$10
August 3, 2021 – April 3, 2022
Chicago Works: Caroline Kent
Museum of Contemporary Art Chicago: 220 E Chicago Ave
Free
Tuesdays, August 3, 10, 17, 24, 31, 1pm
Mutual Aid & Public Art Project
Axis Lab: 1101 W. Argyle St., Chicago, IL
Free
August 4 – September 1, 2021
Mindfulness in Photography
Latitude: online
$50
Wed, August 4, 6-7pm
Author Talk: Michelle Duster
Chicago Collections Consortium: Online
Free
Wed, August 4, 8pm
DEAD ALIVE: reading performances
Hot Wheelz Festival: Online
Free
Wed, August 4, 7-8:30pm
Drink & Draw: Character Creation
Spudnik Press: Online
Suggestion donation: $15
August 4 – December 12, 2021
T.J. Dedeaux-Norris: Second Line
University Galleries of Illinois State University: 11 Uptown Circle, Suite 103, Normal, IL
Free
Thurs, August 5, 4pm
Ways Forward: New Institutional Paradigms and Practices
Wexner Center for the Arts: Online
Free
Thurs, August 5, 4-5pm
Disability Power Series: A Conversation on Art, Disability and the Body
Disability Lead: Online
Free
Thurs, August 5, 6:30 and 8:30pm
Opera Festival of Chicago
Thalia Hall: 1807 S Allport St., Chicago, IL
$35-75
Thurs, August 5, 6-9pm
Next Chapter: New Horizons
American Writers Museum: Online
$100-5,000
Thurs, August 5, 6:30pm
Bruce McClure: FYLFOT-Tower of the Winds/ The Fortieth Day + Noise Crush
Elastic Arts: 3429 W Diversey Pkwy., Chicago, IL
$15
Thurs, August 5, 7pm
TALI KEREN, NADIA L. ABU EL-HAJ + KAREEM ESTEFAN
MOCAD: online
Free
August 5 – September 24, 2021
Jazmine Harris: A Quiet Impression
The Silver Room: 1506 E. 53rd St. Chicago, IL
Free
August 6-8, 2021
Letters to Chicago
Co-Prosperity: 3219 S Morgan St., Chicago, IL
Free
Fri, August 6, 12-1pm
Photos at Zoom Discussion Session: Iké Udé
Museum of Contemporary Photography: Online
Free
Fri, August 6, 6-9pm
Take It From Here
Filter Photo: 1821 W Hubbard St., Chicago, IL
Free
Fri, August 6, 6-9pm
Thresholds – Identity: Perspectives on Y(OUR)selves
Chase Gallery at Epiphany Center for the Arts: 201 S Ashland Ave., Chicago, IL
Free
Fri, August 6, 6-9pm
Tianna Bracey: Requested Permission
The Martin: 2500 W Chicago Ave., Chicago, IL
Free
Fri, August 6, 7-11pm
First Friday
1043 Virginia Ave. Ste. 213, Indianapolis, IN
Free
Fri, August 6, 7pm
Hillside Jazz (Present Tense): Joel Ross Good Vibes
Walker: 725 Vineland Place, Minneapolis, MN
Free
Fri, August 6, 7-10pm
NI DE AQUI, NI DE ALLA
Heaven Gallery: 1550 N Milwaukee Ave., Chicago, IL
Free
Fri, August 6, 9pm
Spread Joy
The Abnormal House: 3634 S Normal Ave
Free
Fri, August 6, 7-10pm
Staying Inn
Heaven Gallery: 1550 N Milwaukee Ave., Chicago, IL
Free
Fri, August 6, 9:30am – 12:30pm
Body-Based Democracy with Eiko Otake
Experimental Station, Hyde Park: 5625 S Ellis Ave., Chicago, IL
SOLD OUT
August 6 – September 5, 2021
Tianna Bracey: Requesting Permission
The Martin: 2500 W Chicago Ave., Chicago, IL
Free
August 6 – September 12, 2021
Corrine Slade: Land Becomes a Nest
Jargon Projects: (email info@jargonprojects.com. for address)
Free
August 7 – September 11, 2021
Lauren Sudbrink: Full of Subtlety, if You Believe Me
Co-Prosperity: 3219 S Morgan St., Chicago, IL
Free
Wed, August 7, 14, 21, 28, 2021
Out of Site: Open Flow
Multiple Chicago Parks
Free
Sat, August 7, 10am
WORKSHOP: DATA CRIMINALIZATION QUILTING BEE WITH MOTHER CYBORG
MOCAD – Mike Kelley Mobile Homestead: 4454 Woodward Ave, Detroit, MI
Free

Sat, August 7, 12-7pm
2021 North Lawndale Arts Festival
Douglas Park Field House & Ponds: 1401 S Sacramento Ave., Chicago, IL
Free
Sat, August 7, 4:30-7:30pm
Start a Reaction
Nuclear Energy Sculpture Plaza, Hyde Park: 5625 S Ellis Ave., Chicago, IL
Free
Sat, August 7, 6-9pm
Olive Stefanski: And Before One, What Are You Counting?
Roman Susan: 1224 W Loyola Ave., Chicago, IL
Free
Sat, August 7, 12-3pm
Social Justice Sewing Academy Workshop
Intuit: The Center for Intuitive and Outside Art: Online
Free
Sat, August 7, 2-3pm
The Librarian Life of Doris Saunders
Chicago Public Library: Online
Free
August 7 & 8, 10am – 5pm
Printer's Row Art Fest
701 S. Dearborn St., Chicago, IL
Free
August 7 – 14, 2021
Bronzeville Week
N. Dr. Martin Luther King Drive & North Ave., Milwaukee, WI
Free
Week of August 8, 2021
Mobilize! Creative Blocks, Collective Dreams
Kenwood/Oakland/Bronzeville
Free
August 9-11,2021
August Intro to Printing Workshop
LATITUDE: Online
Free
Tue, August 10, 6:30-7:30pm
My America: Elly Fishman
American Writers Museum: Online
Free
Tue, August 10, 8pm
Girlnoise, Corey Smith, Yturri-Edmunds
Elastic Arts: 3429 W Diversey Ave., Chicago, IL
$15
Tue, August 10, 5-5:45pm
Virtual Conversation: Theaster Gates & Louise Bernard
The Art Institute of Chicago: Online
Free
August 11-22, 2021
Nick Cave: Ensemble
Bemis Center for Contemporary Arts: 724 S. 12th St, Omaha, NE
Free
Wed, August 11, 6pm
The Legacy Conversation Series: Youth Panel
Chicago Black Dance Legacy: Online
Free
August 11 – December 16, 2021
Caroline Kent: What the stars can't tell us
University Galleries of Illinois State University: 11 Uptown Circle, Suite 103, Normal, IL
Free
Thursday, August 12, 6:30pm
Calpulli Huehuecoyotl de Chicago (Danza Azteca)
Chicagotlan: 1824 S. Wood Street, Chicago, IL
Free
Thurs, August 12, 8:30pm
Vincent Davis' Percussion Plus
Elastic Arts: 3429 W Diversey Ave., Chicago, IL
$15
Fri, August 13, 11am
Field Museum: Halls of the Ancient Americas Exhibit Visit, Behind-the-Scenes Tour, and Latinx Career Panel
Chicagotlan: 1400 S. Lake Shore Drive, Chicago, IL
Free
Fri, August 13, 12pm
Photos at Zoom Discussion Session: Wardell Milan
Museum of Contemporary Photography: Online
Free
Fri, August 13, 5-10pm
Daniel Flood and Marc Benja: Hard/Soft
Oliva Gallery: 3816 W Ermitage Ave., Chicago, IL
Free
Fri, August 13, 4-7pm
LatinXAmerican: Closing Party
DePaul Art Museum: 935 W Fullerton Ave., Chicago, IL
Free
Fri, August 13, 7:30pm
Videokaffe: Northern Lights
Compound Yellow: 244 Lake St, Oak Park, IL
$15
Fri, August 13, 6-7pm
Art Resuscitation Celebration! Closing Reception for Our Planet: Ourselves
ARC Gallery: 1463 W. Chicago Ave., Chicago, IL
Free
August 13 – September 23, 2021
Survey 3: I Sense Something Has Changed
Chicago Artists Coalition:2130 W. Fulton St., Chicago, IL
Free
August 14 – September 19, 2021
Wingchow: Inner Space
Vertical Project Space: 2006 W Chicago Ave., Chicago, IL
Free
August 14 – September 22, 2021
Recuerdos
Co-Prosperity Sphere: 3219 S Morgan Street, Chicago, IL
Free
Sat, August 14, 4-7pm
HALCYON CHORUS: The ESS Annual Fundraiser
Experimental Sound Studio: 5925 N Ravenswood Ave., Chicago, IL
$25-150
Sat, August 14, 6-10pm
KG & Rachel Youn: Water Cooler
LVL3 Gallery: 1542 N Milwaukee Ave #3, Chicago, IL
Free
Week of August 15, 2021
Mobilize! Creative Blocks, Collective Dreams
Roseland
Free
Sun, August 15, 1pm
Unpacking Tenochtitlan Panel Discussion
Chicagotlan: Benito Juarez H.S. Park, West Cermak Road and South Ashland Avenue, Chicago, IL
Free
Sun, August 15, 12-9pm
Sounds of Solidarity
Segundo Ruiz Belvis Cultural Center: 4046 W Armitage Ave, Chicago, IL
Free
Sun, August 15, 11am-1pm
A History of Splendid Fires: A Feast at the Damen Silos
Open Sheds Used for What?
Free
August 16-20, 2021
AUGUST – Peace Circle Keeper Training
Trap House Chicago
Free
Tues, August 16, 12-1pm
Running the Artist-Run: Tiger Strikes Asteroid
Mana Contemporary: Online
Free
Tues, August 17, 6pm
Trivia hosted by Paul Durica
The Hideout: 1354 W Wabansia Ave, Chicago, IL
$5-$25
Wed, August 18, 6:30-7:30pm
Mid-Month Encouragement Speaker Series: Stephanie Westergaard
The Martin: Online
Free
Wed, August 18, 6:30-8pm
Public Assembly: Language as Power
Bemis Center for Contemporary Arts: 724 S. 12th St, Omaha, NE
Free
Wed, August 18, 8-10pm
Released and Abandoned: Forgotten Oddities of the Home Video Era presents: Chains (1989)
Comfort Station Logan Square: 2579 N Milwaukee Ave., Chicago, IL
Free
Wed, August 18, 7-8:30pm
Work in Progress
Chicago Humanities Festival: Navy Pier Lake Stage, 699-601 E. Grand Ave., Chicago, IL
$20
Thurs, August 19, 6pm
Virtual Author Event: The Anti-racist Writing Workshop by Felicia Rose Chavez
Women & Children First Bookstore: Online
Free
Thurs, August 19, 7:30pm
Nightingale Movie Night
Hyde Park Art Center: 5020 South Cornell Ave., Chicago, IL
Free
Thurs, August 19, 7-9pm
Grown Folks Stories
345 Art Gallery: 345 N. Kenzie Ave., Chicago, IL
Free
August 20 – October 8, 2021
A Culture of Conversation: There Are People Here Too
Blanc Gallery: 4445 S. King Dr. Chicago, IL
Free
August 20-22, 2021
Ruido Fest
Union Park: 1501 W Randolph St., Chicago, IL
$64.99
Fri, August 20, 2021
Opening Day: UNAPOLOGETIC
Gene Sickle Film Center: 164 N. State Street, Chicago, IL
$12
Fri, August 20, 12pm
Photos at Zoom Discussion Session: Edward Curtis
Museum of Contemporary Photography: Online
Free
Fri, August 20, 6-9pm
Evanston Art Center Spring Benefit Art Party & Auction 2021
Evanston Art Center: 1717 Central St, Evanston, IL
$200
Sat, August 21, 7-10pm
on a day like any other, all of our memories would become be significant
Blanc Gallery: 4445 S. Dr. Martin Luther King Jr. Drive, Chicago, IL
Free
Sat, August 21, 6-10pm
Stop Line 3 Fundraiser Party
First Nations Garden, Wilson & Pulaski
Free
Sat, August 21, 12-2:30pm
2021 Exhibit Columbus Conversations: University Design Research Fellows
Ball State University's College of Architecture and Planning: 531 5th St., Columbus, IN
Free
Sat, August 21, 2pm
2021 Gwendolyn Brooks Youth Poetry Award Ceremony
Illinois Humanities: Online
Free
Sat, August 21, 7-9:30pm
Filmmaking on the South Side
Chicago Humanities Festival: Gary Comer Youth Center, 7200 S. Ingleside Ave., Chicago, IL
Free
Week of August 22, 2021
Mobilize! Creative Blocks, Collective Dreams
Washington Park
Free
Week of August 29, 2021
Mobilize! Creative Blocks, Collective Dreams
McKinley Park
Free
August 23 – October 5, 2021
Chicago Portrait Project
The University of St. Francis Art Gallery: 500 Wilcox St., Joilet, IL
Free
Tue, August 24, 7pm
Virtual Author Reading: FOREVER FREE by Tracy Swinton Bailey
Women & Children First Bookstore: Online
Free
Tue, August 24, 6-7pm
Bethany Collins in Conversation with Mollye Bendell
The Phillips Collection: Online
Free
Wed, August 25, 7pm
Local Lives(s): Making Chicago Home
Chicago Sun-Times: Online
Free
Thurs, August 26, 5:30-6:30pm
Hammer Study
Retreat at Currency Exchange Cafe: 305 E. Garfield Blvd. Chicago, IL
Free
August 26-December 22, 2021
Hal Fischer Photographs: Seriality, Sexuality, Semiotics
Krannert Art Museum: 500 E Peabody Dr., Champaign, IL
Free
August 26, 2021-February 26, 2022
A Question of Emphasis: Louise Fishman Drawing
Krannert Art Museum: 500 E Peabody Dr., Champaign, IL
Free
August 27-November 12, 2021
The Art of Surviving: The Journey of the Karen Refugees in Illinois
Northern Illinois University (NIU) Art Museum: Altgeld Hall, 1st Fl., West End, 1425 W Lincoln Hwy, DeKalb
Free
August 27-December 17, 2021
Spartan Upcycle x Art Lab Residency: Megan Heeres
MSU Broad: 547 E Circle Dr, East Lansing, MI
Free
August 27-November 12, 2021
Refuge and Refugee
Northern Illinois University (NIU) Art Museum: Altgeld Hall, 1st Fl., West End, 1425 W Lincoln Hwy, DeKalb
Free
Fri, August 27, 5-7pm
Elias Carmona: Pandemic Photos
Humboldt Park Boathouse Gallery: 1301 N Sacramento Blvd
Free
Sat, August 28, 2-6pm
Trans Beach Day
Rainbow Beach, Chicago, IL
Free
Sat, August 28, 2-6pm
Mobilize! Creative Blocks, Collective Dreams
Overton: 221 East 49th St., Chicago, IL
Free
Sat, August 28, 6-9pm
TODAYNOW
Silent Funny: 4106-08 W. Chicago, Chicago, IL
Free
Sat, August 28, 7-9pm
Small Altars: Book Launch & Poetry Reading
Heaven Gallery: 1550 N. Milwaukee Ave., 2nd Floor, Chicago, IL
Free
August 28-October 3, 2021
SANDRA LEONARD: UNEXPECTED NARRATIVES WITH FLORA AND FAUNA
Evanston Art Center: 1717 Central St, Evanston, IL
Free
August 28-November 16, 2021
Nathaniel Robinson: 2020 to 2021
Devening Projects: 3039 W Carroll Ave., Chicago, IL
Free
August 28-December 17, 2021
Free Your Mind: Art and Incarceration in Michigan
MSU Broad: 547 E Circle Dr, East Lansing, MI
Free
Sun, August 29, 3pm
Dreamscapes: Artists Panel Discussion
Roots & Culture: Online
Free
Sun, August 29, at dusk
First Nations Film and Video Festival
First Nations Garden: 4555 N. Pulaski, Chicago, IL
Free
August 30-November 7, 2021
Lan Tuazon: Future Fossils: SUM
Hyde Park Art Center: 5020 S Cornell Ave., Chicago, IL
Free
Mon, August 30, 12:15-9pm
Two-Part Program: JeeYeun Lee and Kyle Malott on Language and Place
The Arts Club of Chicago: 201 E Ontario St., Chicago, IL
Free