Art + Love: Lovie Olivia + Preetika Rajgariah
As part of our Art + Love series, Houston-based artists Lovie Olivia and Preetika Rajgariah discuss the early days of their once long distance relationship and how it feels to…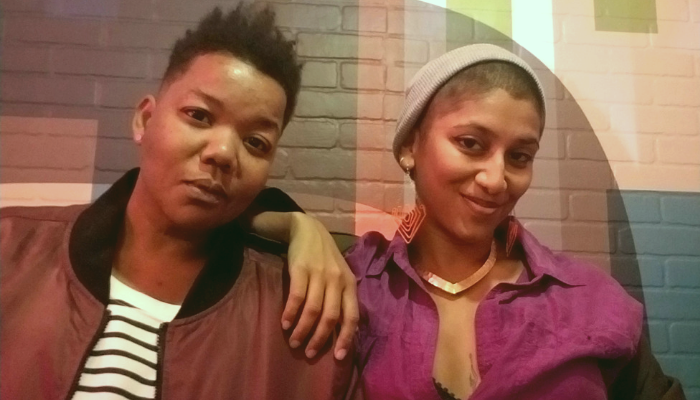 As part of our Art + Love series, Houston-based artists Lovie Olivia and Preetika Rajgariah discuss the early days of their once long distance relationship and how it feels to now be reunited in their home town while also sharing a studio space.
On where it all started:
Lovie Olivia: In May 2013 I found myself at a dance performance/rehearsal by Jasmine Hearn and Jon Shronks, two dear friends in the performing arts scene in Houston. Preetika was there as an event photographer and I connected with her presence immediately. We were introduced at the end of the performance. A few months later we learned that we were both instructors at the locally popular non-profit gallery and school, Art League Houston. Sometime after one of our our exhibitions, (I think mine) Preetika slipped in my DM on Facebook inquiring about my process of choosing models for my paintings, explaining that she was a model and available if I needed more (brown) subjects. We had that initial meeting at my studio about 6 months after because I didn't check/answer my FB messenger until that much later. Fast forward through a few museum visits, lunches, movies, parties a divorce each and a year and a half of grad school later, we decided to have an official first date in June 2016.
Preetika Rajgariah: We met through the Houston art scene. Specifically, we were at a dance performance dress rehearsal where I was documenting the performance (taking photographs). Lovie came to see the show. After that, we would run into each other at gallery openings and such. I think I really fell in love with Lovie's work when I saw her solo at ALH, Damask in 2014. Then, I did two things: made a point to seek her out in the art scene, and I inboxed her about modeling for her paintings if she ever needed more inspiration. You could say I had an art crush by then. We didn't get around to that modeling shoot until almost 6 months after my request. Then I was moving shortly after for graduate school in Champaign, IL. Our friendship continued and actually deepened from this distance–we talked on the phone a little more often. We always connected about art and artists, but by this point we had bonded over parallel divorces and other personal stuff, so we were getting closer on an emotional level as well. In summer of 2016 I came home to Houston for a quick trip and I invited her to accompany me to a mutual friend's birthday party during my second night in town. When I dropped her off post party, I asked if I could come up to "see her art collection." The rest is history!
On one another's process and practice:
Lovie: I would describe Preetika's work as honest, fresh, rich in culture, bold in color, and audacious in concepts and approach. Her work is diasporic and impulsive. Self aware, she makes with excitement, enthusiasm and with no lack of precision and intention. Aesthetically and conceptually strong. My favorite parts of her work are the mark making, the accumulative caress to the materials that she thoughtfully and carefully selects to create her works. Her works overall are exciting to look at, they are visceral while simultaneously loaded with history and information.
Preetika: My partner's practice is VERY research-oriented. She is actually the hardest working artist I know. A lot of Lovie's practice is about digging and excavating, which is inspired directly from her own narrative and trying to find out her own origins and histories, but also just her intuitive interests in finding the truth behind the layers. Lovie does a lot of 'front loading' before the act of making her works. She ingests and takes in books, does a lot of personal writing, and lots of 'brain work' before her hands ever even touch material. When she starts making, I get to witness the material play and experimentation. Unlike me, she never gets too hung up on stuff if it doesn't go as expected or planned. Instead, she is a master at moving forward. My absolute favorite part of her work is that it is all hand made, hand painted, hand carved–every little detail. The beauty and refinement in her work is unparalleled. She is a perfectionist for sure and a NUT for quality. I could go on forever. I really did crush hard on her as an artist whom I looked up to for so long. It's easy to talk about the things I admire.
On sharing space:
Lovie: We share living and work spaces. At home we enjoy cooking together. Our practices are so different that in the studio we pretty much leave each other to our own devices–except for the occasional question, crit or knod to a job well done. Overall maybe the work (for each of us) has gotten smaller due to limited (shared) space. Maybe some materials get spilled over or borrowed or repurposed because that's just what's affordable at the time.
Preetika: We went from long distance for 2 years, to moving in together – living and studio! So far, we have yet to get settled into a studio routine. This has all been fairly recent and we have been traveling a lot for residencies, shows, etc. But, I never get tired of seeing or being with Lovie, so I don't mind all the sharing! We are good about getting into our own work zones and mindsets even if we are in close quarters. I like to pretend we are in NY, hah! The proximity in the studio is definitely an asset to me. With Lovie's experience with materials and innovative and resourceful nature, she is full of ideas when I'm having trouble achieving my sometimes very lofty goals.
On collaborating with one another:
Lovie: We have talked about collaborating and we have even proposed to a couple of galleries a show that fuses the common ideas that fit outside of our individual themes/practices. The show that we proposed has not been picked up yet but we mutually believe that if it is to happen, it should happen organically. Also, we are so occupied presently with our individual shows slated for 2019. To be honest, we complete most of our collaborations in the kitchen. We enjoy this craft together more than any other. The outcome is quick and rewarding.
Preetika: We have a couple projects that we collaborate on (our food related endeavors for one), but on the whole, our art making practices are separate. We have a lot of similar outlooks on art-making and the art world and the nature of the world in general so we are constantly "working" in conversations related to our shared interests of race, identity, moving through the world as others, sexuality, capitalism, all the -isms!
On how their process and practice have been influenced by one another:
Lovie: In general her process has taught me to trust my instincts more. She gets a spark or an idea and just runs with it. A lot of my work is research-based. I tend to overthink and over-plan at times. We are both slaves to aesthetics, though. Watching her make is entertaining and stimulating to myself and to my own practice. I believe that I enter the studio with a different set of expectations than I used to. I've learned to tap into my impulses more.
Preetika: I feel like my practice has grown tremendously through our relationship. My vision of my own work has expanded beyond what I thought it ever could, and I have to give Lovie credit for affirming my ideas. I have a lot of wild ideas! She's the one that gives me the confidence that there is something in them.
…and one more thing:
Lovie: She's the most beautiful human inside and out in my eyes. I can't stop staring at the art that she is and the art that she makes.
Preetika: Lovie deserves the most. She really is one of the most loyal and honest humans. Her love is (sometimes overwhelmingly) generous and selfless. I am SO. LUCKY. I can only hope that I do half as much for her as she does for me.
_
Featured Image: A photo of Lovie Olivia (left) and Preetika Rajgariah (right), standin next to one another in front of a colorful wall with geometric designs on it.