Art + Love: Erin Babbin and Michael Sullivan of On The Real Film
Two filmmakers on the division of expertise in their collaboration and how they make art, love and a relationship work.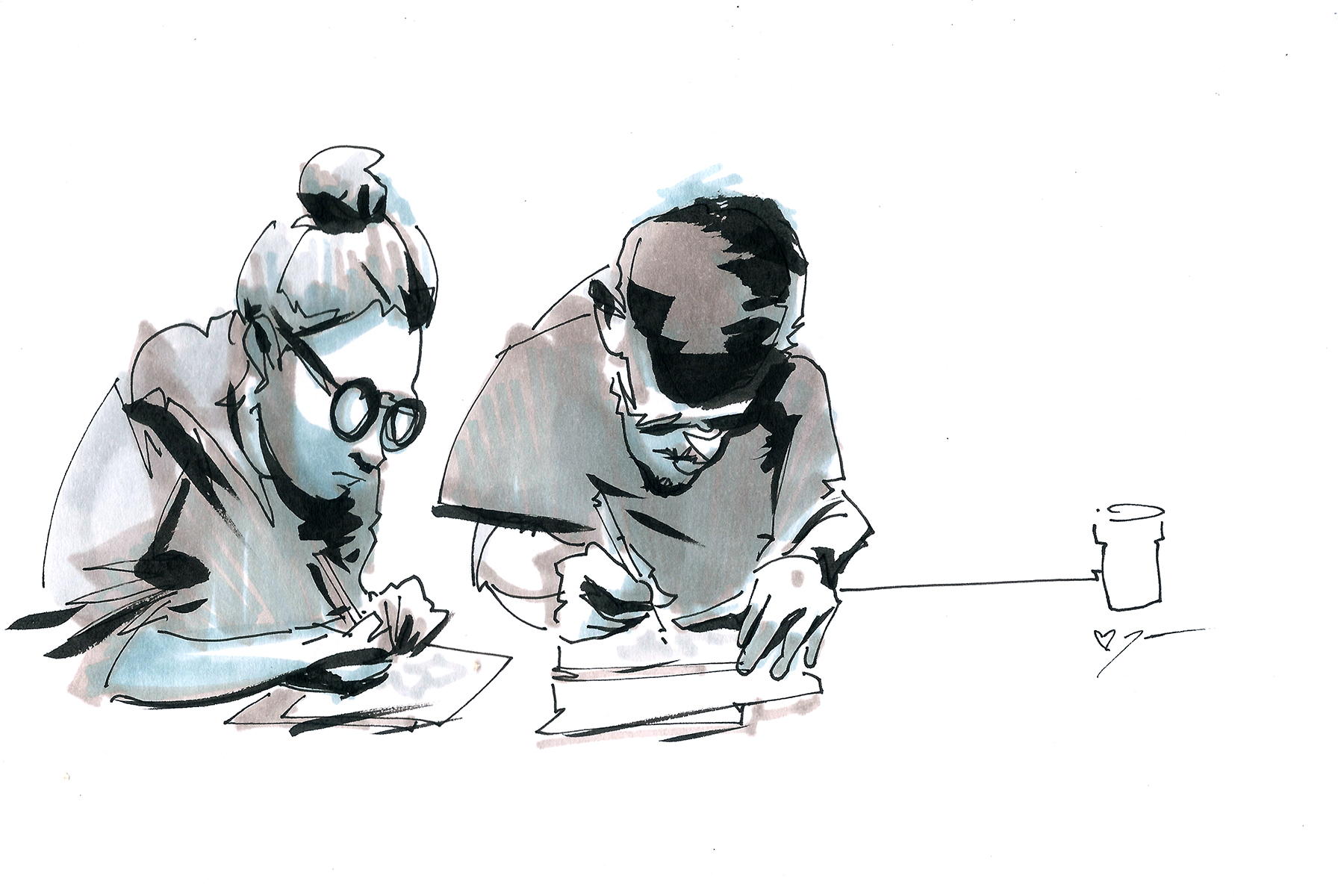 Erin Babbin and Michael Sullivan are partners in life and art-making with On The Real Film, a film company founded in 2011 that creates short films and documentaries that capture the essence and range of perspectives embedded in Chicago's artistic arenas. With work featured in film festivals including Mumbai International Queer Film Festival, Chéries-Chéris Festival – Paris, Springfield LGBT Film Festival – Massachusetts, and CMG Film Festival – Los Angeles, together Erin and Michael put to film some of the best of what the city has to offer and exports it worldwide. This is their story.

On where it all started:
Erin: At the time, I worked for Chicago artist Tony Fitzpatrick. Tony had met Michael in Austin, Texas and offered him a job when he finished school. When Michael showed up I was like who is this farm boy?
Michael: I had never been to Chicago before I moved here to work with Tony, so it was a crash course, to say the least. Erin was already tapped into the art and film world here, so once she warmed up to me it was easy to navigate with her. Once Tony found out we were dating, he told me that if I messed this up he'd break my fucking legs. So, I didn't mess it up.
Erin : Thanks Tony.
On one another's process and practice:
Erin: Michael is the photographer and cinematographer for our company and he has a great eye. Most of the work we do together, but Michael takes really beautiful photographs. I have nothing to do with them except I really enjoy them. He's basically good at everything and is a really fast learner.
Michael: Erin is primarily the editor and director for On The Real Film's work. I often say that she does the hard part of putting the story together from scratch, and I just add all the fun, shiny stuff into the mix. In documentary film the editing is the whole thing. You can have great imagery and cool design, but if the story doesn't flow, if the audience is left with more questions than answers, then it's no good. The editor builds the story, and that's not easy.
On sharing space:
Erin: Navigating the physical space is easy because we work in video and photo. We just sit at our own desks unless we're on location shooting or working through an edit together. We've come a long way from the time we worked out of our apartment and shared a desk–quarters were a little close back then.
Michael: Working from home is fun, but not nearly as productive as having a dedicated work space. I think it's a great improvement for our work and our collaboration to have that place to go to every day that's exclusively for making stuff.
Erin : It also makes it less awkward for our assistant editor to not just be in our living room.
On collaborating with one another:
Michael: Basically, every project is a collaboration. For the most part Erin does the video editing, and I do the photography/cinematography, but those roles can and do switch depending on the project. I think the best part of the collaboration is when we're nitpicking a film as we're getting close to finishing it. I always think I have the right answer, then she changes something by three frames and it feels 100% better.
Erin: On The Real Film is our collaboration and our deal is that we're trying to keep it real. We make a lot of documentary based video work about artists, politics, people in the margins, and people that inspire us. We also make music videos, fiction pieces, ads, and series. It's cool to have to create solutions that appease both of us when something isn't flowing, which makes the work better. We know when a piece is finished because it gets both of our stamps of approval on it.
Michael: Agreed, those compromises always produce better work than if either of us just made every decision on our own.

On how their process and practice have been influenced by one another:
Michael: I think Erin has made me appreciate editing. I've improved quite a bit since I first started doing any editing for On The Real Film projects, and it's not a skill to be overlooked. One of my biggest critiques of any work is now the edit, whereas previously I would look more at the quality of the image, composition, etc.
Erin: Michael makes my work look SO much better! [Laughs] But honestly, we've been working together for so many years, at this point all of it is just OUR work, not mine or his. I know he has inspired me to be louder about what I believe in politically. Being with someone who wants to make work in hopes of adding something good into the world means more to me than anything.
Michael: Also, I don't know if I'd be doing film work if I wasn't working with Erin. I always just wanted to make stuff. This partnership has allowed me to make work that I never thought I could do previously. So, that's cool.
All photos courtesy of the artists, with featured image by David Tenorio. See more of Erin and Michael's work on their website, ontherealfilm.com.
---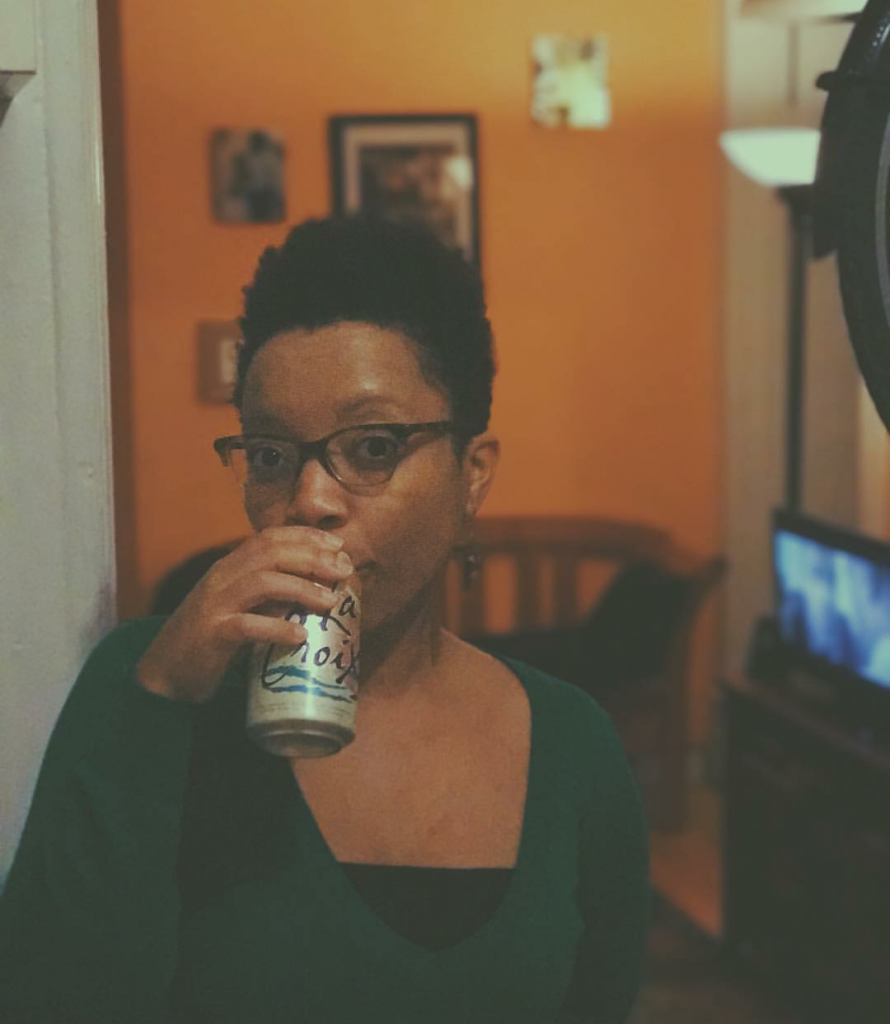 Tempestt Hazel is a curator, writer, and founding editor of Sixty Inches From Center. Her writing has been published by Hyde Park Art Center and the Broad Museum (Lansing), in Support Networks: Chicago Social Practice History Series, Contact Sheet: Light Work Annual, Unfurling: Explorations In Art, Activism and Archiving, on Artslant, as well as various monographs of artists, including an upcoming book of work by Cecil McDonald, Jr. published by Candor Arts. For more, visit tempestthazel.com. (Photo by James T. Green.)