Art + Love: Edra Soto + Dan Sullivan
As part of our Art + Love series, interdisciplinary artist Edra Soto and fabricator/designer Dan Sullivan talk about their distinct practices, the places where their ideas merge, and the ways…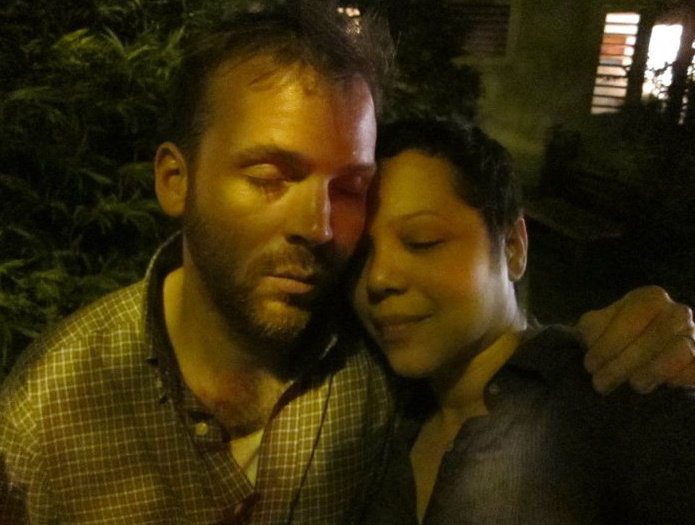 As part of our Art + Love series, interdisciplinary artist Edra Soto and fabricator/designer Dan Sullivan talk about their distinct practices, the places where their ideas merge, and the ways their relationship has influenced their work.
On where it all started:
Edra: Dan and I met at the School of the Art Institute of Chicago in 1998. I was a grad student and he was working at the registrar's office. I remember seeing him for the first time and wondering to myself who he was. I looked at him for a while but he didn't see me until later. I was standing in line to register for some courses and I remember he asked me to step over. I wasn't fully aware, but soon enough I realized he pull me off the line asked me to have a seat at his desk. Nothing further than that. Some days later, I was walking all frazzled up down the admin office hallways and he saw me and immediately stopped me. He asked me what happen and I told him that I couldn't find my wallet. He said something like "Great, now I can take you out for lunch!" to which I replied that I found $20 dollars in my locker and that was not necessary. But we did end up meeting for lunch many times after that day.
Dan: My first year living in Chicago I worked at the School of the Art Institute in the registrar's office. The only tangible power I had was letting some students to skip the line to sign up for class. The first time I saw Edra I practically leapt over the counter to extend her this privilege.
On one another's process and practice:
Edra: Dan is a man of many talents. He is truly capable of accomplishing whatever he wants. His determination, focus, and intelligence makes him a true force to be reckoned with. In the last 14 years he has develop his fabrication and design skills up to the point of creating his own business.
One thing some people might not know about Dan is that he is a musician at heart. He is super obsessed with music and guitars. His passion for music is such that he even started to build his own guitars, which are quite unbelievable.With his fabrication business, he is fully committed, disciplined, and dedicated. He is studious and constantly pursuing ways of evolving and learning. He is exactly the same with his music. After a hard day of work, he will come home and at some point he will pick up the guitar to practice in his home studio or noodle on the sofa when he is not at band rehearsal.
His beautiful designs combine skills and craftsmanship, sharp material treatments, colors and textures and original lines and shapes. As for his music, my favorite part is seeing him play live with his band Arriver, who plays the most masculine and sexy heavy metal music.
Dan: Edra is compulsive, single-minded, and generally works to the point of exhaustion. As her husband I tolerate this the best I can, which is another way of saying I give her my unconditional love and support. I respect her process greatly which tempers any annoyance or inconvenience imposed upon me.
On sharing space:
Edra: That part is somewhat fluid. I rent a studio at his shop, the house of Dock 6 Collective. My studio is like a warehouse and my studio practice is not traditional. I do a lot of work outside of the studio setting. Sometimes I find myself working at his office space. When we work at home, we usually end at the kitchen counter. I never thought about this, but that's were we end up so many times. We both are devoted to work.
Dan and I go through the motions like everyone else, but one thing that is kind of magical about us is that we are good at finding a meeting point. Perhaps we can call this 'aesthetic affinity'.
Dan: Edra rents studio space at Dock 6 Collective, the building I own with 5 partners on the west side of Chicago. This is a mostly effective strategy in getting her materials and process out of the home we share in East Garfield Park. Still, on a semi-regular basis I must insist on purging the bags of empty liquor bottles she has collected throughout the neighborhood for her ongoing project "Open 24 Hours".
Her larger scale projects are designed and built at Dock 6, by my business Navillus Woodworks. She is very involved the process, and just as our methods have informed her practice, her projects have driven us to find new ways to execute them.
On collaborating with one another:
Edra: We are currently working in various projects. Our process involves a lot of conversations and research. We are passionate and also kind and generous with one another. For my artistic projects, I design all the aesthetic aspects and some technical aspects. Dan will come up with great structural design ideas or solutions to hold my pieces in place to be displayed exactly how I want them. He really knows what I like and what I don't like.
Dan: We are currently collaborating on several projects. Our process involves arguing, cajoling, flattery, patience, reconciliation and jubilation. Our aesthetics tastes are very concentric and we hold each other to a high standard. Honesty and trust are the two most important components. We don't always agree but find compromise because we believe in each others' abilities and respect and trust each other a great deal.
On how their partner's process and practice has impacted their work:
Edra: With his assistance and the assistance of his Navillus Woodworks design and fabrication team, I've been able to produce greater and more ambitious projects. It is exiting to count with the support and expertise of a team of experts that I also get to challenge. They are fantastic at finding solutions, sourcing materials and aiming to please. As long as I source funding for my projects I can enjoy these services. Different to what some people might think, these services d are not free to me. Dan's team are his employees and they need to get paid for their services. This way of working also forces me to try my best at sourcing to justify the making of something that ultimately is not being conceived in relation to its commercial viability.
Dan: When I met Edra I was entirely ignorant about the world of contemporary and conceptual art. I have loved art and sought it out as long as I can remember but my knowledge was superficial. My education came in large part through her engagement in Chicago's vibrant art community, specifically the artist-run and non-commercial spaces. As our careers have developed we have shared aesthetic influences and explored them independently in our work, and we pursue opportunities to collaborate as they arise. I am certain our best work is ahead of us.
…and one more thing:
Edra: He makes me feel as if I'm the luckiest girl on the planet. He also piss me off sometimes!!! But love is more powerful than all the bullshit of the bullshits. 🙂
Dan: Edra is relentlessly, passionately creative. She is more intuitive than calculating, a process I can relate to. The strength of her practice lies in the humanity and empathy of her art, backed up by an exhaustive appreciation of the art world and selfless devotion to her peers and students. I am proud to be a part of it and help in whatever way I am able.
_
This interview is part of a series. You can read more Art + Love interviews here.
Featured Image: Dan (left) and Edra (right) standing in what appears to be the outdoors, at night. They both have their eyes closed and are holding one another. Edra's head is resting on Dan's shoulder.