Art + Love: Alexandra Beaumont and Scott Melamed
Artist Alexandra Beaumont and writer Scott Malamed on how they make art, love, and partnership work.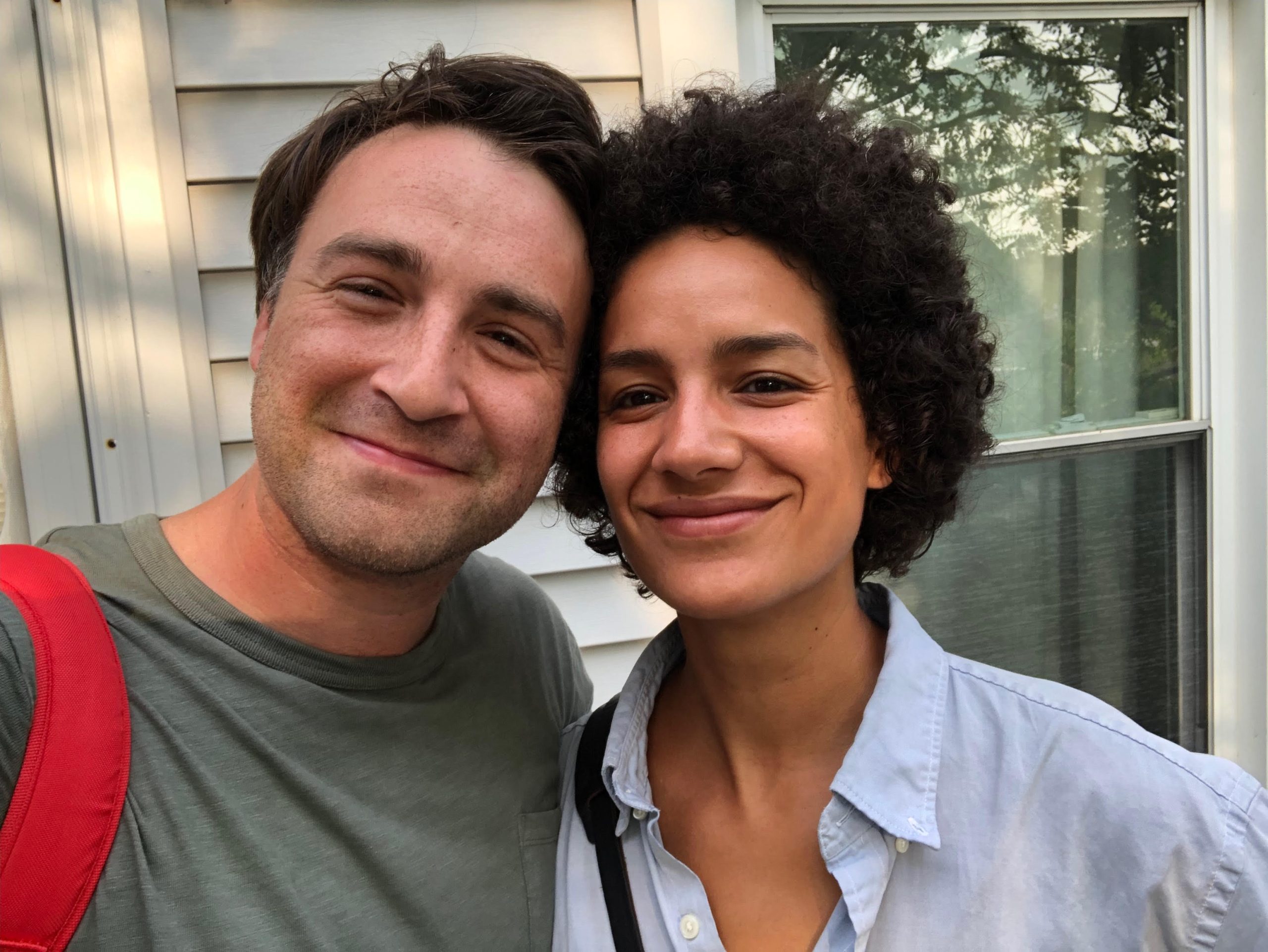 As part of our Art + Love series, interdisciplinary artist Alexandra Beaumont and writer Scott Melamed reflect on the beginnings of their relationship, how they inspire one other into unknown territories, and which version of the song "Crusin" soundtracks their relationship.

Alexandra chose to nominate themselves for the series, writing "We met at a time when each of our creative lives had been stifled and were distant from us. But since we've been together, we've reclaimed those parts of ourselves, [me] as a textile artist, Scott as a writer and illustrator. We encourage and playfully challenge each other, and have begun creating work together (embroidered illustrations and writing)."
This is their story.
---
On where it all started:
Scott Melamed: We met at a coffee shop.
Alexandra Beaumont: I had seen him come in several times with a bag full of books and notebooks and became curious. I knew I wanted to meet him.
On one another's process and practice:
SM: Alex's practice is exploratory and meticulous. She fends off worries and uncertainties through the act of making itself, returning to the needle and thread to concentrate her mind and imagination. She also actively seeks to create new realities, new understandings, through something like mending and reshaping: putting loose pieces together to see what's there when combined, when brought into a whole.
These are some of my favorite things about her work. With my own work, at least these days, I'm less trustful that putting loose materials into combination will result in anything beautiful. Her work and practice are nice reminders of what's possible when you trust the process.
AB: Scott's illustrations are full of play and surprise. I can never quite guess what he will draw next, and that newness seems to come so effortlessly to him! But, then, his writing is deeply contemplative. His writing process is deliberate and determined. He really digs deep. Both are lessons for me—to saunter with what's natural and let it delight you; to lean into what's challenging and let it stretch you.
I never know what I will encounter when I engage with Scott's work, and I love that about it and what I get to learn about him through it. He has a lot of range.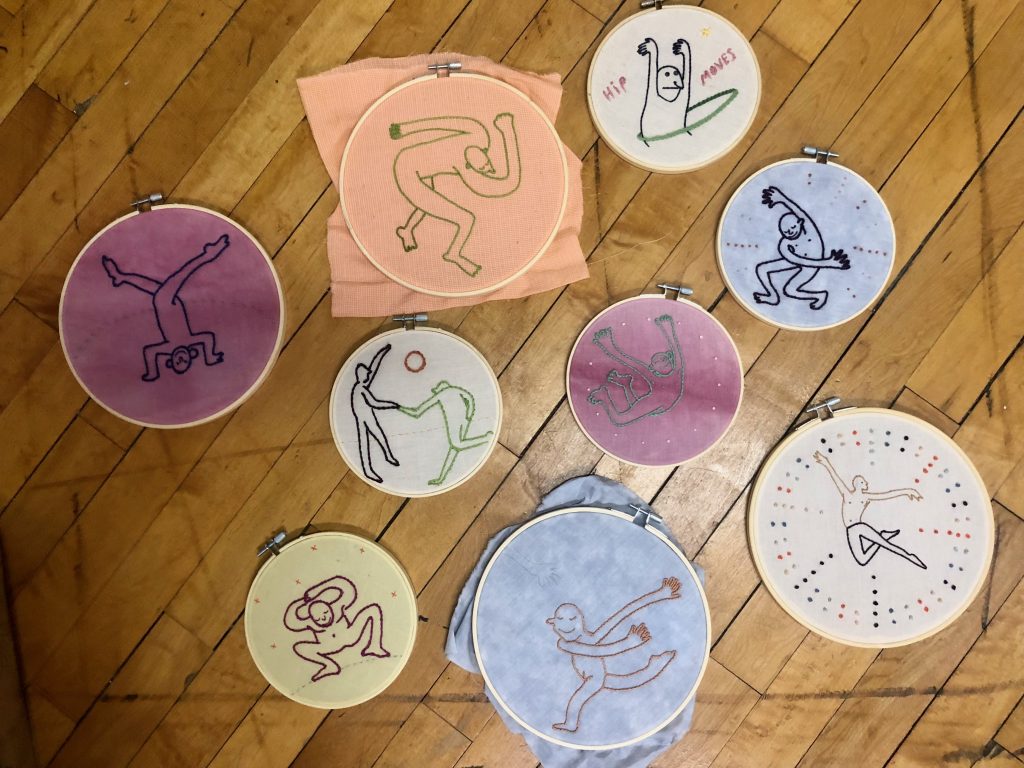 On sharing space:
SM: [Alex] used to make things at home before acquiring a studio space. Sometimes we'll go to a cafe. She'll be sewing and I'll write.
Her studio is part of a community of artists under the name PF Studios. The artists in PF Studios are very talented, ambitious, and generously spirited. It's been inspiring to see Alex in that context.
AB: We share a lot of space, but we also give each other a lot of space. We work hard to safeguard each other's creative time—Scott taking over with our son, Nathan, so I can go to the studio; or me taking Nathan to the studio with me so Scott can be out at a coffee shop to write. Sharing our lives in this way helps me integrate my practice more into myself. It's not like I have a separate life as an artist, it's all intertwined.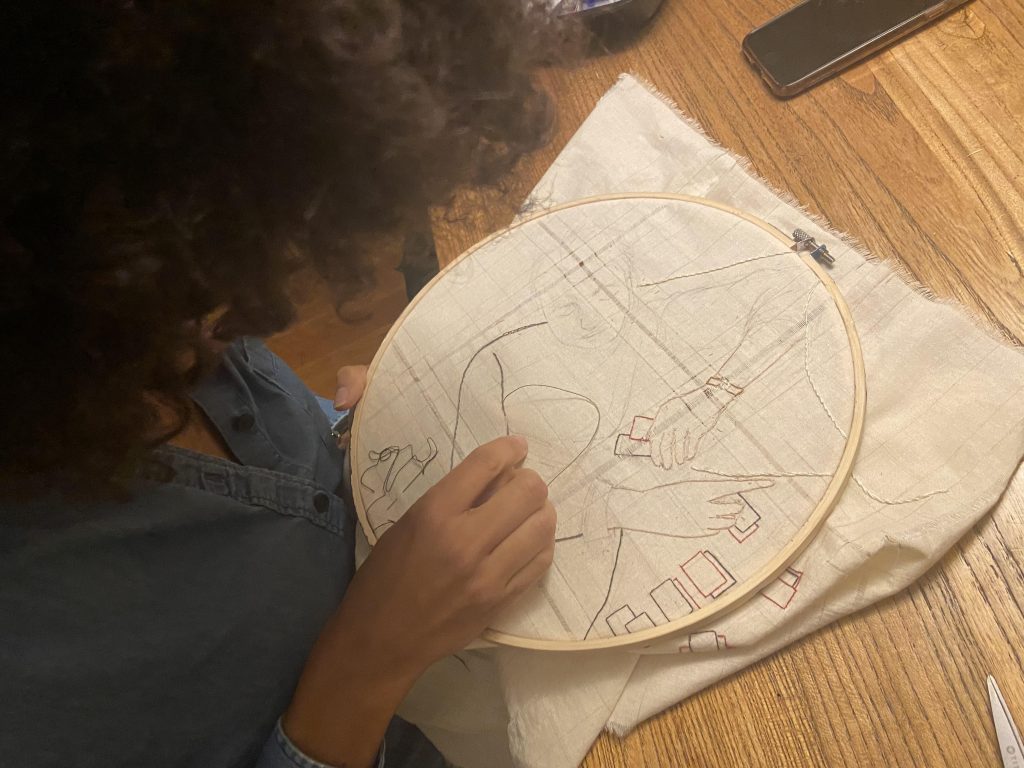 On collaborating with one another:
SM: We've collaborated directly on one project. Otherwise, we support one another through talking about our work, requesting feedback, etc.

AB: We've done a series of small embroideries—Scott draws and I stitch. It's fun to interpret his loose flowing line with tight stitches. I learn from just tracing his line. We also do a lot of daydreaming together; silly stuff, creative ideas, political stuff. I always get more ideas from our conversations.
On how their process and practice have been influenced by one another:
SM: Sometimes Alex begins a piece with a clear vision, but just as often she starts with maybe half a vision collected, enough to get going. I think when I was younger, I was more excited to thrust myself into the unknown, trusting that I could navigate whatever I'd find there—artistically and otherwise. I lost this somewhere along the way, so it has had an impact on me that Alex values entering into the unknown like that. She also has some serious technical skills, so it isn't like she is entering into uncertainty unarmed. That's a lesson too: you can prepare yourself for exploration by having good techniques and technical skills under your belt.
AB: Scott has a unique graciousness that's hard for me to explain. He's quite centered in himself, which leaves a lot of room for the people around him to just be themselves. It was unsettling for me at first, not having someone's judgment to push against. But I've become so much more relaxed in who I am from being close to him. He leaves me a lot of room and that helps me make room for myself, release my perfectionism, loosen my process, which has significantly improved my work and my relationship to making art.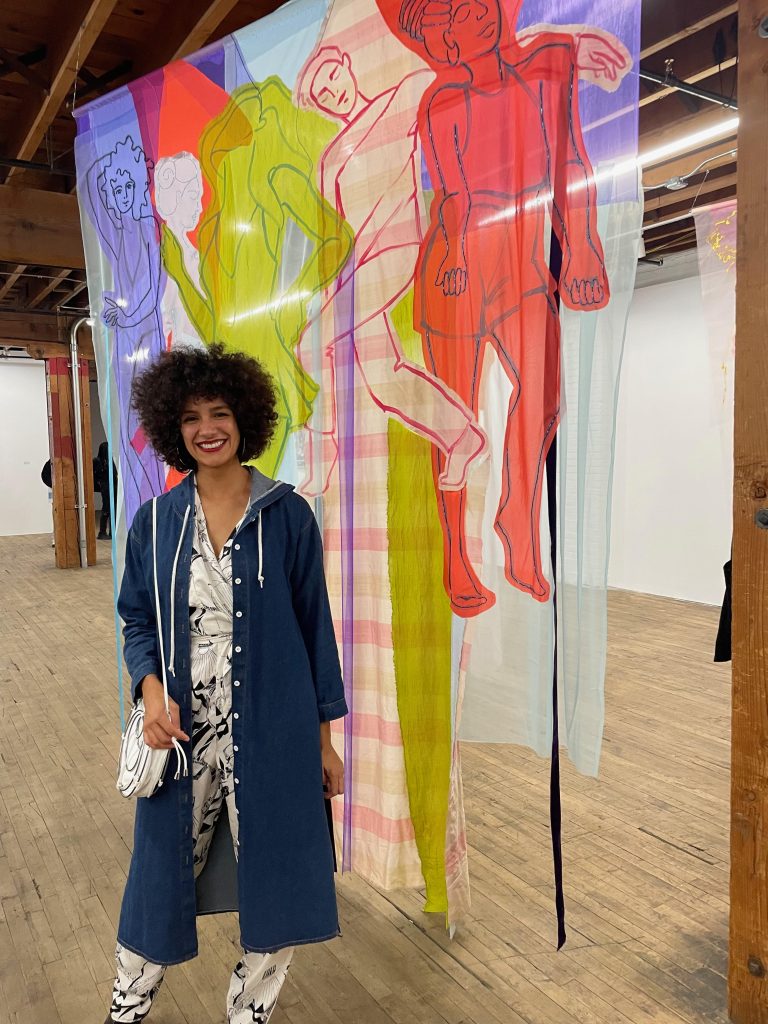 On the songs that soundtrack their relationship:
SM: D'Angelo's cover of "Cruising" by Smokey Robinson, which is "our song."
AB: I prefer Smokey's version, though…
…and one more thing:
SM: She's cute. And she's an amazing partner.
AB: He's a very gentle person and a real partner and friend.
---
About the Author: Tempestt Hazel is a curator, writer, and co-founder of Sixty Inches From Center. She spends her time working alongside artists, organizers, grantmakers, and cultural workers to explore solidarity economies, cooperative models, archival practice, and systems change in and through the arts. You can see more of her editorial, curatorial, and other projects at tempestthazel.com.