alt_ Offering: A Guide to Principles
alt_ Chicago offers guiding principles to community-driven work and practice.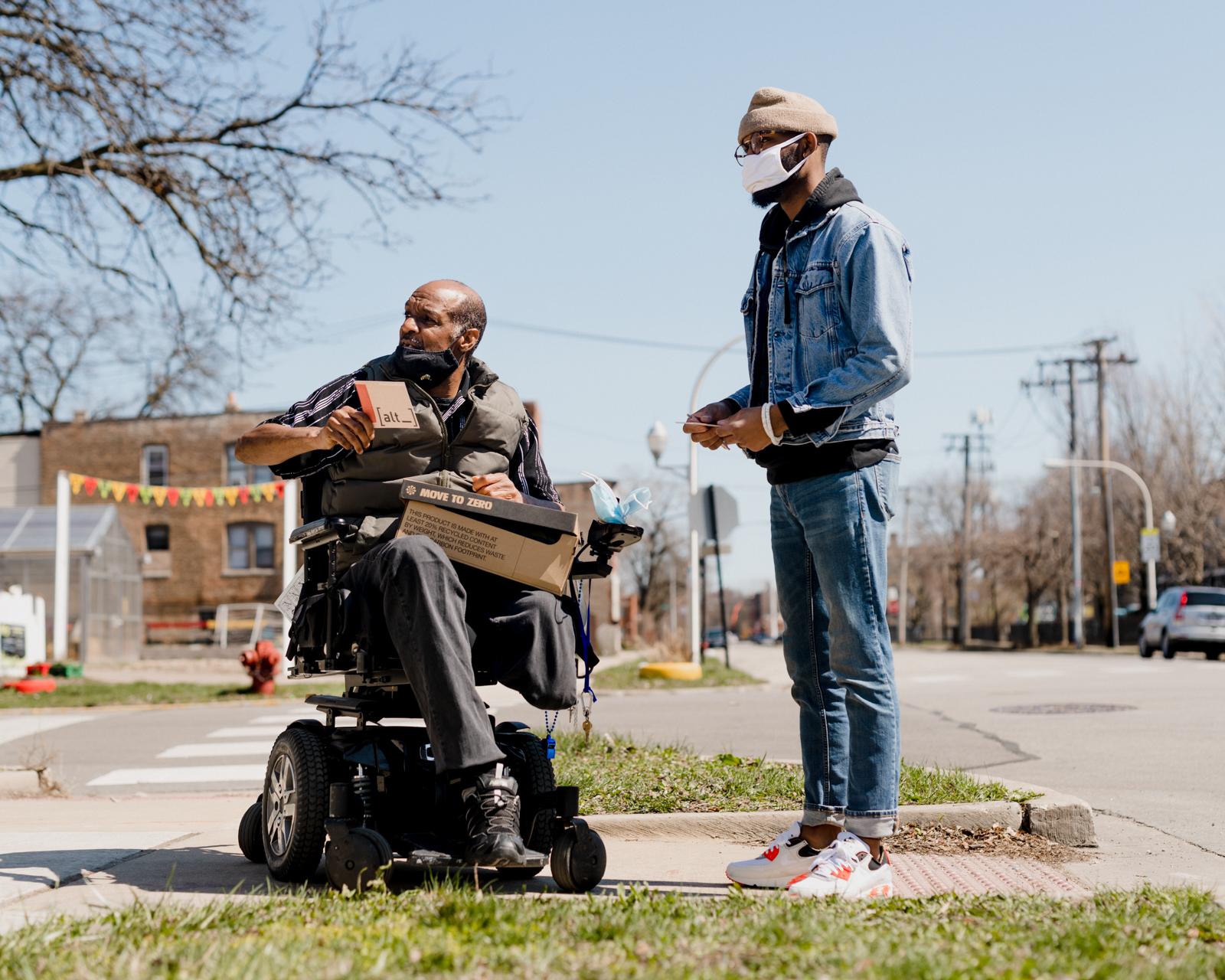 Featured Image: Jordan Campbell taking a moment to catch up with a Southside neighbor on a sidewalk. Photo by Lyndon French. Courtesy of Rebuild Foundation.
The following is a response to the Terra Foundations invitation to participate within the Art Design Chicago initiative's learning community. This piece was not written as a prescriptive tool, but rather as a growing conversation. Below details the specific approach and guiding principles for authentic engagement from alt_ Chicago, an artist-led, faith-based, and community driven organization that revitalizes community utilizing art and faith as tools.
Let's be honest. In the nonprofit sphere, there's an unhealthy obsession with a handful of terms that are often seen in promotional language for a public event and even more seen in the ever-growing catalog of buzzwords that most call grant writing. The words are as follows, say them with me: community engagement, equity, sustainability, transformative, diversity. These are great words, but what do they really mean? Honestly, each of these words can mean different things to all of us depending upon our own values. For instance, many in the commercial world believe "community engagement" to be linked to outcomes. How many people saw a post, came to an event, responded to a newsletter. When I see words like "transformative," I tend to ask questions like, for what? For whom? And most importantly for me, with whom? I say this to suggest that before questions of engagement can be asked, ask yourself what are your values? If community is not rooted in your values then it really doesn't matter what community engagement strategies you use, the work will be inauthentic. Before I pour into some of our guiding principles, as an exploration of intentionality, I think it would be helpful to share our values as an organization and see how they inform our methods and how they could spark others. I humbly present to you, a way of working.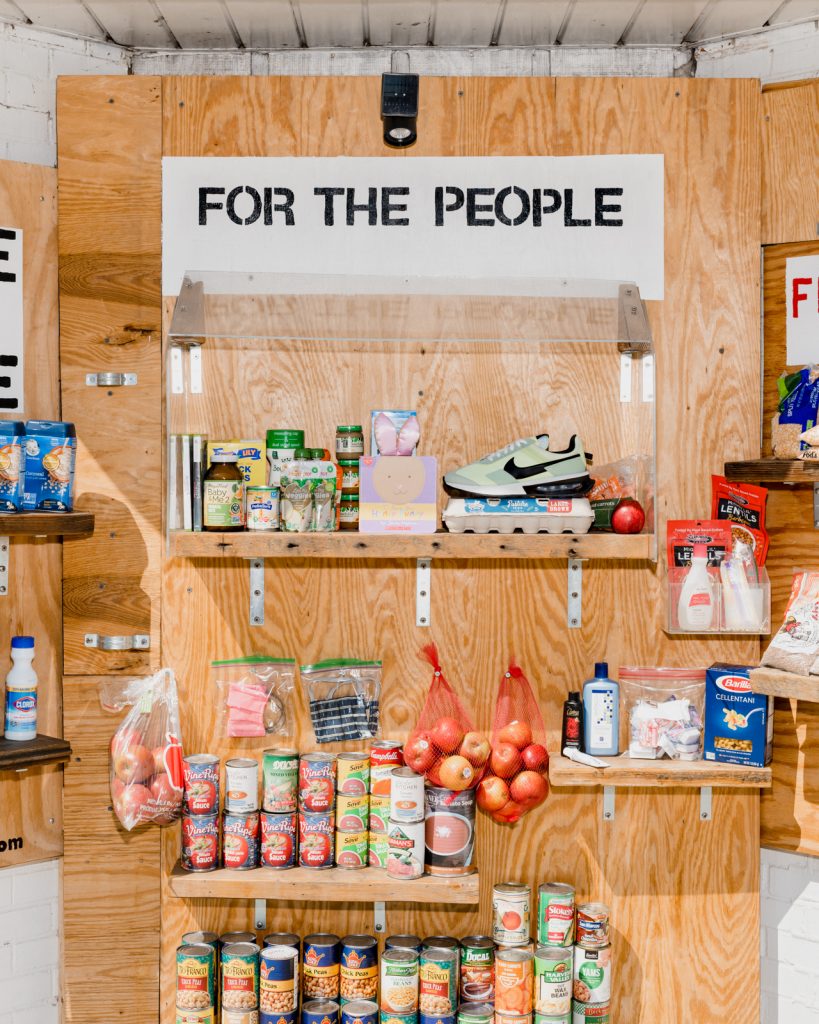 alt_ VALUES
FAITH-BASED HONOR

Through our roots in faith, we intrinsically believe that all people are deserving of honor, love and healing. We are called to give to those who often don't receive it from the world around them. We see the potential and integrity in each person we interact with, knowing that they are created in God's image. 


COMMUNITY WITH INTENTION

In navigating where alt_ shows up physically, we are intentional in where we serve, who we serve and how we serve them. We're also intentional about our own ecosystem of partnerships, volunteers, organizers, and people. Making sure that as a service to the community, our ecosystem reflects that mission.


INCLUSIVITY & ACCESSIBILITY 

As artists and creatives, we set out to make groundbreaking, thought-provoking work, but we also recognize that art isn't always accessible for everyone. Our inclusivity ensures everyone has a voice, but also ensures that our work is tailored to those we are serving. 


NURTURANCE 

Ultimately, we want our work to nurture and heal whatever it touches. Our programming is designed to address physical and mental wellness across a range of needs, from mentorship and academia to food and provisions. We aim for the physical and metaphorical space we occupy to be safe, welcoming and nurturing. 


PASSION + COURAGE

Our work is fueled by an underlying and zealous urgency—because the moment for change is now. To enact this necessary change, we harness our unrelenting passion and unwavering courage to not only propel ourselves forward, but to call others to action, as well.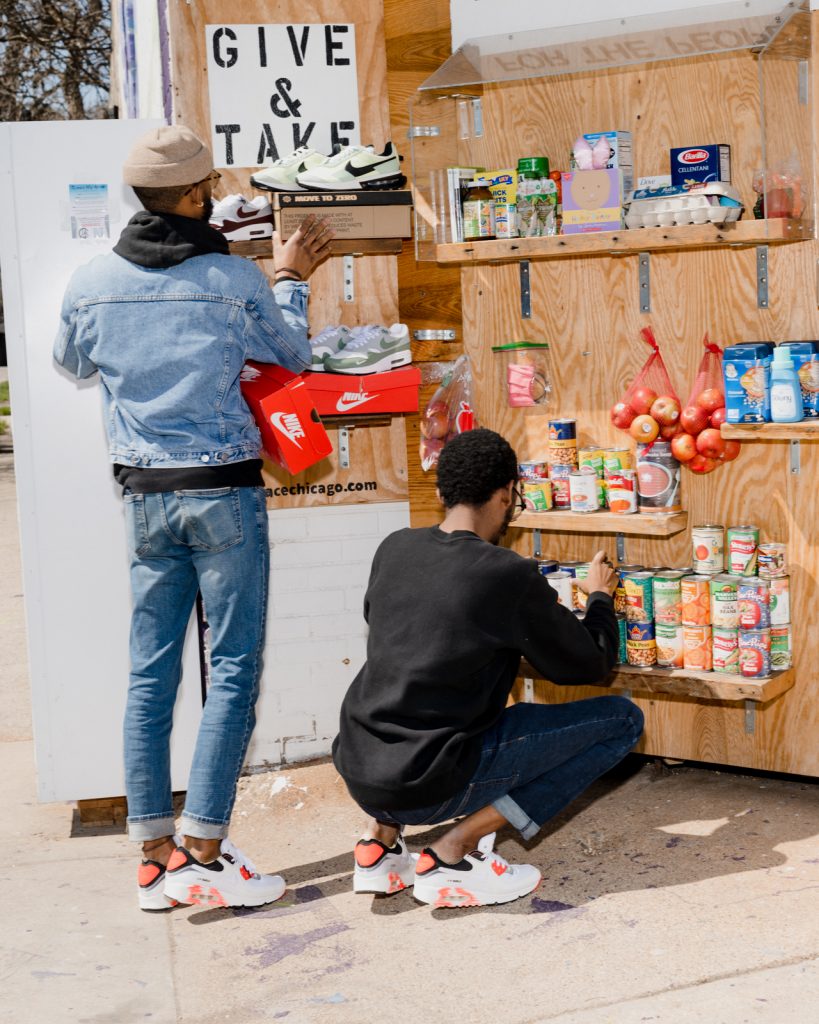 1. It starts with trust. Many of you already know, trust can take ten years to grow and ten seconds to destroy. Building an open honest environment where the community feels safe is both an open dialogue on what needs are and how to meet them and a protective act to make sure your neighbors feel the respect and dignity that they deserve. At alt_ that always starts with food. There is something deeply vulnerable about sharing a meal with someone. It disarms and encourages at the same time. Before we even gave alt_ a name we started inviting neighbors into our homes, sharing stories and listening to music. To properly pull this off with a small budget, we always ask people to bring something or even make a dish. It's not just an economic choice, though––to really create equitable space, we all have to contribute. Every part, plays a part that only that part can play. This statement may be a shift for most who often think of service for, not with. Relationships start at the "with." Another thing about trust, it's not just about the trust you build, it's also about the trust you give. At the beginning of the organization we didn't have space to meet, so we would meet in coffee shops, parks and in the winter at friend's apartments. Every once in a while, folks would chime in and give their opinion about budgets or language. This open format allowed us to build an intimacy and openness with those around us simply because they saw that not only did we value their voice, but we put things into action and followed up. Not too long ago, one of our neighbors came in early for a program while our leadership team was still engaged in a meeting about the budget. Instead of him waiting outside the office, we offered him a chair. Admittedly, this move was not a comfortable one for those at the table who were not used to that level of openness. Who could blame them? We were not just sharing the team salaries and the operational budget, we were plotting out the financial moves we need to make for the next few years. Unannounced projects, budding partnerships, all of the sauce. It was important to us for him to know that, yes, we actually are here to serve with you, and we all have stakes in this game. That level of transparency is still difficult. I get embarrassed when I have a heated discussion with my business partner in front of others because it's not always pretty, but it's the process and we trust our team and neighbors to honor that process.
2. Engagement is not the sole responsibility of the community engagement manager. It is the personal responsibility of everyone in the organization. If you don't know your neighbors and they don't know you, then something is wrong. It can start as simply as greeting people at the door. Make sure everyone has a turn at the front desk from the HR department to the CEO. Emails, meetings, and spreadsheets are important, but if your goal is ultimately to build relationships, then that goal must be shared and honored by all departments top to bottom. The shared labor and communication builds family and accessibility. Now, when you advocate for a program or a neighbor, it's not like you and your department are the sole tie to the community –– a genuine internal community is in relation to the external relationships.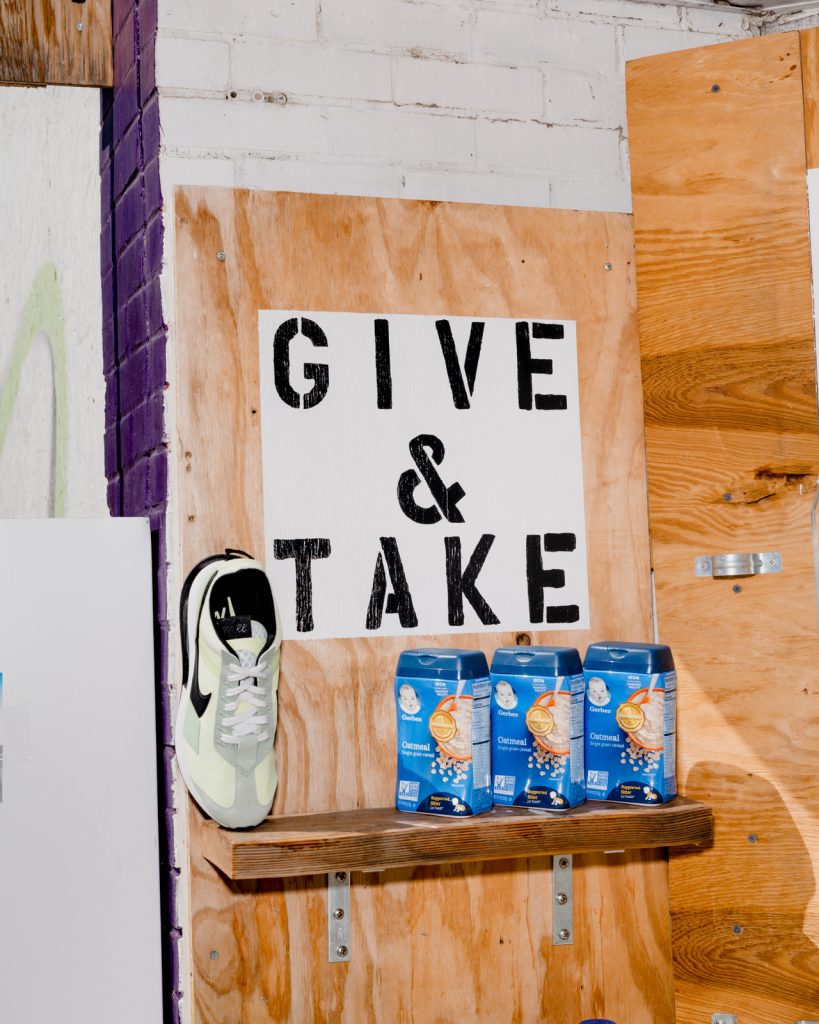 3. It's not about you. Period. Leading with empathy also means you know when you and your organization are not suited for the task of service in a given place. When the alt_ market was created, everyone wanted to use that model, name, aesthetic you name it. We got lots of calls to go build these structures around the city. We created only four. The reason why is simple. Let's take the Englewood market as an example. We are not from Englewood and we don't primarily serve in Englewood. Do we have relationships there, sure. That does not mean that we have the right to just start managing a project in space. When RAGE and EAC reached out for a collaboration, we became comfortable with the idea because the best people to serve Englewood actually live in Englewood. We wanted to be sure that if we partnered on a market, the activations from that space actually stemmed from those who had an intimacy on the block. Know when to just give your support and care.
4. When it comes to social media, I think of it in two tiers. One, it is a tool for communication, so use it as such! Share the news happening around the block, treat your "following" as a community because that's exactly what they are. Meaning you have another opportunity to be a present, caring neighbor. Run a meme contest and post the funniest entries, share a summary from this very essay about what you learned and how it affects your organization. I've found accounts that just serve as bulletin boards to be boring and generic. In 2019 we were told by another organization how a content weekend was beneficial. Basically, they went out once a month and took pictures and videos for the next month and just parsed it out. We tried it once, but it didn't feel genuine so we stopped. We want to be present even with the relationships we have online so that means being aware of what is happening in the world and where you stand on those things. The second use is to find those who are in alignment with your values and galvanize! On one day in 2020 alt_ Chicago mobilized 100 volunteers, 50 on the west side, 50 on the southside, to distribute goods to neighbors on the same day at the same time. That work was almost solely organized on Instagram. We think of social media as an extension of citizen mobilization while at the same time only sharing a small percentage of our day-to-day lives because we don't do it for the gram. The balance must be found between the symbolic acts that lead to supporting real change and moments that require you to protect neighbors from that same outside force. How you do one thing is how you do all things.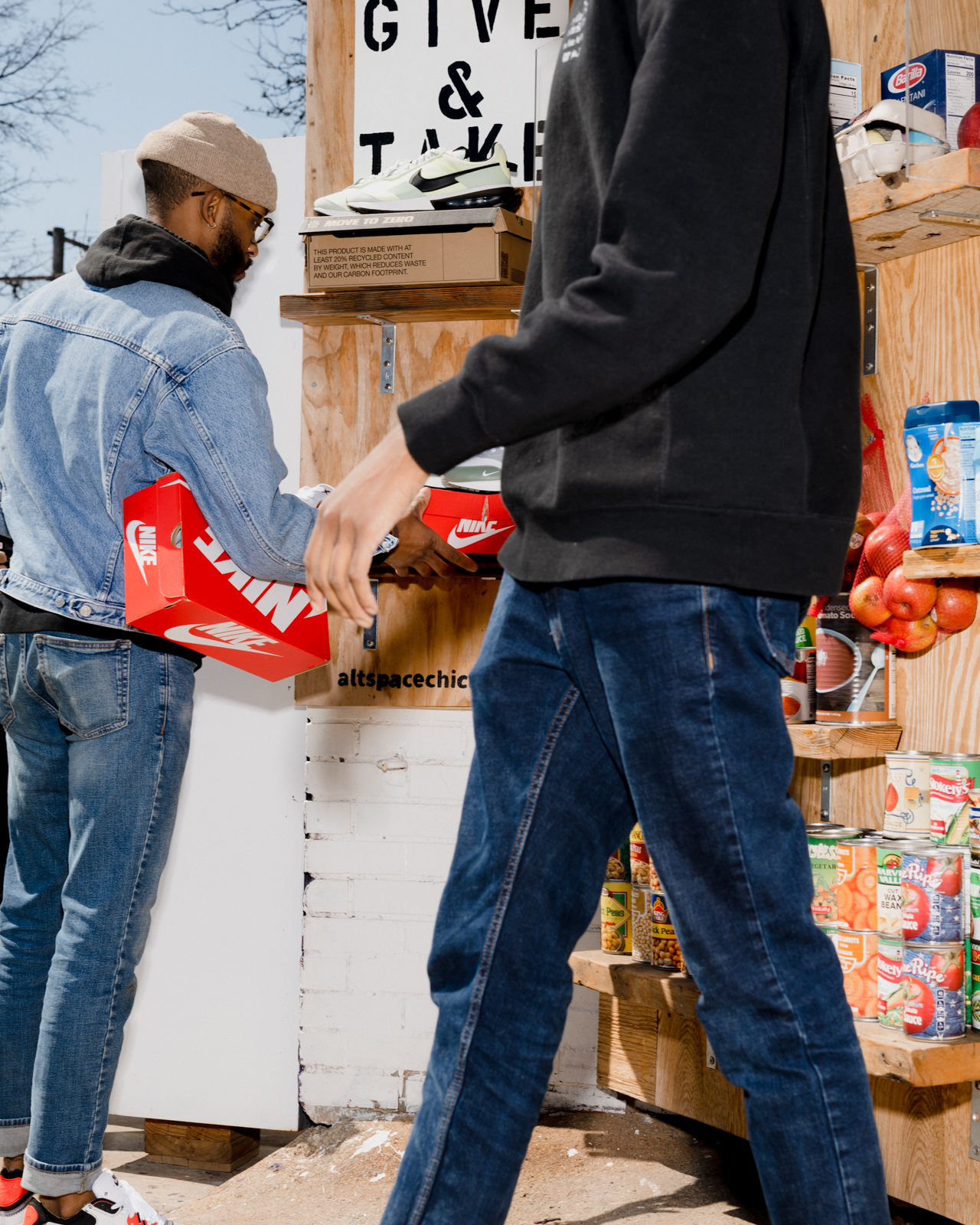 5. We do not react. We respond. It's easy to have a knee-jerk reaction to a political or national moment, but actions cannot be a temporary measure employed as a tactic of performative allyship. When challenging moments arrive, I find it best to be still and listen. Listen. Listen. Sustainability is just love over time –– how can you be present in love during this challenging moment?
I would like to end by adding that one of the challenges of aspiring creative networks happens to be the resource-hoarding in the higher, established circles. It is our responsibility to challenge, grow, ask hard questions and dare to activate in ways that create new ways. When one of us wins, we actually all win. The reason is simple, there are 77 communities but only one Chicago.
---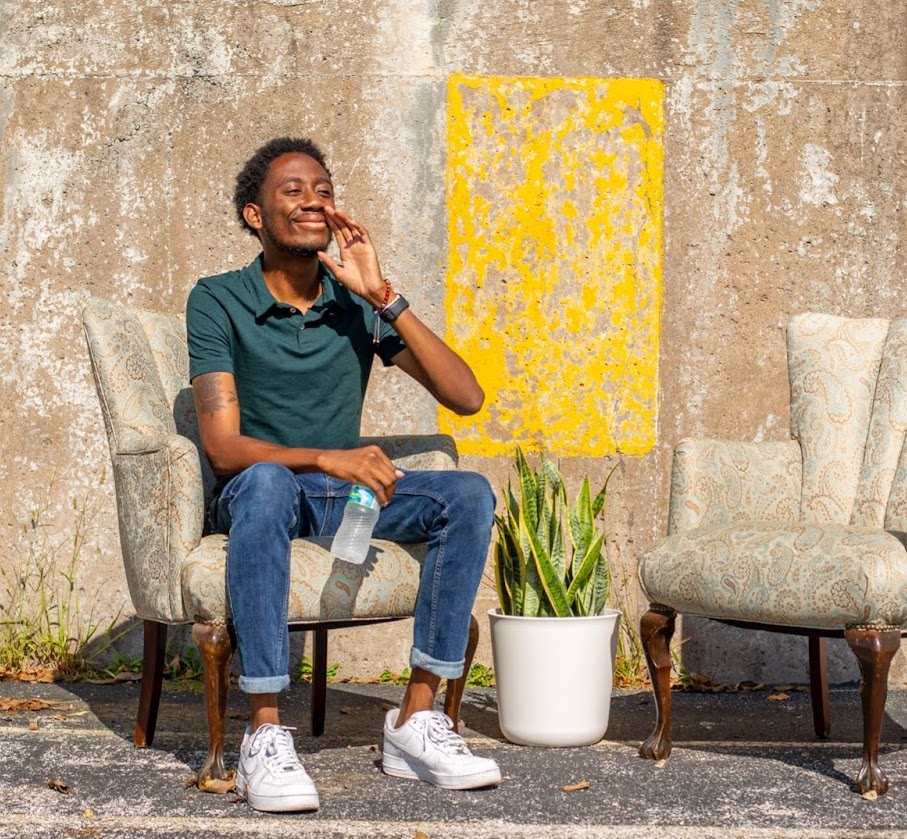 Jon Veal has forged a collaborative transdisciplinary practice that is informed by relationships, meaning that the community and spaces that he resides in often dictate the work and what form it takes. Primarily focused on the capacity of symbolic gesture as a means of strategy, he uses his artistic agency as a platform for building communal spaces. Veal has exhibited at Chicago Artist Department, Silent Funny, William Hill Gallery, Homewood Science Center, Chicago Cultural Ball, Kiss the Brain Gallery, Catich Gallery at St. Ambrose University and the Terrain Biennial representing Austin, Chicago. Veal was the first African American Artist in Residence at Oak Park Public Library. In 2020 he became a recipient of the 3Arts "Make A Wave" grant and the Spark grant from the Chicago Artist Coalition. In 2021 Jon was invited to join the Resource Global Chicago Cohort in addition to being the 2021 Spring Latham Fellow at IIT institute of Design. In 2022 Jon Veal accepted the Martin Luther King Legacy Award from the Chicago Bulls in honor of his commitment to a more just Chicago. You can follow Jon Veal and alt_ on Instagram: @alt__chicago, @Jon.veal