Review: Fear of Property
In meaning and form, the Renaissance Society's exhibition embodies how property is an imposing and inherent concept in our daily lives.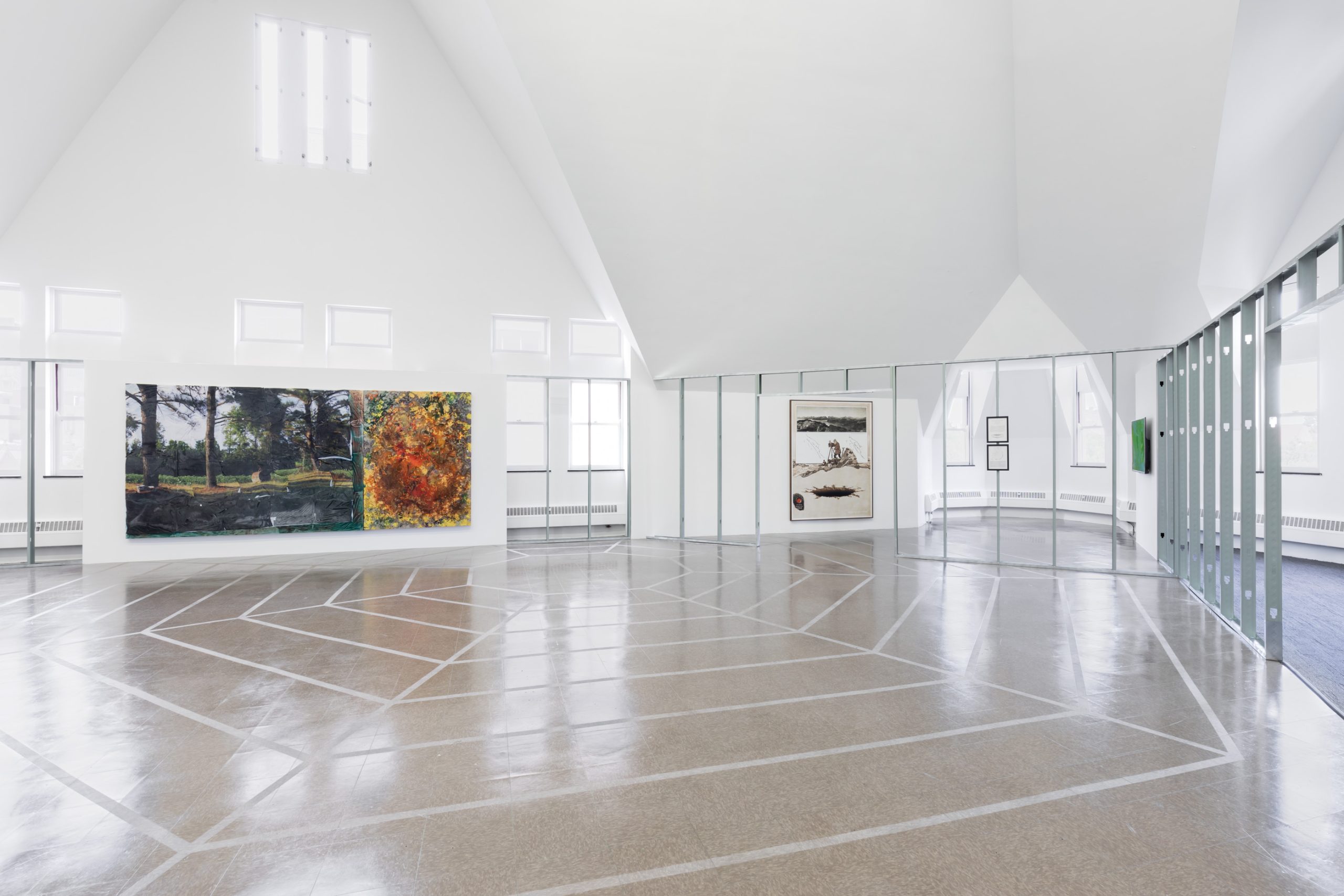 Property, as a concept, is abstract, but concrete enough to penetrate and structure many aspects of our lives. Karsten Lund, the curator of the Fear of Property exhibition at the Renaissance Society describes, "Either no one is afraid of property, or it's an idea so ingrained and internalized as to not be worth any subconscious concern or the consequent therapy." Similar to how property seems to function, the exhibition shows a mix of media: archival photographs, video (in-person and online), appropriated objects and documents, and several forms of 2D work. Metal structures divide the gallery and appear like skeleton beams of a house in construction. The layout allows for division into different sections, hinting at how property seems to govern and structure much of life while also suggesting the physical idea of property we are most familiar with; the dream to own one's own home that is becoming increasingly unattainable in the contemporary housing market.
The exhibition's at-first peculiar title comes out of a forthcoming essay by cultural anthropologist Cameron Hu about the work of Marissa Lee Benedict, Daniel de Paula, and David Rueter, a group whose work, under cover of a solid object, is on view in the gallery. Deposition, the original iteration of the piece Hu discusses in his essay, displays the imposing structure of the former trading pit. Here, however, the pit's ghost lingers through the pale octagonal lines on the floor and two framed documents — a form of a manifesto. Hu's text considers the trading pit as explored by the aforementioned artists as a trace of the historic transaction of property at the Chicago Board of Trades. The artists describe the site as a place where "many bodies, mostly white and mostly male, fought and yelled at each other in the pit," juxtaposing the physical exertion of the brokers in their effort to trade units of stocks in contrast to their material alienation from the physical property they are trading. As Hu notes, "the traders would never in their lives handle the wheat, soy, cattle, etc. from which they extracted a profit." Devoid of the traders which once invigorated its arena, the pit is also victim to its own form of abstraction and irrelevance; as the trade of stocks move online, the trading pit is now "obsolete because computer technology automated the practices it was designed for." Yet despite its lack of place, the effect of trading still resonates in our lives and requires the upkeep of computers and databases to make sure value and property flow seamlessly online.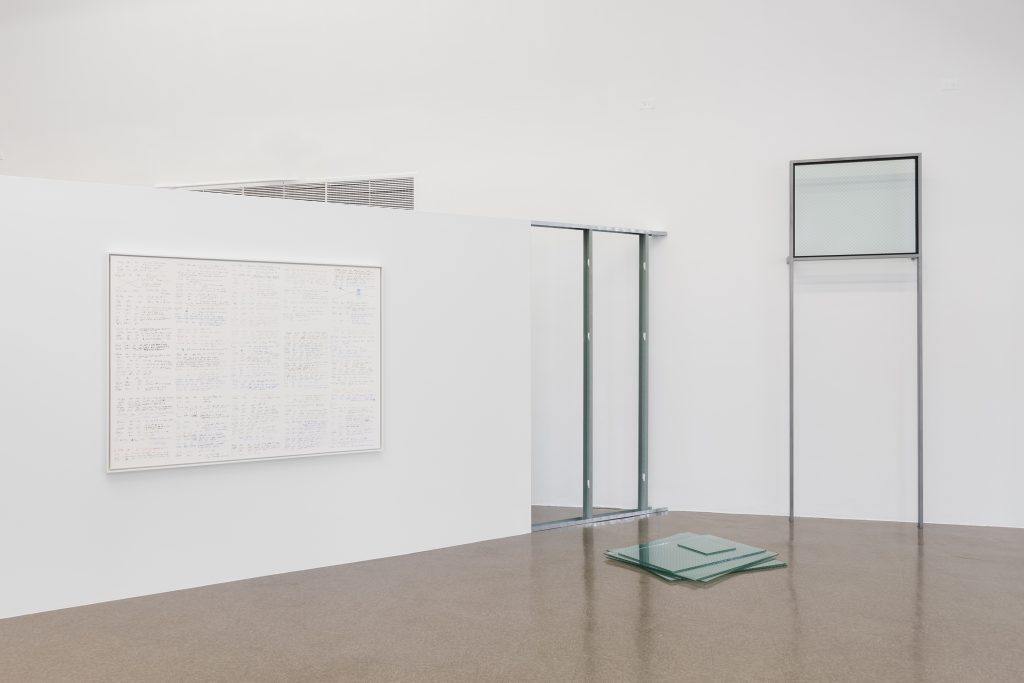 Rose Salone's screenprints, Spring 2007 and 2006, American Stock Exchange, and 86 Trinity Place, are a composite of handwritten notes by maintenance staff at the former American Stock Exchange building in New York, dating from just before the financial crisis of 2007-2008. The printed scribbles are an index of invisible and often unappreciated human labor and care to maintain the uninterrupted flow of goods and value within a capitalist economy.
As Karsten describes in his exhibition essay, we cannot talk about property without acknowledging the violent history of people and land turned into property in a greedy exploit justified through colonial capitalist ideology. Pedro Neves Marques' video, The Pudic Relation Between Machine and Plant, depicts a mechanical arm attempting to touch a Mimosa Pudica, a sensitive plant that closes upon contact in self-defense. The work alludes to the environmental destruction caused by colonial expansion and particularly, the use of technology in western nations's domination. As the video loops, a repetitive action emphasizes the rhythmic and standardized system of exploitation made possible by technology. Across from Neves Marques' piece, Andrew Norman Wilson's Map Making With Pinge series explores the role of mapping projects of colonial expansion and how photography enabled that objective. For this series, Wilson digitally alters old Kodak ads. One photograph depicts a white man focusing a large-format camera while standing on a mountain. In front of him is a large pit and behind him are two maps and a photograph of a wide-open landscape. Wilson's print explores the historical exploitation of land as property as a method of consumption and extraction, often with little consideration of the lives of those residing on it.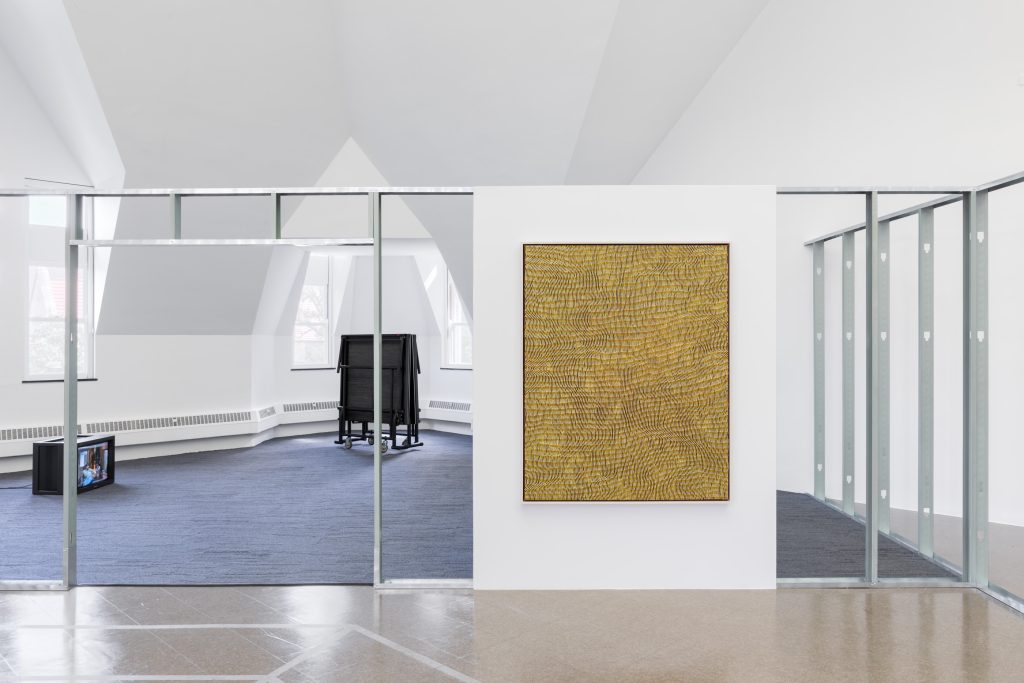 The exhibition also highlights personal perspectives on property, such as Kevin Beasley's resin assemblage Valentines Pines (residence). The work consists of objects such as t-shirts with photographs of Beasley's family land, dresses, and feathers. Everyday qualities of material, utility, and intimate relationships of clothing suggest home, not just as a place or property we own or inhabit but the importance of people and their histories. Through his assemblages, Beasley ties the nostalgic and the personal, connecting the sometimes conflicting emotions we may have to a family home. Home is safety and a source of pride particularly for groups traditionally denied the right to own property. But also the division of property across generations and inheritance is part of the struggle of grappling with place in the context of home.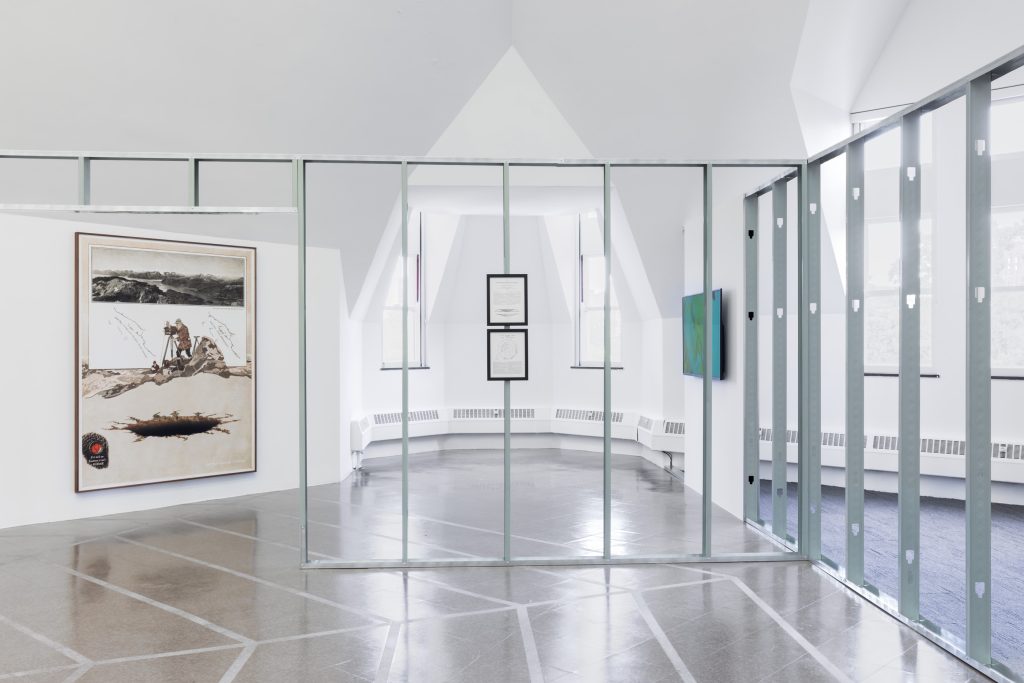 Yukultji Napangati's hypnotizing paintings join the conversation with their disoriented electric lines; their abstract landscapes reflect the desert where the Papunya people of Northern Australia historically reside. The hazy yellow patterns suggest the collapse of time across geographical planes and propose that we reconsider the land not simply as an extractable monetary resource, but as a perpetual relationship tended to across multiple generations of individual experience.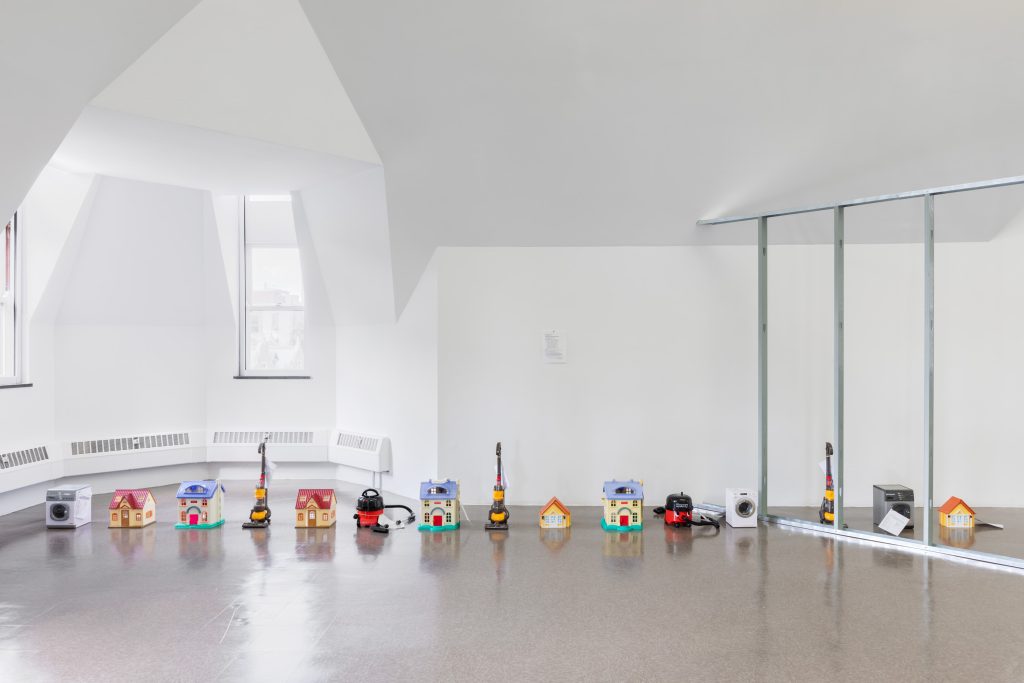 Finally, among myriad ideas of ownership represented in the exhibition emerges the notion of collective property. Ghislaine Leung's playful Public Sculpture, consisting of mini toy houses and household appliances on loan from Reading Central Toy Library in the UK. Leung's miniature residences take on an ironic air in contrast to the house-like structure occupying the space, as the dream of property through home ownership, fed to us as children through toys like these, remains an unattainable desire for many even in adult age.
At the entrance of the gallery, we also find a curated collection of books on property provided by the artist-run publishing platform Cassandra Press. The notion of shared knowledge that emerges from the contents of the books is a sweet ending that reminds us yet again of the complex and layered nature of property that can be both dizzyingly abstract like the trading pit referenced in the work under cover of a solid object, but also tied to our identity and shared histories, like the complex relationship to property shown in Beasley's piece. It is emotionally loaded and feared, perhaps because it reminds us of uncomfortable histories or generates anxieties about our means and access. By interrogating our understanding of 'property,' we force ourselves to recognize the relationships between ourselves and the people and places around us. And, in that recognition, we see that our present and most visible systems of ownership are not the only ones possible.
---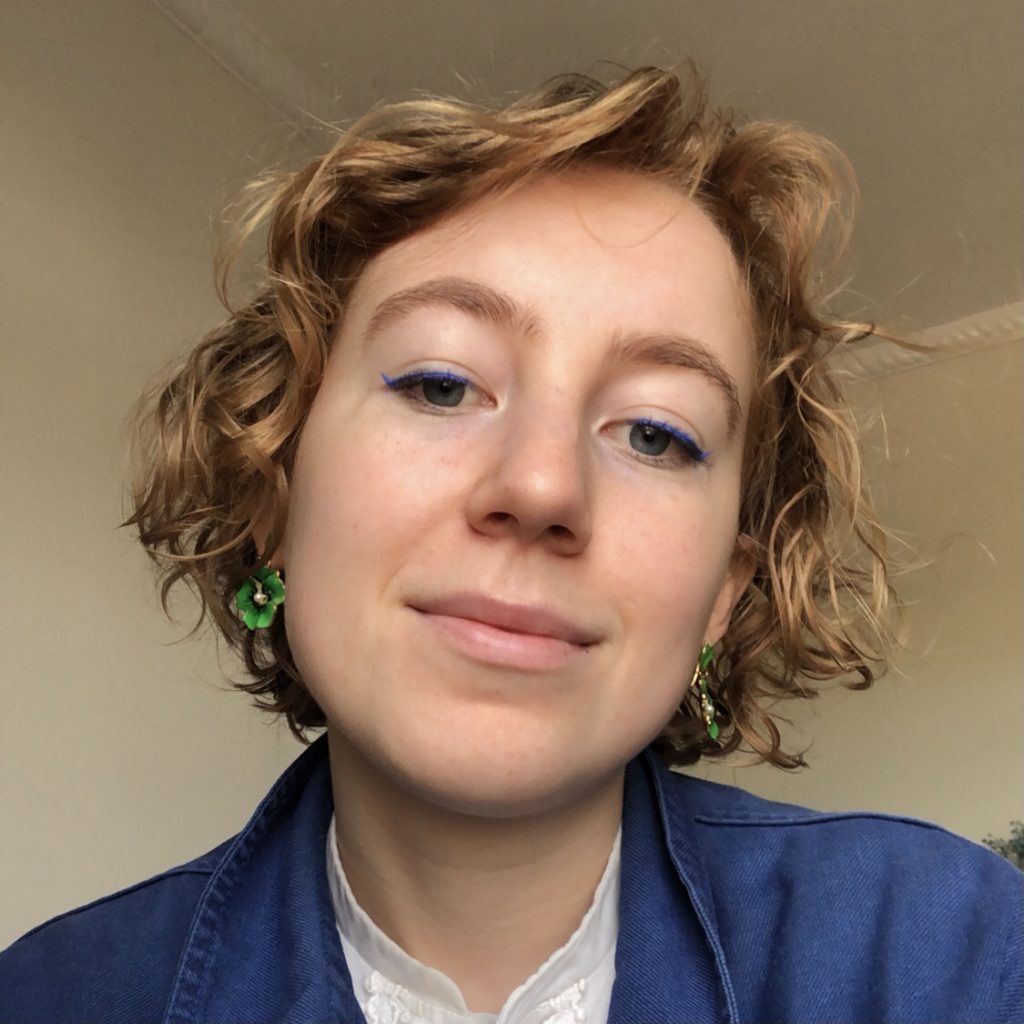 About the Author: Rebecka Öhrström Kann is a fine art photographer and Art Historian based in Chicago, IL where they received their double BA in Art History and Photography from Columbia College Chicago in May 2022. Their artistic practice involves the process of fracturing and expanding photographs through collage, textiles, and installation to explore the photographic image as a vibrant space in flux. Their work has been shown at Woman Made Gallery, Chicago, IL, Elastic Arts, Chicago, IL, and Public Space One, Iowa City, IA. Their research interests include intersections of art and ecology, queer art and theory, and contemporary Baltic art.