Weekly Picks: April 14 – April 20
While a new Sixty Inches from Center is in the making, please enjoy our weekly calendar, a list of visual art related events happening in Chicago. Events are chosen based on the information that is put in front of us.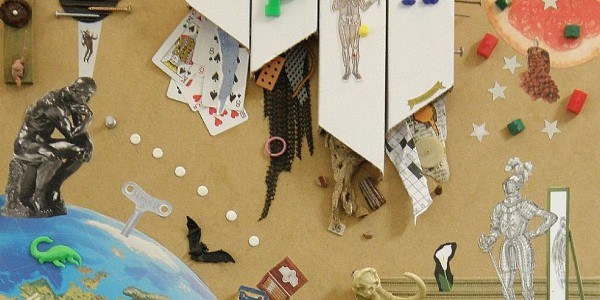 While a new Sixty Inches from Center is in the making, please enjoy our weekly calendar, a list of visual art related events happening in Chicago. Events are chosen based on the information that is put in front of us. If you would like to take advantage of having your event listed on our website please send a press release to reuben.westmaas@sixtyinchesfromcenter.org.
The 2014 Parkland College Art and Design Student Juried Exhibition will open this Monday and run through May 3 in the Parkland Art Gallery. Audiences will enjoy an impressive body of student work in photography, painting, drawing, metals, sculpture, three-dimensional design, two-dimensional design, color theory, and ceramics.  Many of these earn artistic awards, which will be announced during the exhibit's reception from 6 – 8 p.m. on Thursday, April 17.  All events in the handicapped-accessible gallery are free and open to the public. Regular gallery hours are Monday–Thursday, 10 a.m.–7 p.m., Friday 10 a.m.–3 p.m., and Saturday, noon–2 p.m.
Parkland Art Gallery
2400 W. Bradley Avenue
Champaign, IL  61820
Exhibition runs through May 13
The Fine Arts Program and Portfolio Center at Columbia College Chicago cordially invite you to visit our Senior BFA candidates amid in-progress work that will culminate in their spring thesis exhibition. Enjoy food and drinks while touring the studios of over 20 progressive artists working in a variety of media. This event is hosted in conjunction with Illustration Showcase, a special exhibit of comics, drawings, prints, zines, and related work by emerging and established illustrators from Columbia College Chicago. All of this is part of Industry Events 2014, Columbia's annual series introducing emerging talent to professional creative communities.
6:00pm-9:00pm
Studio East
1006 S Michigan
4th Floor
Chicago, IL 60605
Free to public – Click here to RSVP
Carmen Anthony's solo exhibition, Get Your Life, is on display in his studio at Lacuna Artist Lofts.  Carmen is a Chicago born artist who is known for his dynamic and colorful abstract paintings, fine art, and photography.  His abstract series, Get Your Life, is a 14-piece celebration of self-empowerment inspired by his experiences as an MSM of color within the LGBTQ community.  Carmen's artwork was recently acquired by the Chicago Center for HIV Elimination at the University of Chicago.  During the open studio hours, exclusive prints of displayed artwork will be available for purchase and light refreshments will also be available.
7:15pm – 9:15pm
Lacuna Artist Lofts
2150 S Canalport Ave
Suite 4A-8
Chicago, IL  60608
This Thursday, come out to the Alternatives Inc. for several different workshops as part of the upcoming week of Urban Acrobatics festivities. In addition to Thursday's events, here is the complete schedule for the week:
Tuesday April 15
Our first event will be a panel discussion on the history of circus and graffiti in Chicago. Our panelists are Polly Solomon, Gabriel FLASH Carrasquillo, Roy Gomez Cruz, and Caitlin Bruce. The panel begins at 6:30pm and will run to 8:00pm with a reception afterwards. We are grateful for the Evanston Art Center providing space for this event.
Thursday April 17
From 5:00 pm to 9:00pm we will be hosting back to back tagging and circus workshops, led by Werm Oner and Polly Solomon. We will provide markers, paper, and space to draw and tumble in. This event is being held at Alternatives, Inc.
Friday April 18th
From 5:00 to 9:00 pm our artists will brainstorm and prepare for Saturday's performance, which will offer a fusion of graffiti and circus styles. Our performers will include Polly Solomon, Werm Oner, Natalie Zombie, and Melon James, among others. This will take place at Alternatives, Inc.
Saturday April 19th
From 4:00 to 6:00pm we will present the result of our week of discussion and collaboration in the form of a performance, a Spectacular. This will take place at Alernatives, Inc.
Alternatives Inc.
4730 N. Sheridan Rd.
Chicago, IL 60640
Friday || April 18
Third Friday Artists Reception
This Friday, 4Art Gallery will hold its monthly 3rd Friday Artists Reception from 6:00pm-10:00pm. The fourth floor gallery has been open for the past ten years, and it is fully run by artist and Chicago native Robin Monique Rios. The gallery provides the perfect creative arena for both artists and enthusiasts, while maintaining an intimate environment. 3rd Friday offers the public a first-hand account with 4Art's prestigious artists and their work. Guests also have the opportunity to tour each of the Zhou B. Art Center's four floors of art galleries and artist studios.
6:00pm-10:00pm
4Art Inc Gallery
1029 West 35th Street, #403
Chicago  Illinois  60609
Saturday is your last day to check out New Mexico-based artist Wall Batterton's solo show at Bert Green Fine Art before it closes.
Batterton studied and worked in Los Angeles with Ed Ruscha, Joe Goode, and many other artists that helped to define the Los Angeles art scene of the 1960s and 1970s. Batterton created large paintings with car lacquer and aluminum paint, and like many of the artists in that place and time, the optimism and access to industrial materials of the age contributed to the making of art. However, these materials led to very serious health problems for the artist, prompting him to cease painting for a period of time to detox. Thereafter, he resumed working with more traditional media.
The current series of works are two distinct series of 3-D assemblages using a variety of drawn and painted surfaces and found materials which reflect the frenzied condition of contemporary life. They are inspired in part by a realization that perhaps some of the world's problems may in fact be unsolvable.
In the Project Room is a group show of paintings by gallery artists: Jen Heaslip, Shane Guffogg, Jeff Britton, and Viva Hoffmann.
12:00pm-5:00pm
Bert Green Fine Art
8 S Michigan Ave
Suite 1220
Chicago  Illinois  60603
For the second year running, the performative comics reading series Brain Frame is teaming up with the Chicago Alternative Comics Expo (CAKE) to host the CAKE Frame fundraiser, an evening of comics readings and a live art auction. Cake Frame 2 is All proceeds go to benefit CAKE, the weekend-long celebration of independent comics featuring comics for sale, workshops, exhibitions, panel discussions and more. CAKE is dedicated to fostering community and dialogue amongst independent artists, small presses, publishers and readers.
Brain Frame founder Lyra Hill will host the evening as master of ceremonies and auctioneer. Attendees can bid on original art from 30 talented Chicagoans including Chris Ware, Nicole Hollander, Ivan Brunetti, and Edie Fake. All bids for artworks will start at $30. The evening will also include a wide variety of comics performances by Brain Frame alums. There will be live drawing by Jenna Caravello and live music by El Is A Sound Of Joy. Doors open at 6pm and the event starts at 7pm, but we recommend attendees arrive early if they want to review the auction items before bidding.
6:00pm – 11:30pm
Co-Prosperity Sphere
3219 S Morgan Street, Chicago, IL 60608