Week Ends, Art Begins || June 17th – June 19th
The sun is shining, the weather is sweet. This weekend is Father's Day and here are some of the hand-picked events that we at Sixty Inches From Center suggest you check out, with your pops, with friends or otherwise.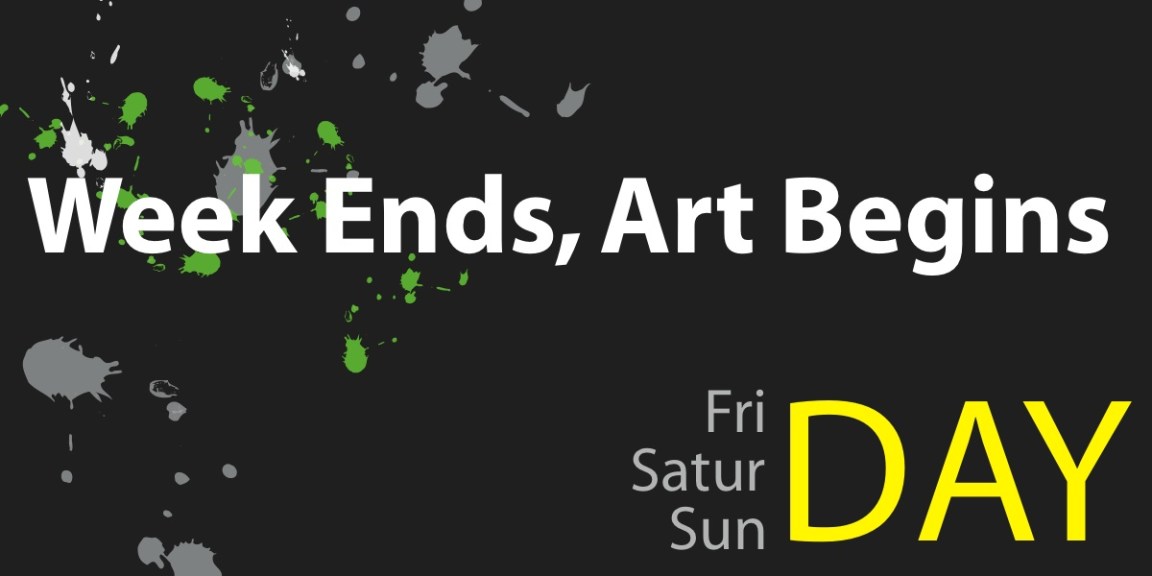 The sun is shining, the weather is sweet. This weekend is Father's Day and here are some of the hand-picked events that we at Sixty Inches From Center suggest you check out, with your pops, with friends or otherwise.
FRIDAY || June 17, 2011
2nd Annual Sweet Tooth: Charity Bake Sale Carnival
To celebrate their first year, The Chicago Urban Art Society will bring you the goods–art, food and fun. With baked goods donated from some great local bakeries and funds raised benefiting great organizations like HighSight, Urban Gateways, Inner City Muslim Action Network, Chicago Artist Coalition and Barrio Bonito, The Sweet Tooth Charity Bake Sale Carnival is something you don't want to miss.
The Chicago Urban Art Society
2229 South Halsted Street
$25
Note: The door donation (per person) includes open bar compliments of Indigo Wine Group and Lagunitas IPA Beer. One complimentary sweet ticket, and each additional ticket is $1. No RSVP required.
3rd Annual Hip Hip Revival and Graffiti Battle
Graffiti battles, MC battles and more. Check out improvisation at it's best as MCs and graffiti artists battle it out for a cash prize. This event is presented by The Firehouse Community Art Center and The Goodlife.
2111 S. Hamlin
3pm – 9pm
Free
Emily vs. The Chicago Triathlon
To support Emily Hoskin's participation in the Chicago Triathlon she is bringing together Chicago's best music, cocktails and art to benefit the Aids Foundation of Chicago. There will be music from Modern Conversations with Maggie Mitchell, a silent auction including work from Hornswaggler Arts, Megan E. C. Klawitter and Caitlin Arnold (to name a few), and a raffle of Chicago Cubs tickets–all for a great cause.
Studio 24
2416 W. North Ave.
6pm – 10pm
$10 Donation
Ahleuchatistas
Experience the sights of Roxaboxen and sounds of Ahleuchatistas (Shane Perlowin on guitar and Ryan Oslance on drums). This event is for everyone from the young to the young at heart. And in case you're wondering where the name comes from, it's the combination of two words: Ah-leu-cha & Zapatistas. The first comes from a Charlie Parker song, the second is from the 1994 revolutionary movement in Chiapas, Mexico.
Roxaboxen Exhibitions
2130 W. 21st St.
7pm – 10pm
Free
SATURDAY || June 18, 2011
–community fair– a festival for the community by the community
Start the summer off right! Join the Q4 tribe, Chicago Bread, Grassroots California, all of our local/national artists, and others at this free Chicago community peace and healing arts festival. There will be music, live art, local craft-makers and street vendors, healing arts workshops and 1-on-1 sessions in various disciplines, veggie Q and bbq, free beer from 5 to 6, fire, break and belly dancing, and much more. You had us at veggie Q. (For the schedule of events, click here)
Ashland and Wabansia
12pm – 10pm
Free
Two Spirits
Two Spirits is a film that explores the life and death of a boy who was also a girl, and the essentially spiritual nature of gender. The screening will be followed by a panel discussion about the issues around the film.  This film concludes the Independent Lens series with PBS.
Chicago Cultural Center
78 E. Washington, Claudia Cassidy Theater
2pm
Free
[ALMOST][ABSOLUTELY] // new works by VICTOR YAÑEZ-LAZCANO
This season of ACRE exhibitions is winding down to make way for the upcoming 2011 summer residency. If after over six months of exhibitions you haven't caught one from the inaugural year of residents, now is your chance. This weekend Mess Hall presents a series of works by Victor Yañez Lazcano that "investigate, through audience engagement, the ideas of acknowledging space, self awareness, and the shared histories of object and viewer." Take the trip up to Mess Hall and you'll be glad you did. Exhibition runs through June 21st.
Mess Hall
6932 N Glenwood Ave.
5pm – 8pm
Free
Dee Alexander's Evolution Ensemble/The Paintings and Drawings of Brett Manning
Elastic brings you another night of great audio and visuals. With Dee Alexander on vocals, Tomeka Reid on cello, James Sanders on violin, Junius Paul on bass, Ernie Adams on percussion with special guest Preyas Roy on vibes and the intricate work of Brett Manning, it is definitely worth checking out. As always, Elastic welcomes BYOB/BYOW.
Elastic Arts Foundation
2830 N. Milwaukee, 2nd Fl.
9pm
$12
SUNDAY || June 19, 2011
FATHER'S DAY! Take Pops to see some art.
Kate Levant and Joseph Kramer at the Audible Gallery
Kate Levant and Joseph Kramer are two artists working across the mediums of sound, performance and sculpture. Through the re-purposing of everyday objects and spaces such as broken tape players, electronics, rooftop spaces and makeshift strip mall galleries, this exhibition of their work serves as a conversation between the commonalities and differences between each of their practices. If you're looking for a multi-sensory experience, this is the one. The show closes on June 26th.
Experimental Sound Studio
5925 N Ravenswood
1pm – 5pm
Free
BLIPS AND HICCUPS // new works by VAL MAGARIAN
Closing out the 2010-2011 series of ACRE Exhibitions is Val Magarian. Blips and Hiccups is your first chance to view Ex Wives Sex Lives, Uncle T. and Death in Hell Hole, each a series of hand-drawn animated shorts (some as short as four seconds).  We highly recommend that you stop by on Sunday–otherwise you will be forced to wait until fall to witness the next round of great things coming from ACRE residents. The last day to see the show is Monday, June 20, from 12pm – 4pm.
ACRE Projects
1913 W 17th Street
4pm – 8pm
Free
//THERE'S ALWAYS MORE//