Invitation to be Interviewed for the Chicago Archives + Artists Festival
This is an invitation for you to participate in a special series of interviews with Sixty Inches From Center as part of our upcoming Chicago Archives + Artists Festival on May 19-21 at…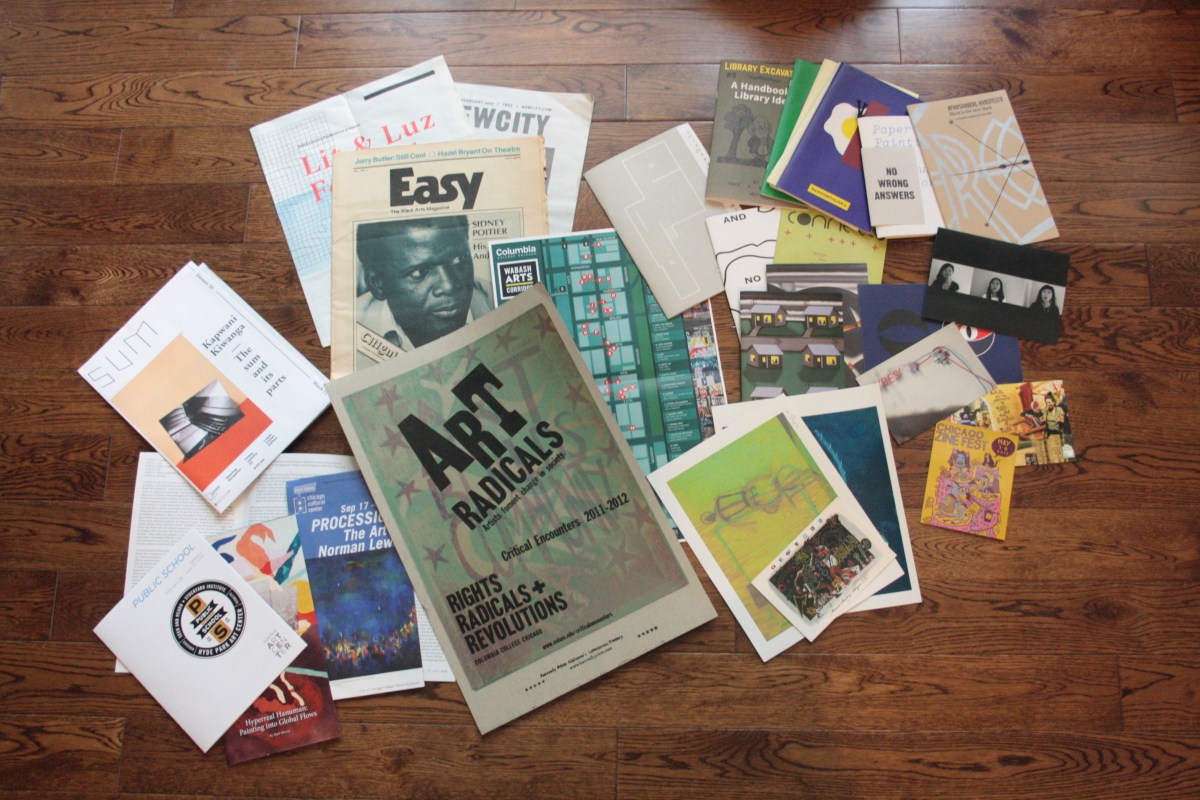 This is an invitation for you to participate in a special series of interviews with Sixty Inches From Center as part of our upcoming Chicago Archives + Artists Festival on May 19-21 at the Chicago Cultural Center. We love what you do, and we want to see your work documented in the Chicago Artist Files at Harold Washington Library, the city's largest repository for information about our city's artists from 1890 to the present. You can explore our website if you're curious about what goes into an artist file, the history of our archival work, and what will happen at the festival.

WHAT THIS MEANS
As a participant in this process, you will be interviewed (audio recorded) by a writer or editor from Sixty Inches From Center using the ephemeral materials you bring to include in your artist file as the prompts for the conversation. We ask that you to bring the basic essentials to every file, such as CV/resume, artist statement, and images of your work. In addition to those basics, we request that you bring up to 10 other significant pieces of flat ephemera to walk a Sixty writer through during the interview. You can donate these objects to your file in physical form, you can send your materials digitally prior to the interview at sixty.archives@gmail.com, or we can scan or photograph the materials you bring and make copies to include in your file if you don't want to let go of those items.
Also, please note that while your interview time will not be made public, please keep in mind that the space where the interview happens will be open to the public. You are welcome to invite people important to your work and practice to witness the conversation.
WHAT IS THE RESULT?
The outcome of this will be a feature on Sixty of your transcribed and edited interview in summer/fall 2017 and a file including the objects you bring that will then be delivered to Harold Washington Library archivists and eventually searchable on the library's Chicago Artist Files online finding aid.

WHEN WILL THE INTERVIEW HAPPEN?
We are conducting interviews and file-building sessions on Saturday, May 20th and Sunday, May 21st between 11am – 3pm each day. Each interview will take about 1 hour. Please choose a 1-hour period during those days when you're available using the form below. We will send you a time confirmation shortly after you complete the form.
[contact-form to='tempestt.hazel@sixtyinchesfromcenter.org' subject='Artist Interviews for CA+AF'][contact-field label='Name (First, Last)' type='name' required='1'/][contact-field label='Email' type='email' required='1'/][contact-field label='Website' type='url'/][contact-field label='Interview Availability' type='checkbox-multiple' required='1′ options='11am – 12pm Saturday May 20th,12pm – 1pm Saturday May 20th,1pm – 2pm Saturday May 20th,2pm – 3pm Saturday May 20th,11am – 12pm Sunday May 21st,12pm – 1pm Sunday May 21st,1pm – 2pm Sunday May 21st,2pm – 3pm Sunday May 21st'/][contact-field label='How will you be adding materials to your file? (Check all that apply)' type='checkbox-multiple' options='I will bring physical materials to donate to my file.,I will bring physical materials to have scanned for my file.,I will email digital materials to sixty.archives@gmail.com.'/][contact-field label='Are you okay with being audio recorded?' type='select' required='1′ options='Yes,No'/][contact-field label='Do you have any other thoughts, questions, concerns, or notes that we should know about?' type='textarea'/][/contact-form]
We look forward to sitting down with you and learning more about your work.
– The Sixty Family