A Time Traveler's Toolkit: An Interview with Marya Veeck of August House Studio
Marya Veeck Discusses her work and moving west of Haslsted in the 1980's.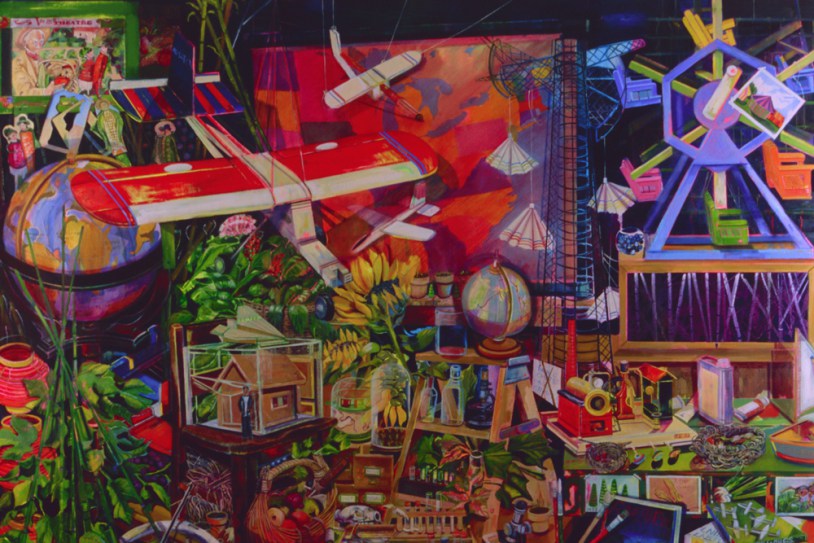 It wasn't too long ago that Chicago residents were advised to not tread west of Halsted.  Trouble loomed for those who dared to venture further, people said.  With Wicker Park, Bucktown, Logan Square, Ukrainian Village, and other neighborhoods having changed so much in the past two decades, this maxim seems silly.  However, Marya Veeck remembers a time when things were rougher.  She founded August House Studio 25 years ago in Roscoe Village, a neighborhood she was then warned to stay away from.  Who knows, in the mid 1980's perhaps this was sound advice,  but in the wake of Marya's success with the Studio and in her own practice, it's hard not to laugh at the naysayers.
Marya, primarily a painter, has exhibited internationally, had her work featured on WTTW Chicago, and has curated a vast amount of shows for August House Studio.  Marya  founded the Studio as a place for local residents to experience art, both through frequent exhibitions and through adult and child art classes.  I caught up with Marya at August House Studio to talk about her 25 years in business, her art practice, and her thoughts on the unabomber.
What were your reasons for founding August House Studio?
I thought it would be nice to have a neighborhood gallery where people, kids, and dogs could roll in and not feel intimidated. I've been a painter for 25 years and even I go into some of these galleries and feel like, "Ooh I want to get out of here." I also started it as an affordable art  originally for first time collectors. We did a rent to own.  I figured that if you can rent to kill a plant you can rent to own a piece of artwork.  It worked over a period of 12 months, and people would make payments on it. Or they'd rent it and then they'd swap it out for something else.  Most of the time, though, residential [clients] wouldn't swap. Now, we did commercial and those rotated a lot. At one point we had about 250 pieces out over 3 states and we changed them every 6 months. We started the company with the art rental, and then we moved from that space into this space. But we've always been in Roscoe Village and it's been 25 years.
Was there a reason that you chose Roscoe Village instead of a different neighborhood?
It was as far east as I could afford.  Everyone said to me "Oh no, you're not going west of Ashland!"  And now look at this neighborhood! It took 10 good long years for it to turn, though.   Now it's babies, beagles, and buggies, and we brought in a beagle.  People say, "oh the way it used to be years ago…' and I say, wait a minute! You weren't living here years ago. It was not chic. It was seedy chic at best.
Where Did the name August House Studio Come From?
I actually bought the first building in August.  I thought that if it didn't work I could transition into something else.  I couldn't even believe when I first bought the first place that I was doing it.  I wasn't exactly fearless when I went into this.  I was pretty much just out of school.
What do you think are some of the advantages of running a studio in Chicago and being a practicing artist in Chicago?
Chicago has been good to me, but I don't think it's the easiest place to make a living. In fact, I think it's a hard place. But also there are other advantages. If you work in New York it's so expensive to live there. Here I have my own studio, and I own the building, which I could have never gotten in New York.
The other part of it is that you don't get the highs, but you don't get the lows when something drops. I've never raised my prices extremely. I have a range from about 300 dollars to 8,000 dollars, and I've never had to come down because that's very treacherous. If you come in and you buy a piece and it's 20,000 dollars, and the piece is then on the market for 10,000 dollars, you're not going to be too happy about it. So, I never had to come down in my prices, I just steadily kind of go up. Also, I think that psychologically for an artist it's demoralizing if you sell your work for something, and then have to sell it for less.
Could you tell me a little bit about yourself and your work?
I do a lot of personal work. You can see that that piece has all kinds of symbols for different people and different times. This little house shows up all the time in a lot of the paintings. I'm a symbolist. I use symbols for different periods of time and people.  It's like time travel. It takes me back. But the interesting thing about the work is that other people, whether its my particular vision or not, see something that strikes them.
Could you tell me a little bit about your creative process?
The way I start is with a pretty tight drawing.  So the way I start is organized, then I disorganize it by putting all kinds of under painting.  If you can see all this color coming through, that's all from the under painting. Whether or not I want to use it is fine, but it's there if I want it. So I organize, disorganize, then reorganize.  And I mostly work in oil.  I work in layers upon layers of thin glazes. They're oil, but they're thin. I rarely use thick paint; they're all built up.
It does sound pretty time intensive.
Well, I wouldn't take it on as a career myself!
I just pulled this piece out the other day.  I was all over the Unabomber story, and the work is of his cabin.  It's [painted on] a fuse box. This is what's interesting about showing your work. I hung that piece and at the end of the show somebody had put a fake piece of TNT in there.  I don't know what that says about anything.
It's cool that someone would have so intense a reaction!
You have to laugh. It wasn't a happy story, but you have to be kind of amused that somebody would slip in and stick it in there.
What made you want to do an A to Z series?
You know, I didn't. It's the funniest thing. I first painted "P" for pagoda. I did that little piece just because I liked it. Then I did the squirrel piece, and I thought, "oh wow, these are fun to do!" If you look at one of these big pieces, there are some days where you just walk in and go, "I don't think so." I wanted something I could do in less than a week instead of 7 months. So I started doing these small pieces.  It was fun for me because I could complete it quickly, and one thing led to another.
What was the last letter you finished?
Xylophone. I had the Z done before.  But I didn't go in any particular order.
I love Wayne Thiebaud, and I noticed that E and W have a Wayne Thiebaud quality.  Are you a fan?
I am a Wayne Thiebaud fan.  I like him too.
E especially reminded me of him.
E, really?  Most people think it's the I for ice cream. The E was the funniest one because the series was hung in a grid, and the kids would come in and they'd get all the way through it.  Some of the adults would come in and hit E and think, "E…erasers?" To me it was evergreens.  I like that piece. It got very little attention.
What was interesting to me about the alphabet piece was that usually in a show there are a couple of pieces that you know are going to sell. They come to the forefront and you just know it. What was interesting about the alphabet was that no particular character came forward as the favorite. Which is strange since usually people like one or two pieces more than the rest of it, but [with the A to Z series] it was pretty even.
That's a good sign!
It is a good sign! It was odd to me, but it is a good sign.
When you go back and look at some of your older work how do you think that you've evolved as an artist?
There's a time difference between this one (gestures to two pieces hanging on the wall) and this one. That's probably a 15 year differential. You can see it's getting more obsessive. But it's still the same set up.
These just happen to be the still lives, however. In between I did an entire series of figures, and I did a series of 100 portraits that they showed on WTTW Chicago. I started out doing 50, but once I got to 50 I realized I could do 100! I had a show previous [to the 100 portrait exhibition] and I said if you bring a picture to the opening then I'll do a portrait. It actually worked out well because some of the people I knew and some of the people I didn't. I remember opening the portrait show and thinking, "oh my god I could tick off 100 people in one night! I could lose 100 friends!"
Because portraits are tricky. People have a thought of how they look. I actually did a couple of posthumous portraits, and one for somebody that I'd never met that was a good friend of my mother-in-law. By the time I got done with the thing even I thought that I had met her, because I'd spent so much time with the portrait! That's even trickier because of people's memories and how it's very emotional.
What are you working on now? What's next for you August House Studio?
We have a kite show coming up in September. It's curated by Frank Crowley and Pauline Kochansky from Windy City Arts. For me personally I'm doing a mural up in Winnetka. This coming month we've got two weeks of kids' camp in August.
This interview has been edited for clarity and length.  Find more information check out August House Studio's website, and for more of Marya Veeck's artwork stop by her website.
Top Image: Marya Veeck, Reading, Writing, and River View. Oil on Canvas.