Reflection on the Critique with Kerry James Marshall: Frederick Owens
On September 10, 2010 three artists participated in the Open Crit sessions at Hyde Park Art Center.  This particular session had Kerry James Marshall as a guest critic.  Chicago artist…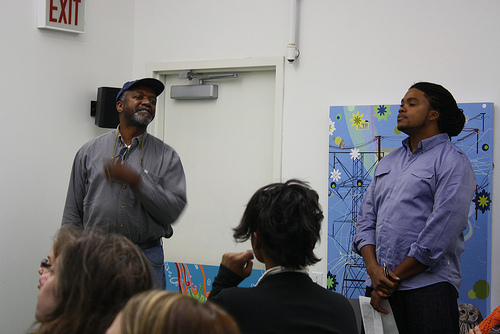 On September 10, 2010 three artists participated in the Open Crit sessions at Hyde Park Art Center.  This particular session had Kerry James Marshall as a guest critic.  Chicago artist Frederick Owens was one of the artists that participated in this session and as a follow up to the critique, I asked Owens some questions about his experience.
Tempestt Hazel: It takes a lot of courage to present your work in an open forum such as the one you participated in at Hyde Park Art Center, let alone put it in front of a master artist such as Kerry James Marshall.  What did you expect to get out of this experience, and why did you think that at this point in your career it was a good idea to do this?
Frederick Owens: There were many things that I hoped to achieve by participating in the crit.  I'm searching for an answer to the question: "What is good art and how do I make it?".  I know as an artist what I am setting out to create but only the viewer can tell me what's there.  The  feedback from viewers lets you know if you are successfully conveying your ideas.  At this point I can make work that average people find aesthetically pleasing, but my new goal is to really participate in the conversation of art.  Right now I am ill equipped because I don't know enough of the language.  I need to study my craft.  I need to be engaged with others who are knowledgeable about art.  A part of me wanted to be exposed because I'm tired of the front.  I had attended open crit at HPAC before so I knew they would give it to me raw but I was not prepared for the wholesale slaughter that took place that night.  It was wonderful!  Kerry James Marshall is the truth.  I am not ashamed to call him one of my art heroes.  I didn't know he would be a moderator until after I had applied and been accepted to the program.
TH: How did this experience exceed, meet or come short of your expectations?  How did this experience and audience reaction differ from other conversations you've had about your work?
FO: This experience exceeded all of my expectations! You will never become a better artist if the only feedback you get is "I like it." or "I don't like it.".  What about the content?  What about the technique?  What about the overall artistic merit?  Is this piece successful?
TH: What are some of the most important things that you gained walking out of the critique?
FO: I learned that language and art must be highly intentional.  Being specific is important.  I need to master my materials and really learn about what paint can do.  Integrate form content and material.  Everybody studies the same art history so analyze the work of successful artists.  Compare, appropriate, and get into the competition of art!
TH: How will this change the way you approach your current work, creative practice, conceptual themes and how you approach your work in the future?
FO: The pressure to create is gone.  Once I started making art I couldn't stop.  One show led to another and all of a sudden I got involved in this cycle of creating showing and selling.  I'm taking a study break.  The pressure is gone.  I will create art with a controlled mind body and spirit.
TH: Kerry James Marshall spoke a lot about the importance of work that speaks to art history.  What artists and concepts have you looked to in the past or plan on looking towards in the future in relation to your work?
FO: I have books on Kerry James Marshall, Basquiat, and Egon Schill.  I have a couple of books on art theory and I even own a copy of Shock of the New.  I need to find some good books about Black artists though becase they seem to have been omitted from the books in my collection.  Its harder to keep up with Kehinde Wiley, Kara Walker, and Trenton Doyle Hancock.
TH: Kerry James Marshall also spoke a lot about the arena in which you want your work to exist.  What arena does your work currently exist in and what arena are you trying to have your work in?  Where do you want your work to be?
FO: My work exisits in the street with the people.  I thrive at art fairs and underground shows.  I paint live at house parties and set up gurrilla galeries in empty storefronts.  I want to be a part of Artropolis and have people from the MCA come talk to me.
TH: How can we find out more about your work and what you are up to?
FO: I am on facebook and my website is www.frederickrossowens.com