Black Narcissus: After Nereida Patricia's cracked sidewalk fountain
"Who's there?" Narcissus stops trepidatiously and slowly turns around to stare into the thick underbrush. Nothing moves among the stand of ferns and foxglove. The mountain nymph Echo hides behind…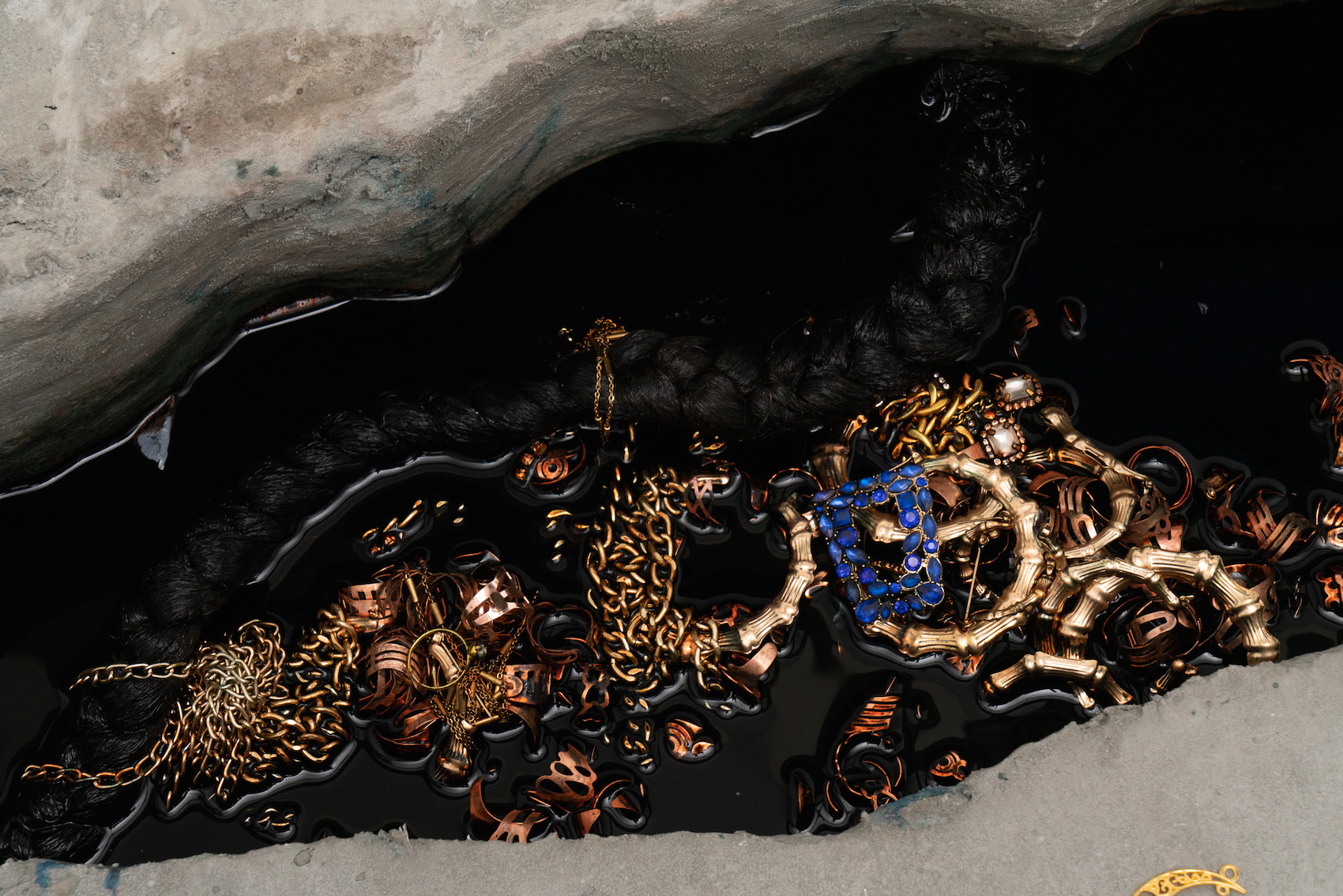 "Who's there?" Narcissus stops trepidatiously and slowly turns around to stare into the thick underbrush. Nothing moves among the stand of ferns and foxglove. The mountain nymph Echo hides behind a pine tree, pushing her back against the dimpled bark. Her heart thumps deafeningly in her ear and her arms tremble noticeably, but she softly repeats Narcissus's question back to him: Who's there? Narcissus's eyes narrow and he listens intently for several minutes before deciding he only heard the ghost of his own voice, and continues his hike through the forest. Echo sighs and slumps away from the tree, peering slowly around the trunk. She waits until Narcissus is several yards ahead before following after him, trailing him like an elongated, late-afternoon shadow, and occasionally darting behind a tree or rock again whenever he suddenly pivots around—unnerved by his acute hunter's instincts—and calls out again, "Who's there?" Who's there?
They continue on in this way for several miles until suddenly, overcome by her urge to smell his ripe body odor, admire his doe-like eyelashes, stroke his freckled neck, listen to the sound of his thudding heart, Echo pushes her way through the waist-deep thistle and wraps her arms around Narcissus. "Stay away from me!" he shouts and pushes her away in disgust. Echo falls to the ground, landing heavily on her hip and elbows, where she watches Narcissus disappear into the forest. She doesn't move from where he pushed her away. Instead, she cries and cries and cries for days on end until she cannot cry anymore, and dryly whimpers until her body withers away and she is only an echo of sound.
I was thinking about time… you know how people are in time together and apart at the same time.1

Nemesis, the goddess of revenge, watches from a distance and takes pity on Echo. She decides to punish Narcissus for his cruel indifference and disregard towards Echo, and finds him on a hunt nearby. He becomes insatiably thirsty and reaches for the flask of water he keeps at his hip but finds it empty when he raises it to his cracking lips. Nemesis emerges from among the trees and beckons him forward. Barely able to breathe at how parched his throat is, Narcissus stumbles frantically after her. They arrive at a shallow pool of water, and he runs forward to drink from the glassy surface, but stops abruptly, captivated by the reflection of his own face in the water. He is bewitched, besotted with desire. He reaches out and touches the surface, recoiling his hand swiftly as if he touched a scalding surface, and furrowing his brow in confusion. He continues to stare into the water, admiring the face's subtle perfection—which he doesn't realize is his own—and leans in closer to inspect the supple lips like the rosy skins of ambrosia apple slices. Entranced, Narcissus presses his lips against their reflection only to scowl in disappointment as the disturbed water distorts his image. The realization that he cannot possess his beloved begins to dawn. He cannot move from the spot, despite the aching hunger pangs contracting his stomach and the dizziness blurring his vision. Eventually, he collapses and tumbles to the ground beside the fountain, his body slowly rotting away. Yet, the fire of his passion continues to burn, sprouting into a white flower with a ruffled, golden blossom in the center.

…I thought I was deep in my dream but this whole time I've been caught in my own reflection on the restless surface of the black water beneath its mirror the pulsating potential of the things I have been told I can and cannot do…2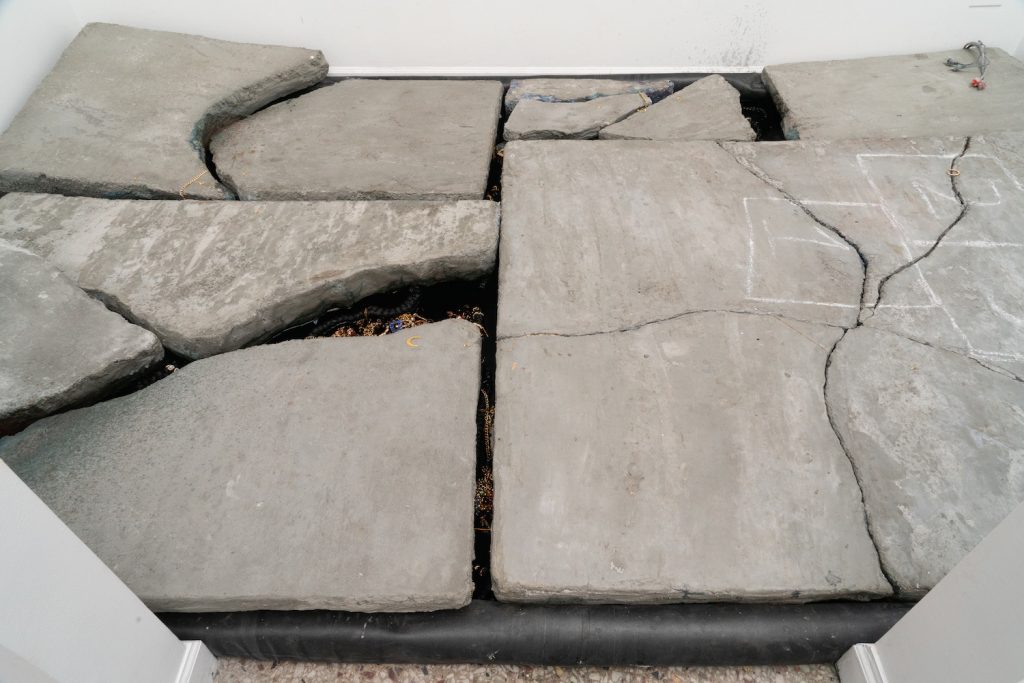 I arrive at the corner of Milwaukee Avenue and Noble Street as a disheveled flower, the ruched, red silk dress beneath my trench coat wrinkled and dark at the creases. My outfit is indulgent, extravagant and ill-suited for the late October chill, but nowadays I seize any opportunity to doll myself up. I shiver uncontrollably before darting inside Roots & Culture. My attention is caught by an open archway in the gallery and the small alcove behind it, filled with Black Narcissus, Chicago-based artist Nereida Patricia's installation—the reason for my visit. I am hapless Narcissus, lured to the edge of Patricia's broken fountain, and she becomes Nemesis, the spirit of divine retribution against those who succumb to hubris, sans her iconographic sword and scales. I'm overcome by an irresistible urge to get down on all fours and rest the left side of my face on the abrasive concrete to look closer. The scene feels familiar, similar to countless stretches of Chicago sidewalk pried apart by groundwater expanding into ice and contracting back into limp droplets of moisture. I actually get down on all fours, an alley rat scurrying underneath the dumpster and poking its head out cautiously, and look at myself in the turgid black water, like sewage, like mildewy stormwater, like iridescent runoff from the factory, like the ankle-deep seepage pooling in our basement each summer, unperturbed by what the gallery attendants may think of me. I can only see a sliver of my face. A tight braid of dark hair winds its way through the crumbling concrete, a creeping rootstalk nudging its way through the dirt in search of more fertile earth, tangling with delicately wrought chains and costume jewelry. A hopscotch court drawn in chalk decorates the largest slab of concrete, disappearing into the white wall. A game with no end. 
… games of hopscotch bridge girls and boys across the wasteland towards their saving…3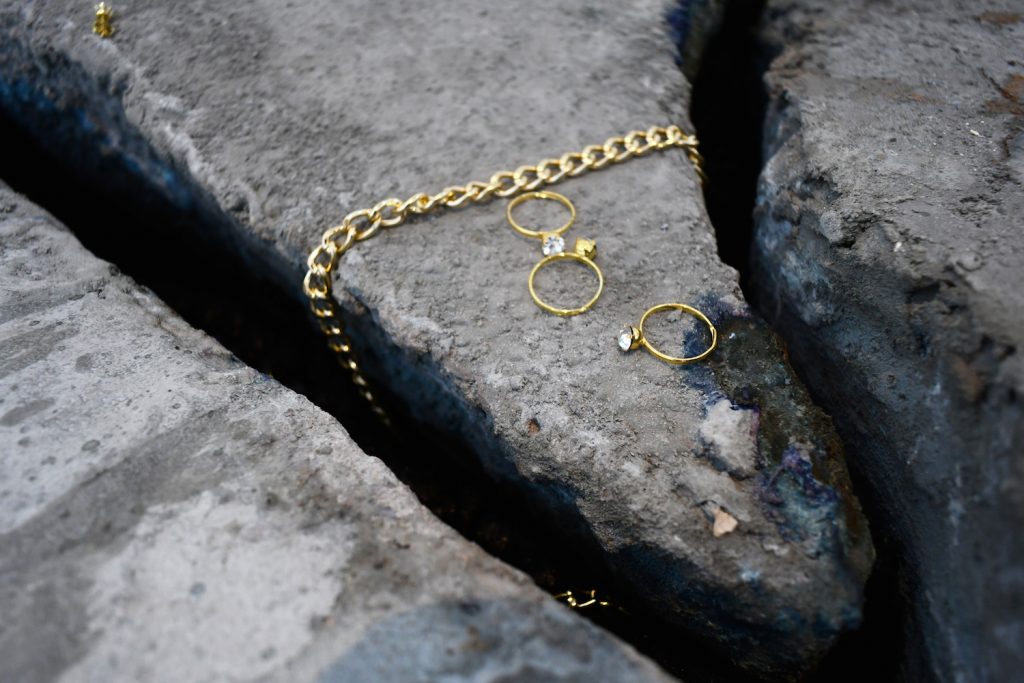 I cannot move away from Patricia's wasteland. I angle my head back and forth, confronting the reality of my appearance: my protruding brow, the irritated, red pimple in the corner of my lip, my hawkish nose (which someone on Tinder once, offensively I might add, described as a "Virgo" nose), my closely buzzed hair—a recent casualty of overzealous bleaching during quarantine. I cannot reconcile this face with the one I imagine in my mind. It has none of the subtle femininities I thought. Yet, each time I peer at a different slice of myself in the narrow fountain, I forget the distinct reality of my face again. Unable to see the entirety of my face, I fill in the absence. In my mind, I have a well-defined nose, a knife's coquettish point, doe-like, blue eyes, and mother of pearl skin unblemished by my usual five o'clock shadow that I oafishly refuse to shave until it's overgrown like bread that's suddenly bloomed with mold overnight. My face is distorted in the ridged vertebrae of door knocker earrings, the smooth brass curves of rings, and the slick folds of the braided hair.
The littered jewelry glitters listlessly underneath the fluorescent lights, making me forlorn and melancholic, reminding me of all the time I've lost earrings, only realizing when I get home that I am without them. The next day, I walk with my eyes glued to the ground for the entire day, on my way to the Rockwell Brown Line, at the corner of Chicago & Michigan Avenue, in various train cars, while helping customers at my menial retail job, but find nothing.
The main, inevitable boundary that creates eros: the boundary of flesh and self between you and me. And it is only, suddenly at the moment when I would dissolve that boundary, I realize I never can.4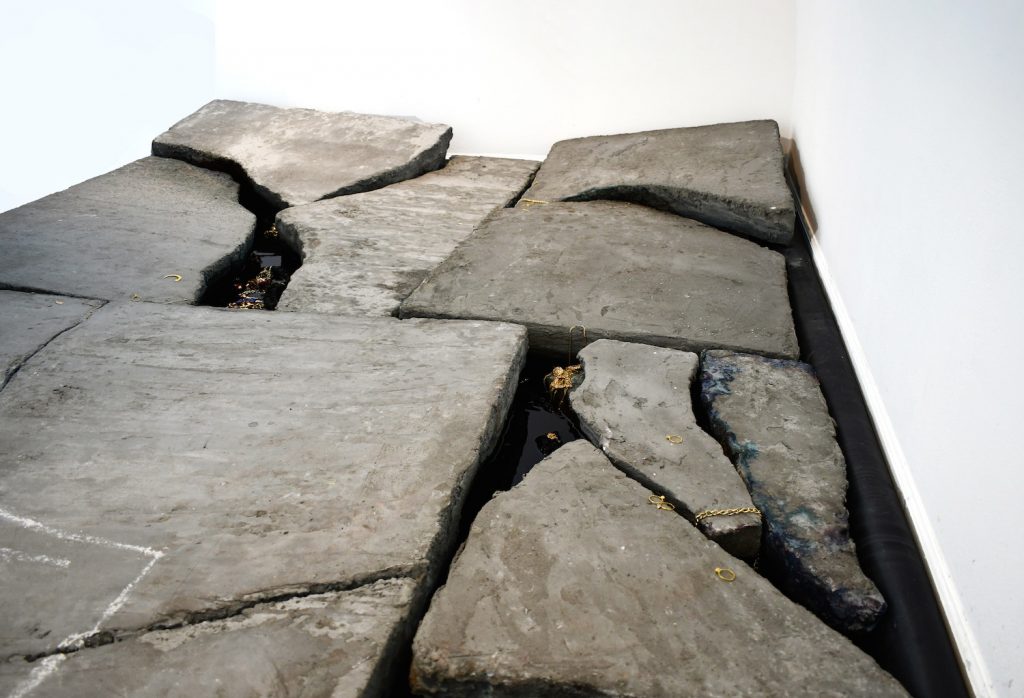 The city is a wasteland, and I am armed with a hammer, using it to mangle the very categories, such as sex and gender, through which personhood is made meaningful; one desperate strike pulverizes seemingly indestructible concrete, but all I find is poisoned water and lost ornaments. The city is obliterated. I follow the squares of the hopscotch court, imagining myself hopping, landing lightly in each chalk square. I am running on my elementary school's playground again, trailing after my girlfriends, admiring their long hair, painted fingernails, multi-colored gel bracelets, and Paul Frank t-shirts with the wide-mouthed monkey graphic—despising my own boyish, underdeveloped body disguised by my brother's oversized hand me down polo with the embroidered horse on the breast. My face remains unmistakably mine all these years, despite my best intentions. I stand in front of the mirror, naked, seeing my body, not being in my body, a bee trapped between the window screen and the glass pane, frantically buzzing back and forth, hoping to escape into the still, humid-less inside air or to tumble away in the breeze flowing through the alley. I push my genitals backwards with my hand and squeeze my thighs together to hold them there, admiring the soft mound of my recently shaved pubis. Kneeling beside the cracked fountain, I ask, "Who's there?" Who's there?

Notes
1Carson, Anne. Autobiography of Red: A Novel in Verse. McClelland & Stewart, 2016.
2Patricia, Nereida. Body Party exhibition text, 2020.
3Ibid.
4Carson, Anne. Eros the Bittersweet: An Essay. Princeton University Press, 2017.

Featured Image: Nereida Patricia, Black Narcissus (detail), 2020. Concrete, gold jewelry, kanekalon hair, dye, polystyrene, fountain pumps, tarpaulin. Photo by Robert Chase Heishman.

---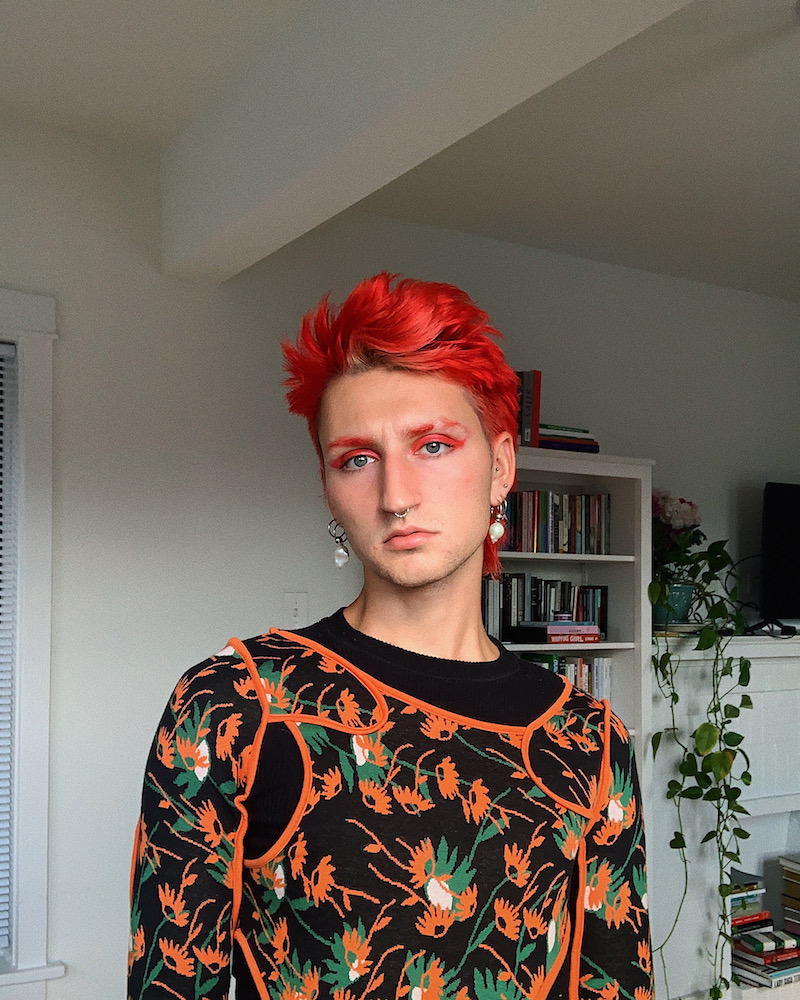 Riley James Yaxley (they/them) is a writer, poet, and fundraiser based in Chicago, Illinois, living on unceded land of the Kickapoo, Peoria, Potawatomi, Miami, and Očhéthi Šakówiŋ peoples. They hold a bachelor's and master's degree in Writing, Rhetoric, and Discourse from DePaul University, specializing in professional writing and queer and feminist rhetorical histories. Riley started their career working at a number of arts organizations in Chicago, including Chicago Gallery News, the Museum of Contemporary Art Chicago, Wrightwood 659, Intuit: The Center for Intuitive and Outsider Art, and the Art Institute of Chicago. Riley is a regular contributor to Chicago Gallery News and ADF Web Magazine, aiming to uplift BIPOC and LGBTQIA+ artists and challenge systems of inequity within the art world through their writing.